reFX Nexus 3 Tutorial - New Features 1
Easy get Modern Sounds! The New Release from the Popular Nexus Series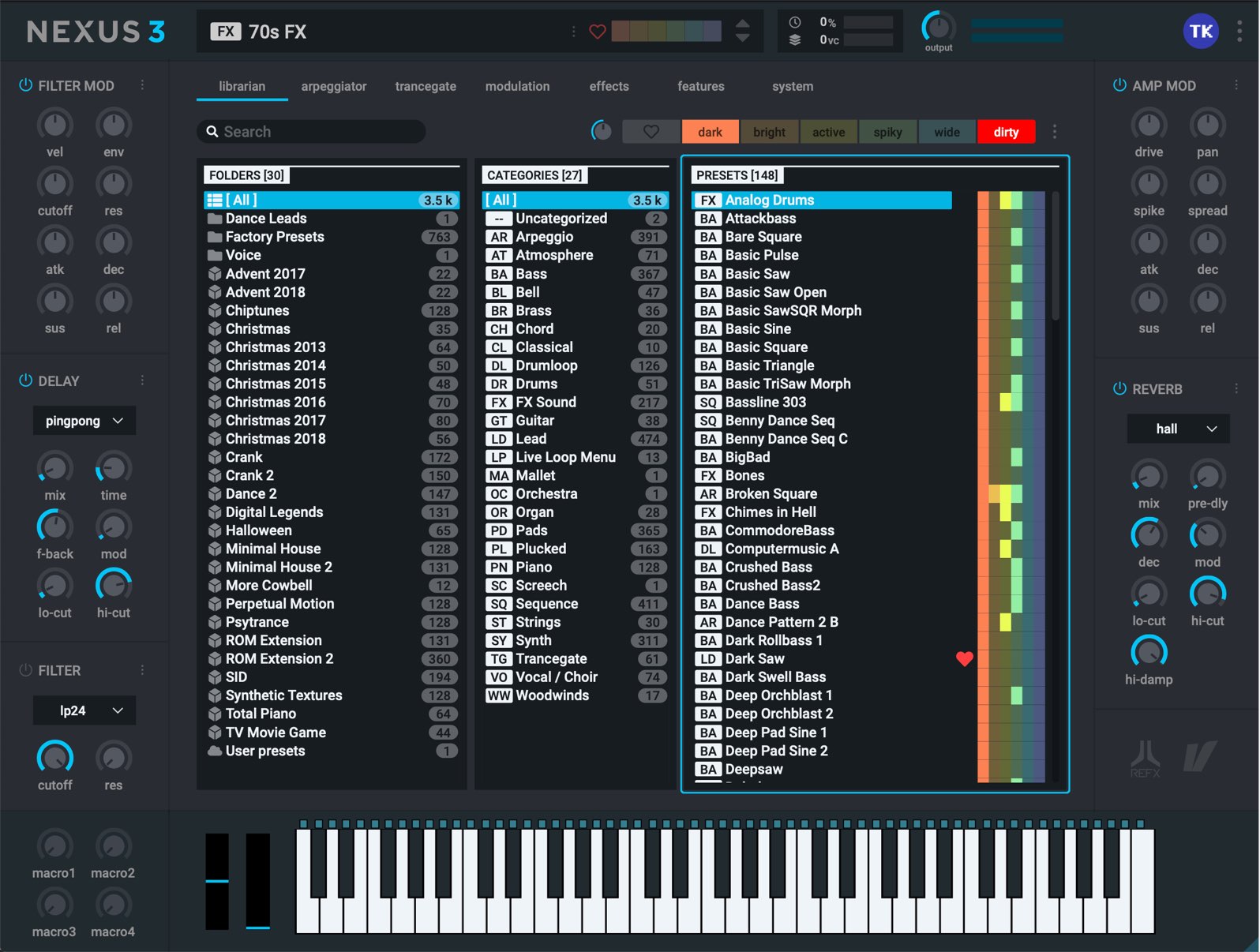 reFX has finally released Nexus 3.
The key of the product lies in containing sample based sounds specializing in popular electronic music.
Many high quality ready-made sounds are available, and any individual can easily obtain their ideal tones without having to study the basics of a synth.
When listening to the presets, you will discover multiple sounds that you may have heard before.
This time the upgrades are:
New looks (UI)
Upgrade of overall performance
Enhancement of presets and arpeggiator
No need for license key (for Nexus 2 users as well)
Not only are the sounds enhanced, but its usability and overall performance has been improved.
We will be looking at the new features of Nexus 3 over the course of 2 articles.
Nexus 3 New Features 1 – Video Access
Upgrade Price from Nexus2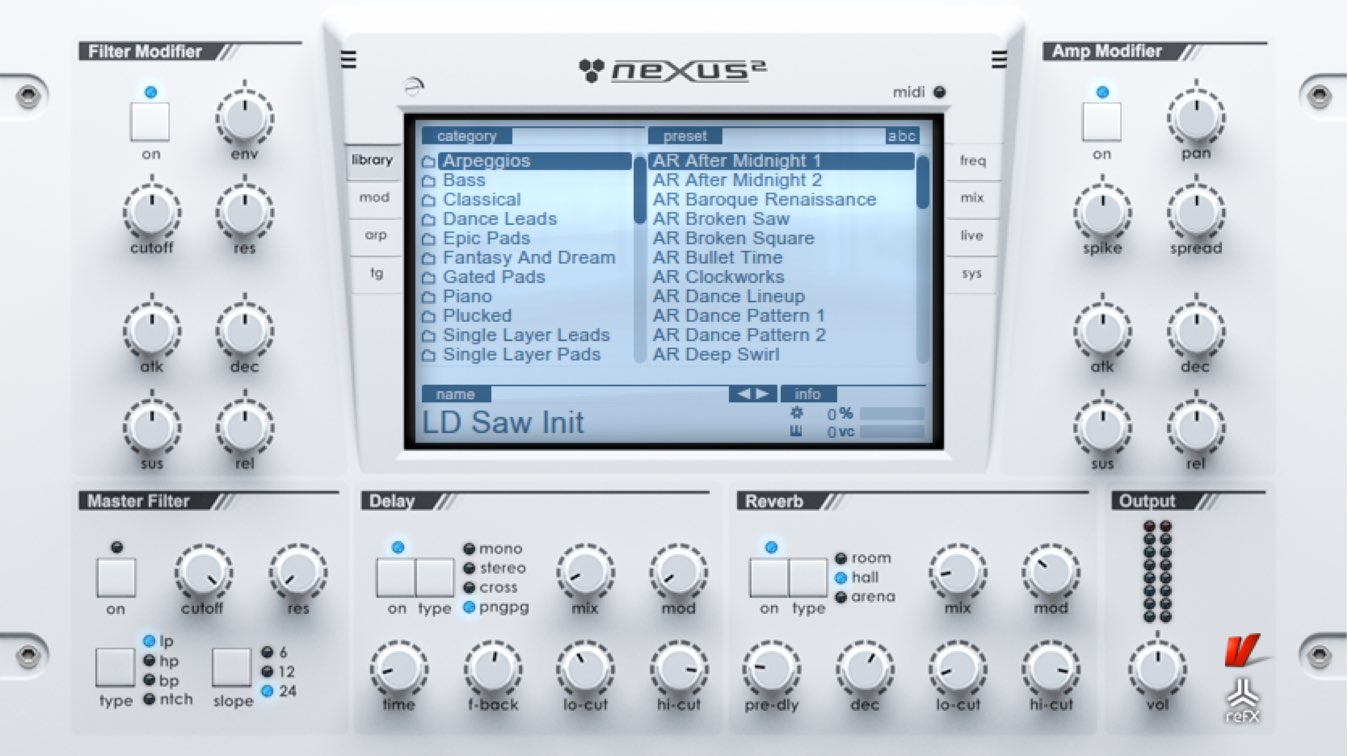 You can upgrade if you currently possess Nexus2 as well.
This allows you to purchase Nexus 3 at a much cheaper price.
Nexus2 purchased after August 1st 2019 : Free Upgrade
Purchased after May 1st 2019 : 49 dollars/euro Upgrade
Purchased before May 1st 2019 : 99 dollars/euro Upgrade
In addition, all presets created in Nexus2 can be carried over to Nexus 3.
No need for eLicenser Key
An eLicenser is no longer required to use this product, allowing you to activate it directly from your computer.

Login and click "Downloads".
Click "reFX Cloud" to download the installer, and begin installation.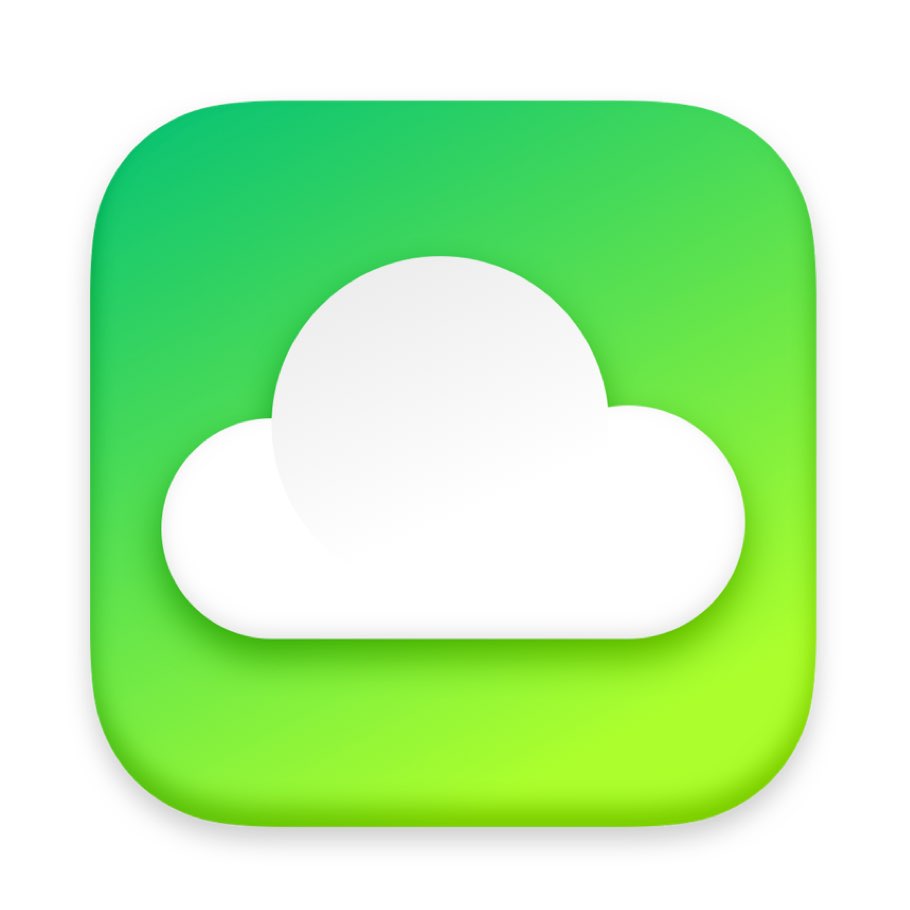 reFX Cloud is downloaded in the following locations:
Mac : User → Applications
Windows : C Disk → User → AppData → Local → Programs → reFX
Find where its installed and activate reFX Cloud.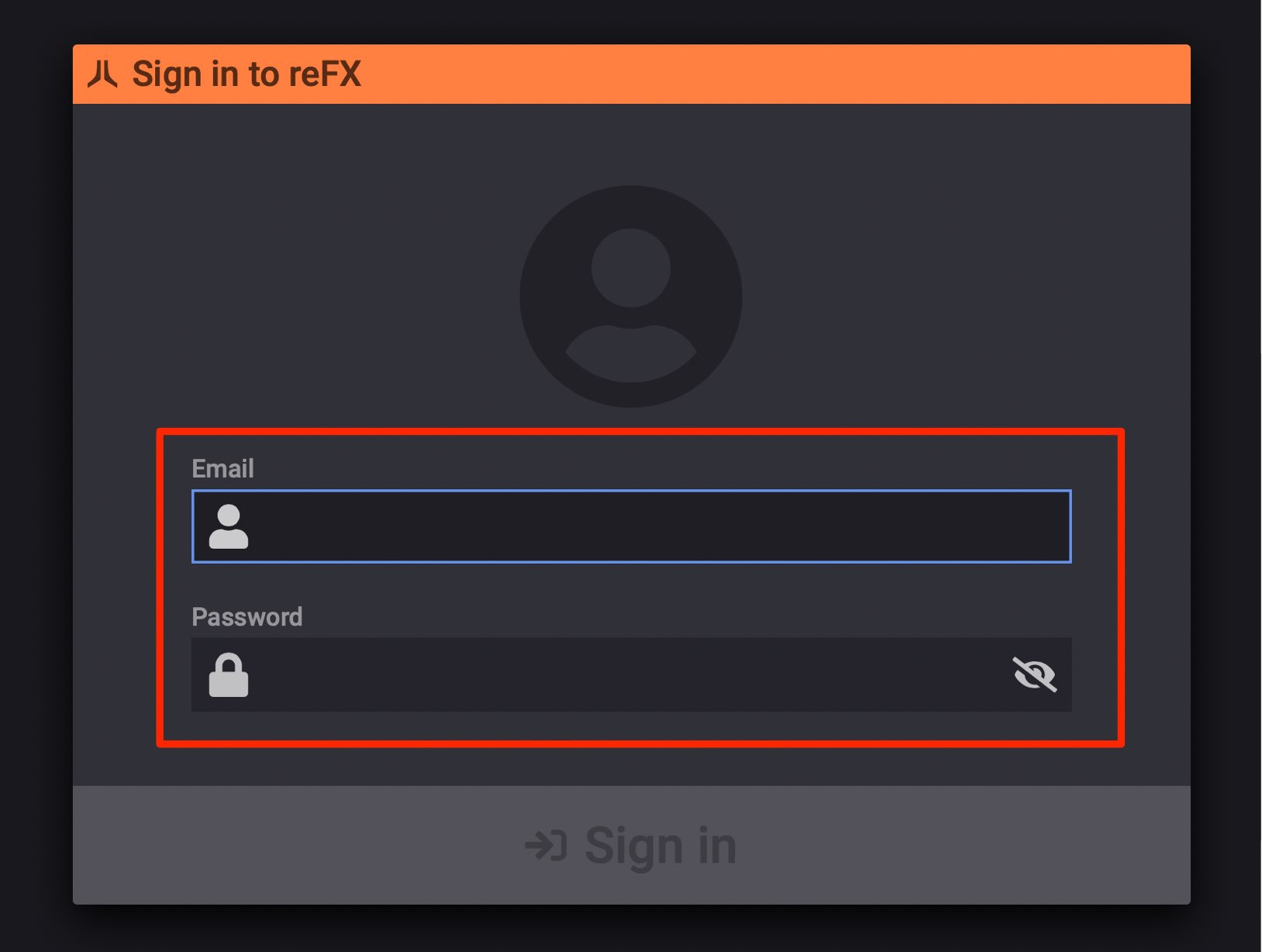 Use your email and password used for your reFX account to login.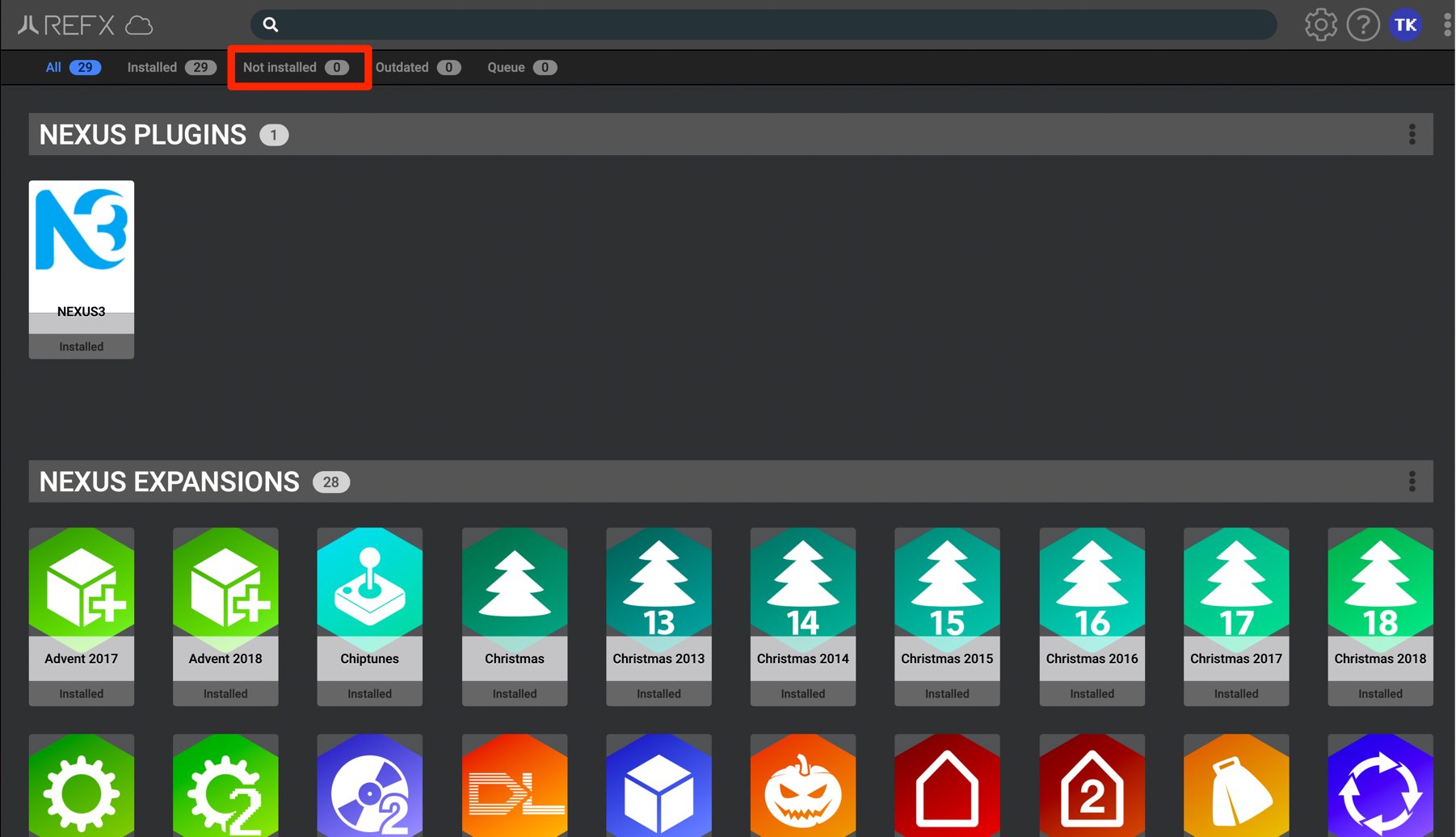 Click on a product to download/install/update it.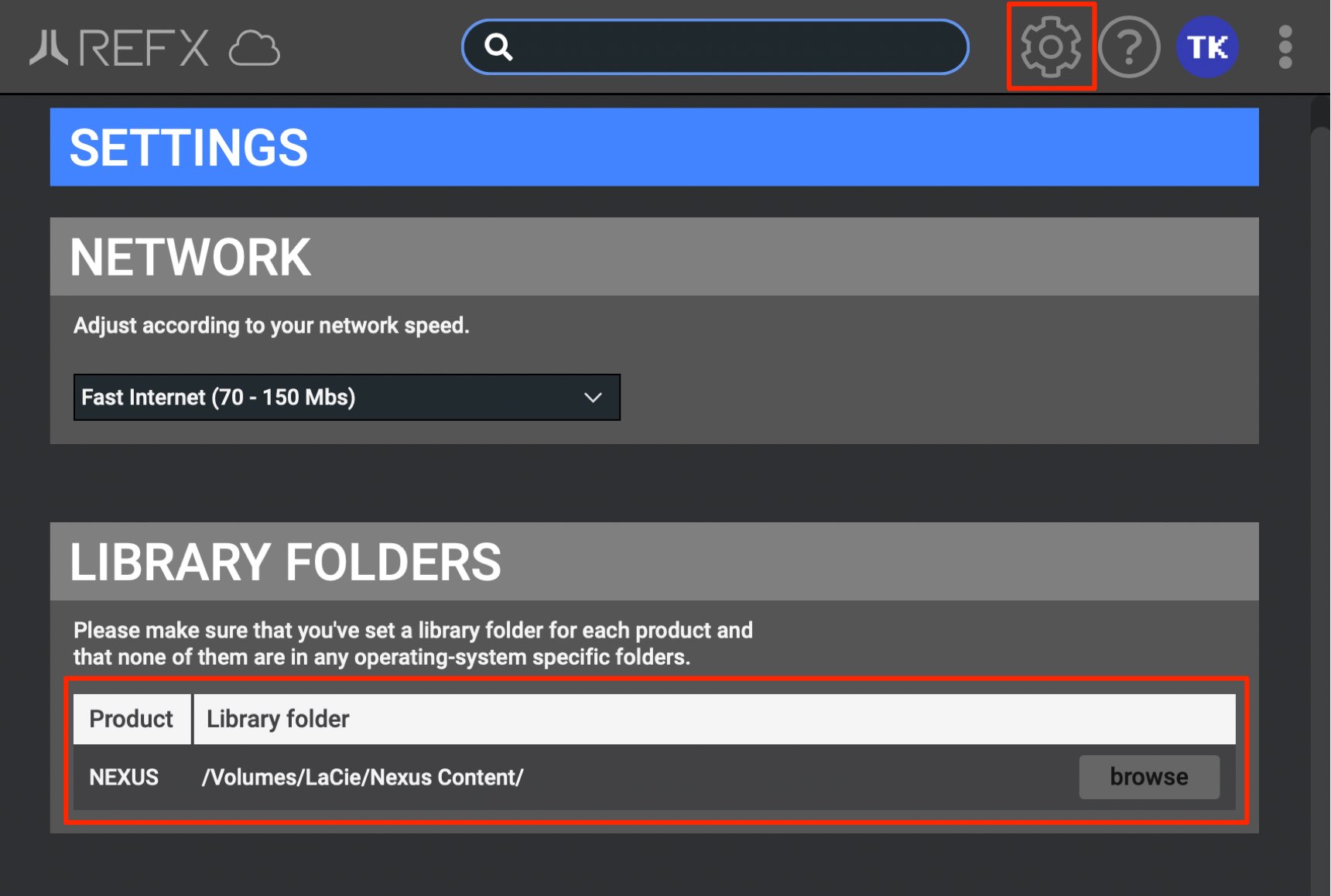 From the settings icon, you can designate where to install the library (sounds) as well.
If your main drive is short on space, we recommend saving sounds to an external hard drive.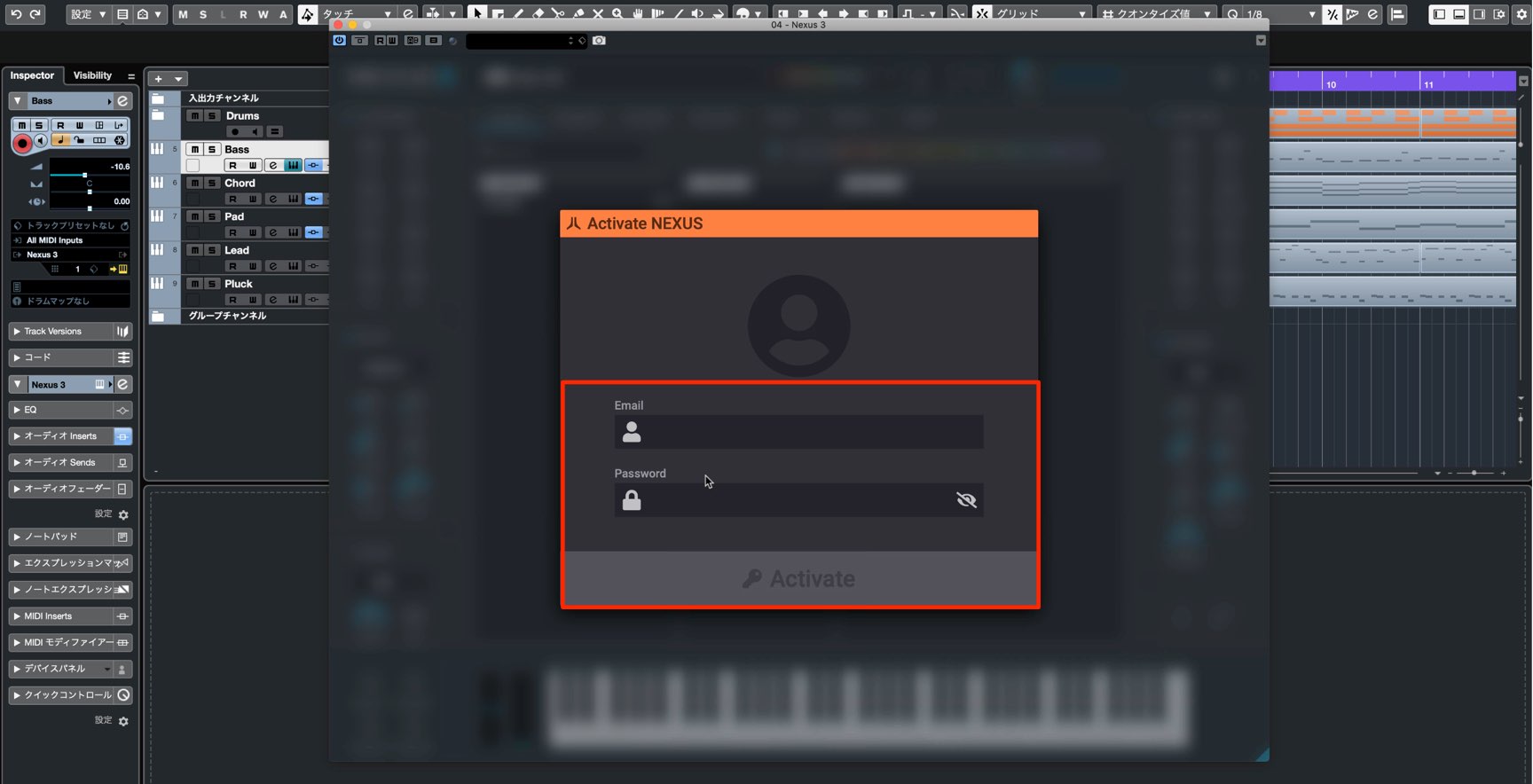 After installing you will now be able to open them in your DAW.
You will be prompted to activate when you first use it so enter in the same email address and password used when purchasing with your ReFX account.
The product will be activated and can be used right away.
Being able to use 1 license on 2 computers is a huge plus.
New UI and Massive Improvements in Performance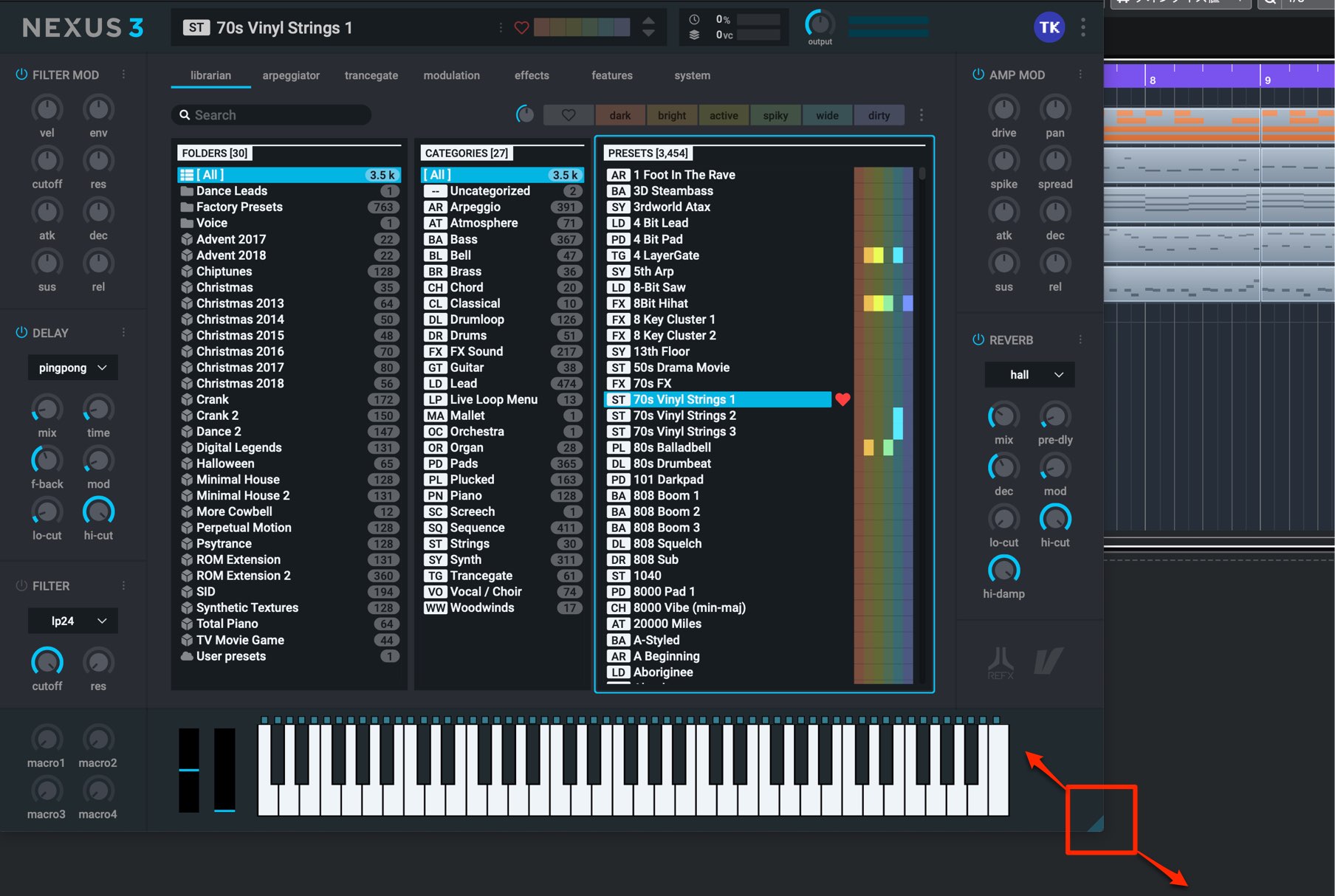 The graphics have been improved to create a beautiful user interface.
It looks wonderful even on 4K/Retina displays.
By dragging on the bottom right, you can adjust the window sizeas well.
Managing Presets in Librarian
The preset library is now easier to use.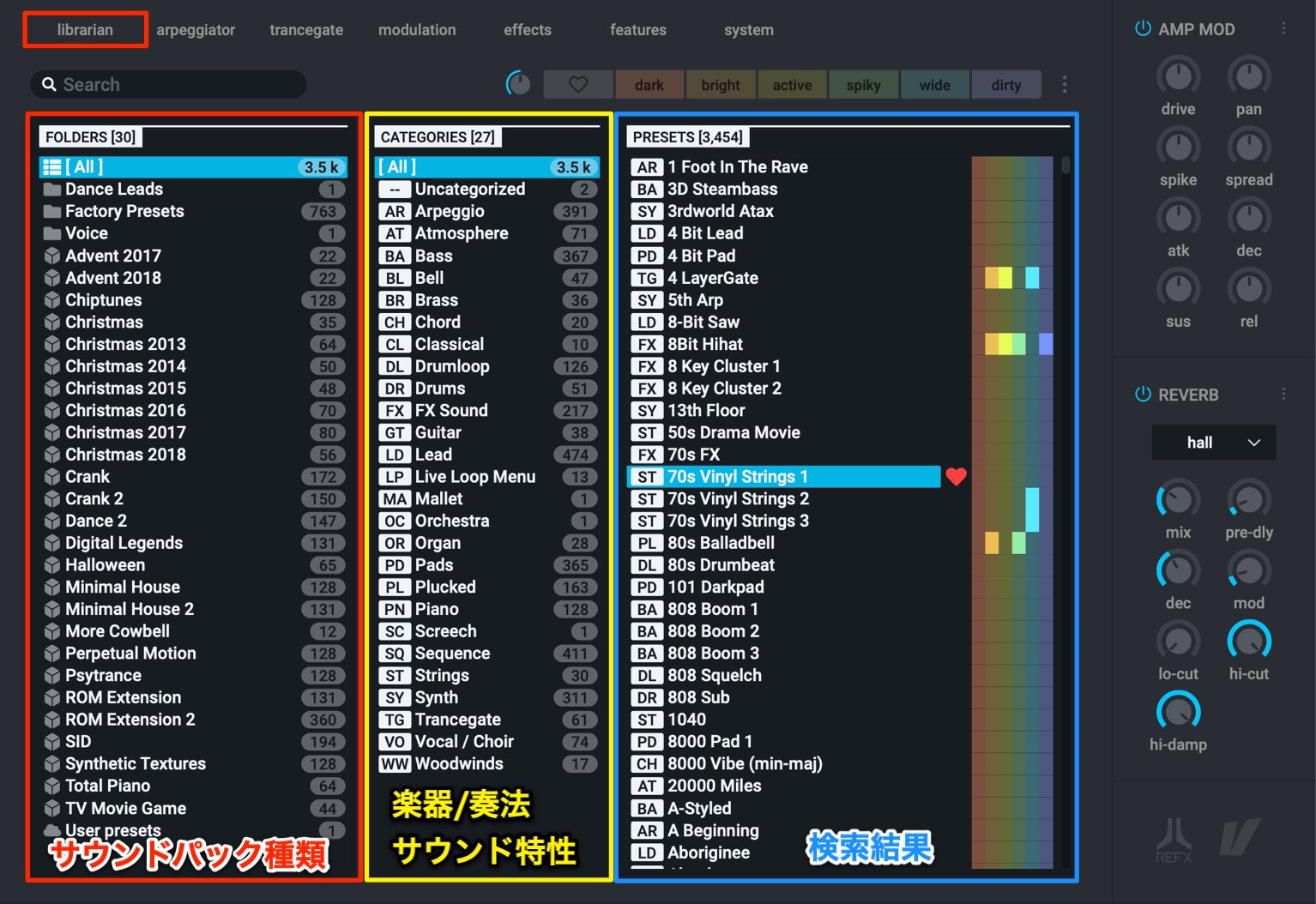 Searching for presets can be done more efficiently as well.
Red : Designate sound pack type / additionally purchased pack
Yellow : Designate instrument / playing style / sound
Blue : Displays preset results narrowed down by the above
Double click on a preset name to load it.
Nexus 3 has massive improvements on preset loading time as well as improvements in CPU performance.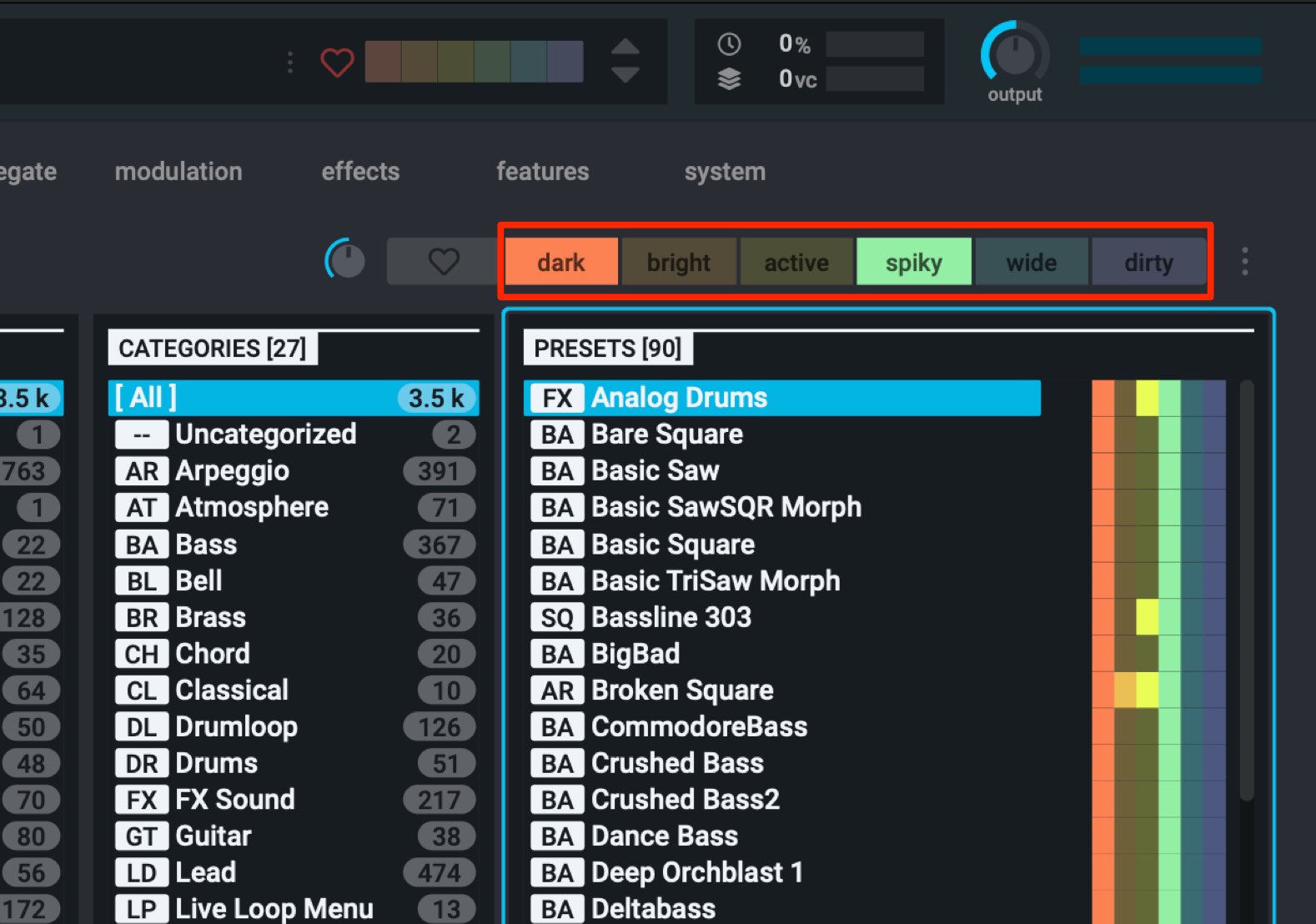 By using the sound characteristic button, you can narrow down preset results.
In the image we have dark and spiky selected, and only presets that fit this description are being displayed.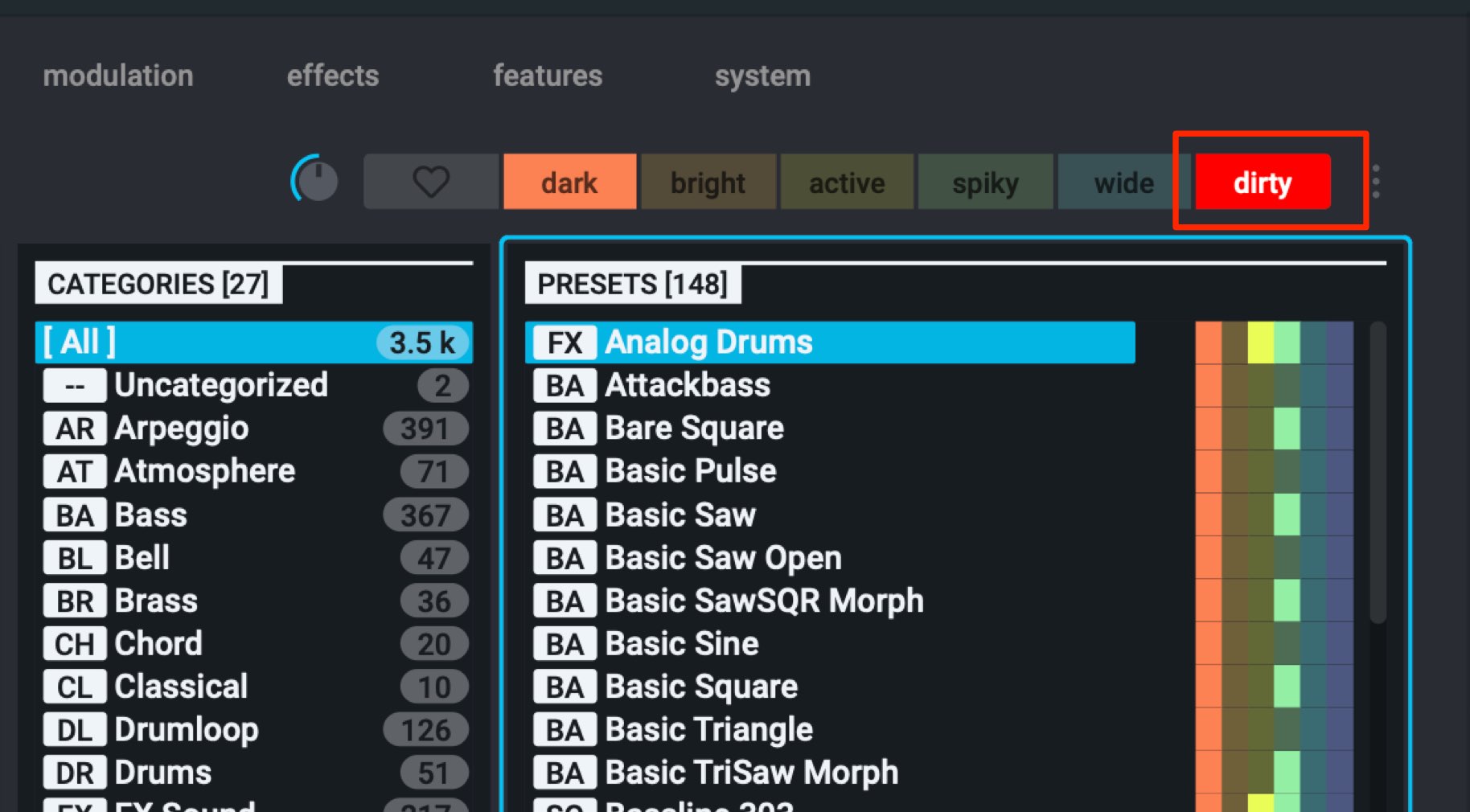 Pressing the button twice turns it red.
This means that the red characteristic is being excluded from the preset list.
In the image dark presets are displayed, with and preset characterised as dirty being excluded.
Quick Preview Function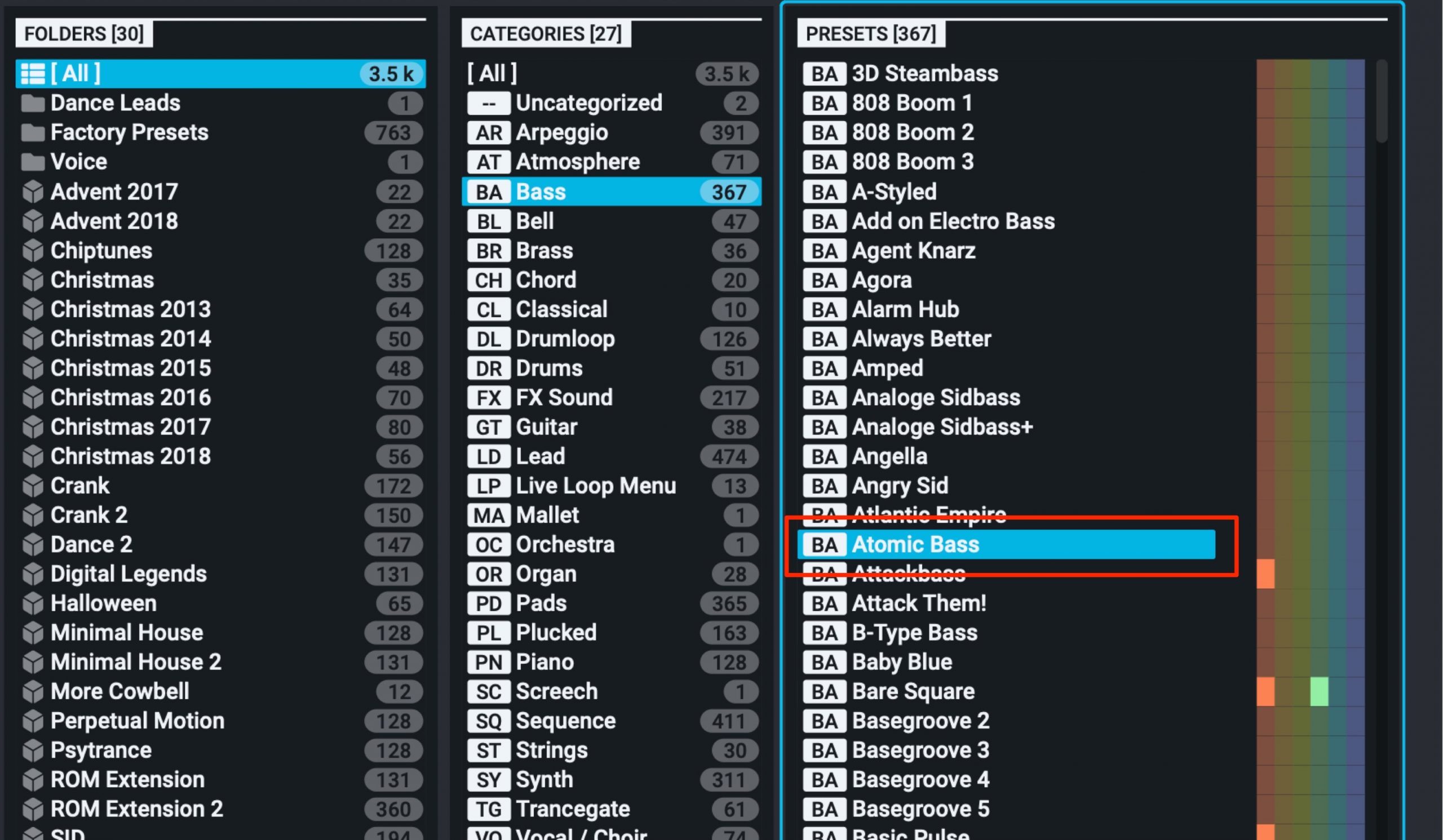 You can now click on a preset name to preview the sound.
Because the preset wont be loaded, you can easily find the sounds you want faster than ever before.
Favorites Icon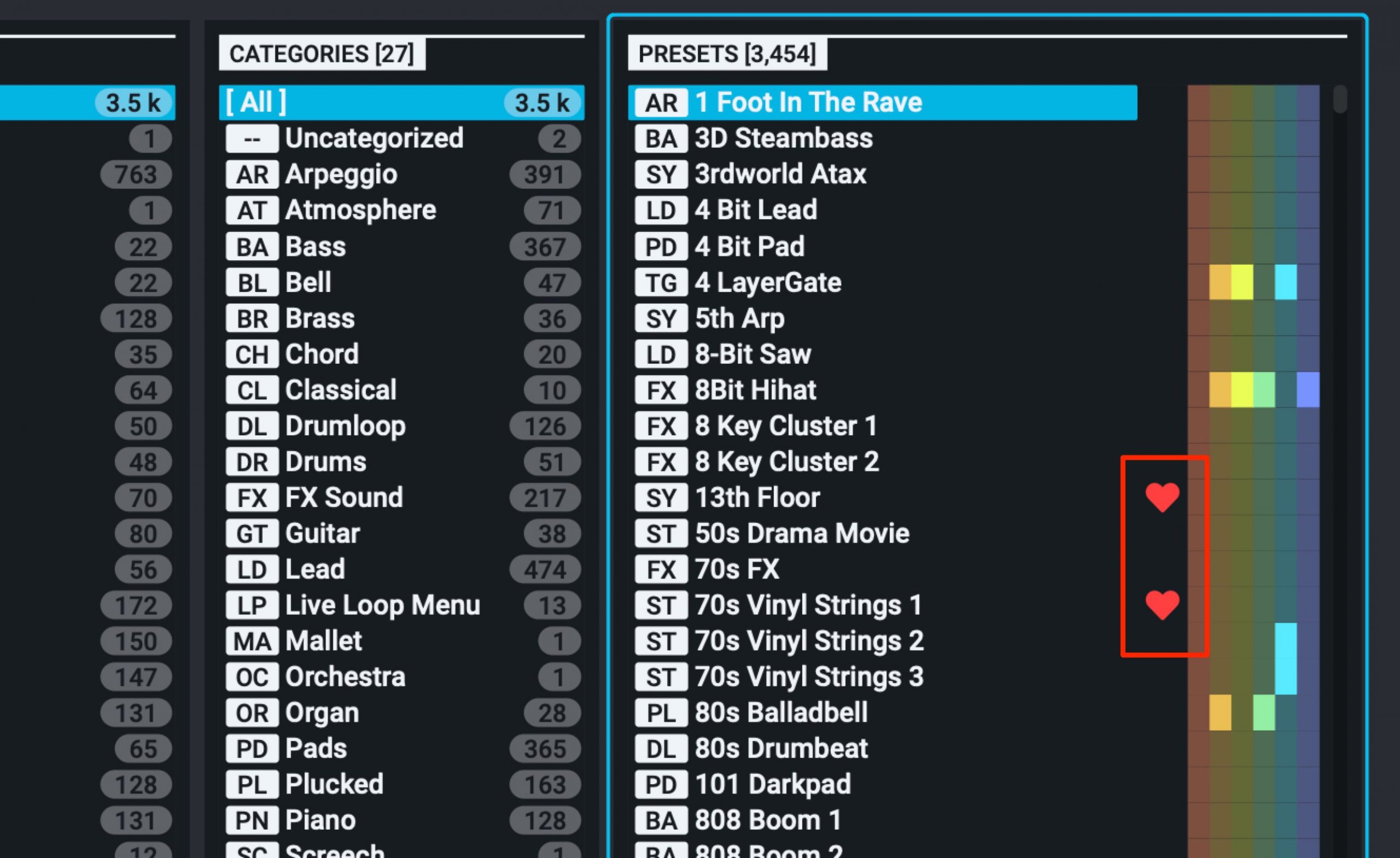 By turning on the heart icon on the right of a preset name, you can add it to your favorites.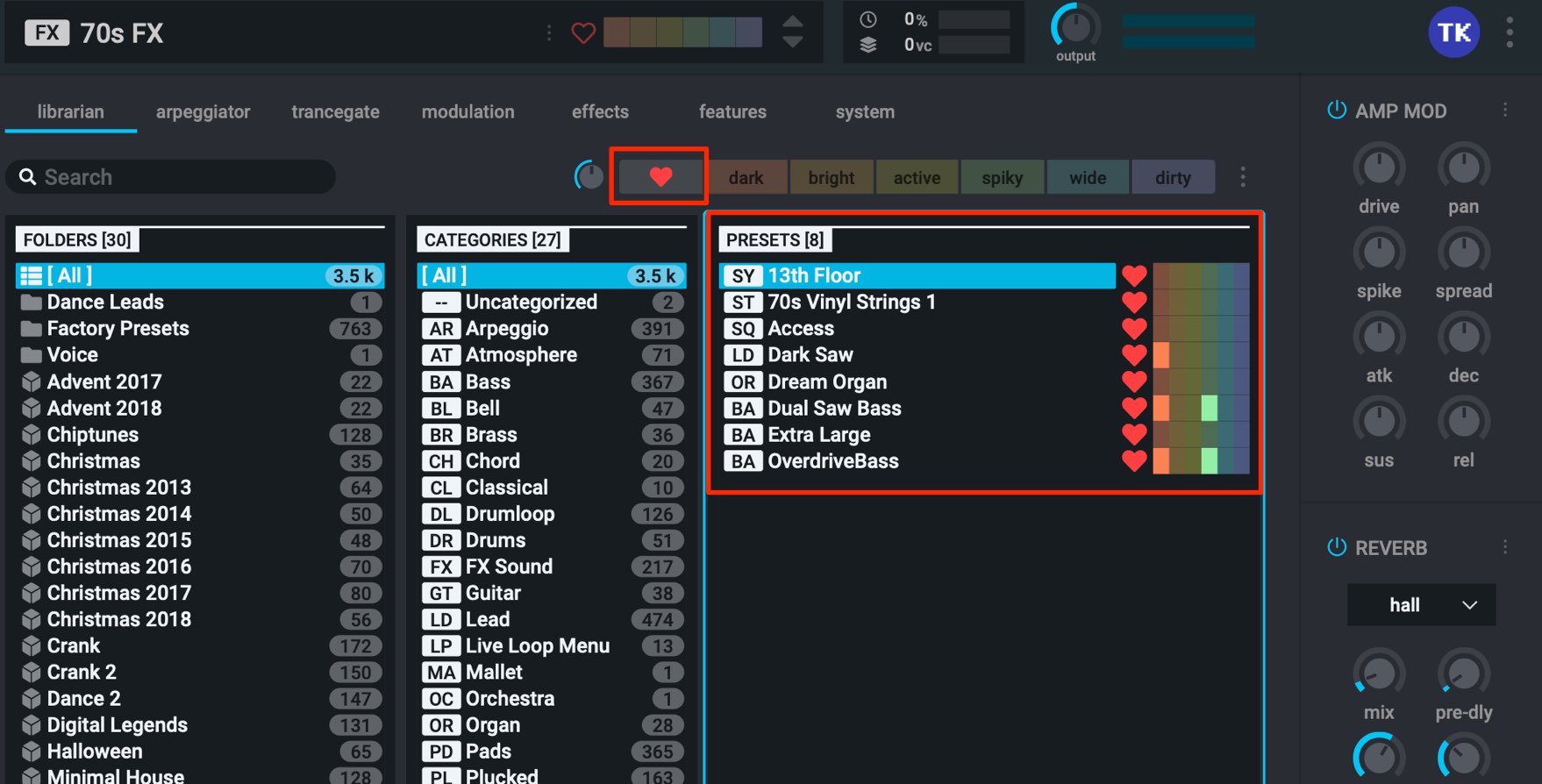 Click on the heart button above to display just your favourite presets.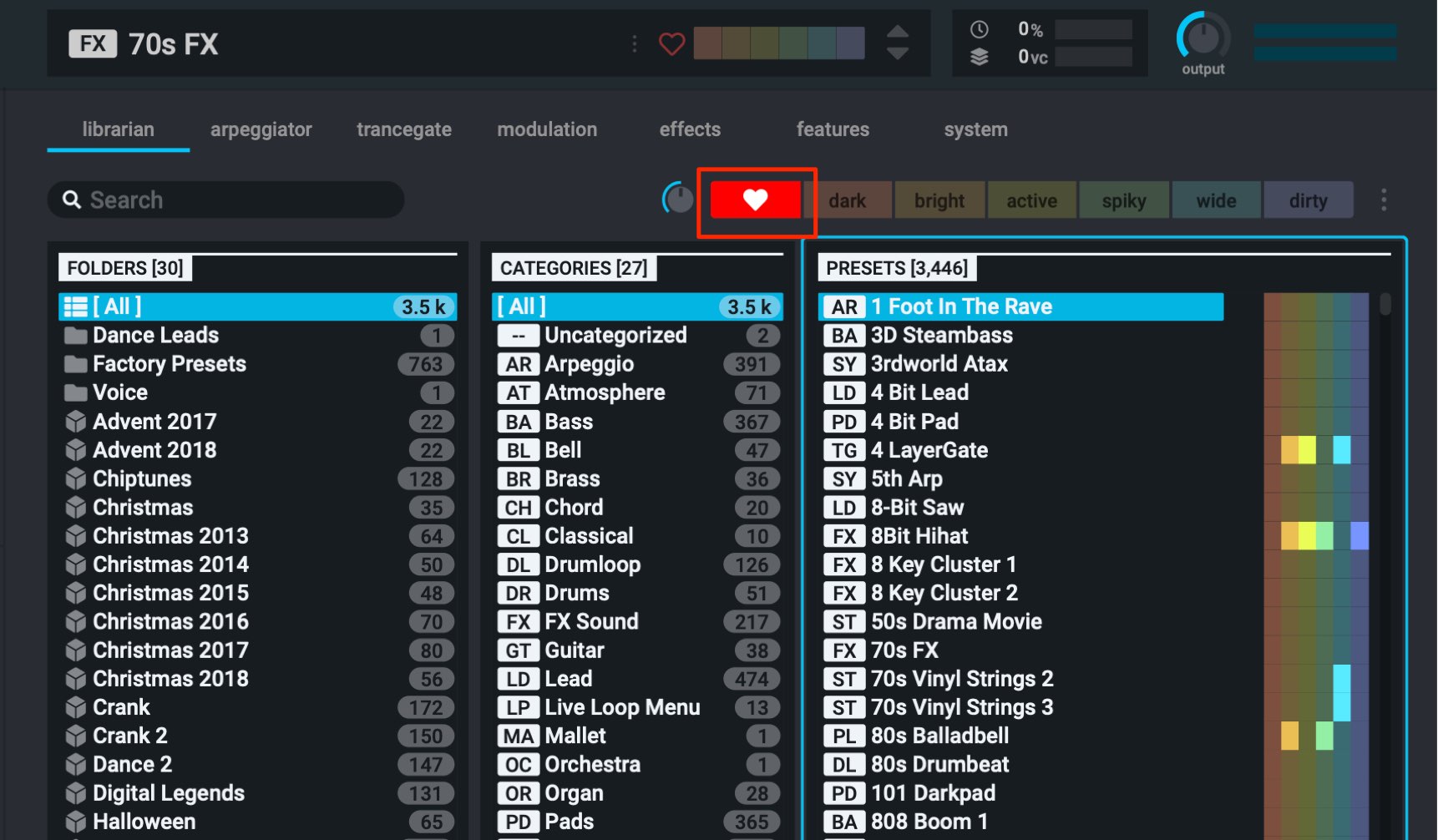 Click the heart button again to turn it red, and exclude favorited presets from the preset display list.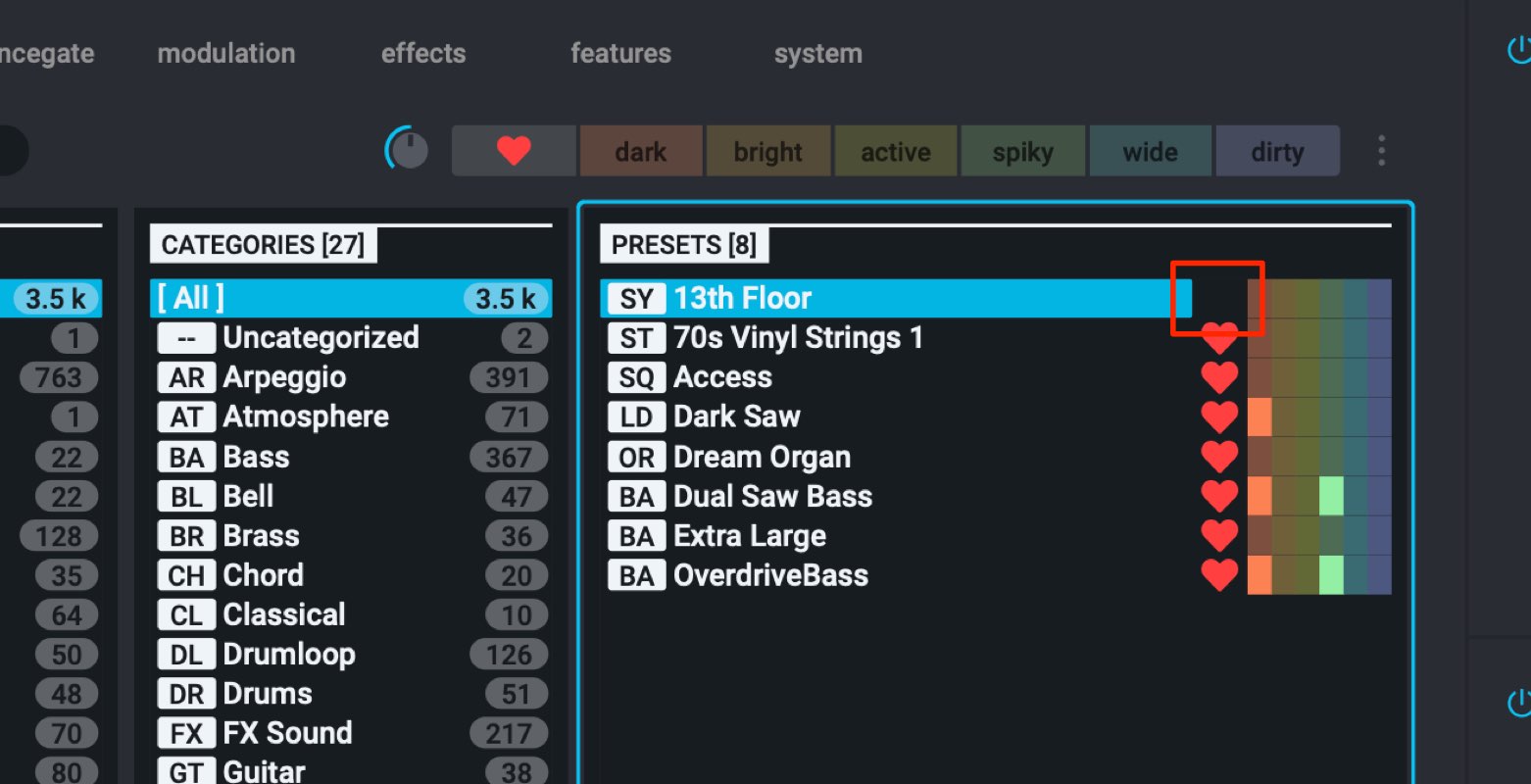 To remove a preset from your favorites, click on the heart icon again to turn it off.
Bookmark Function
You can create an original preset folder to save presets in.
Multiple folders can be created as well.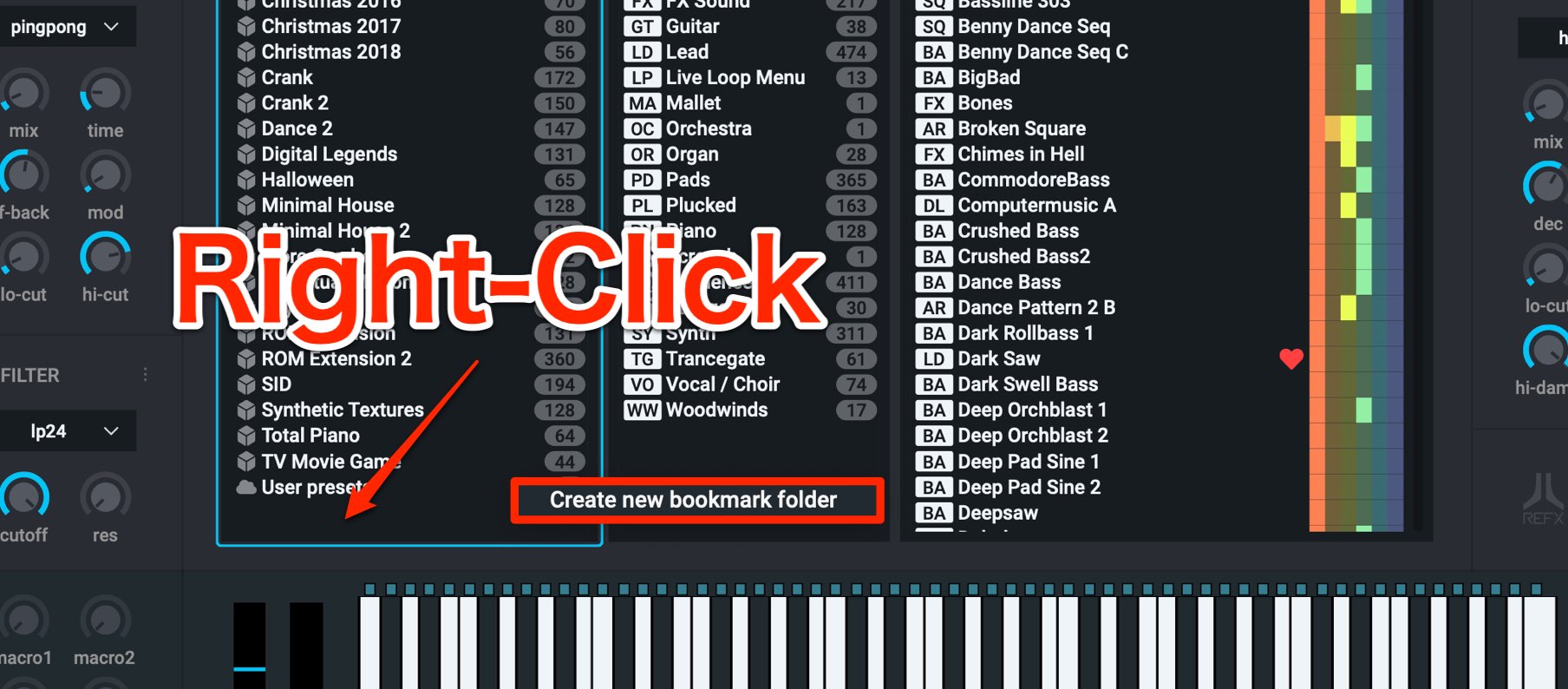 Right click in the folder area and select "Create new bookmark folder".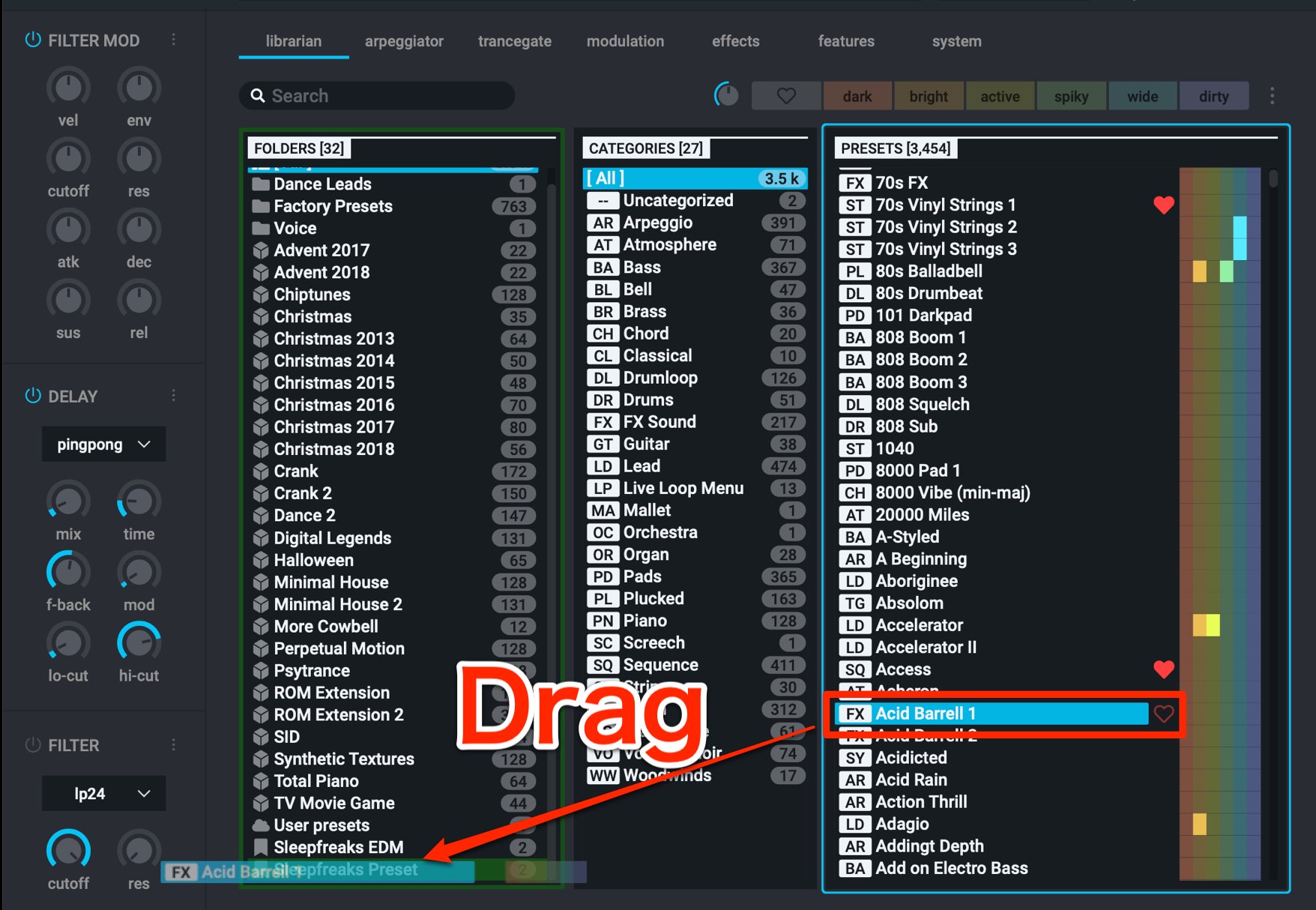 The simply drag and drop presets into the folder.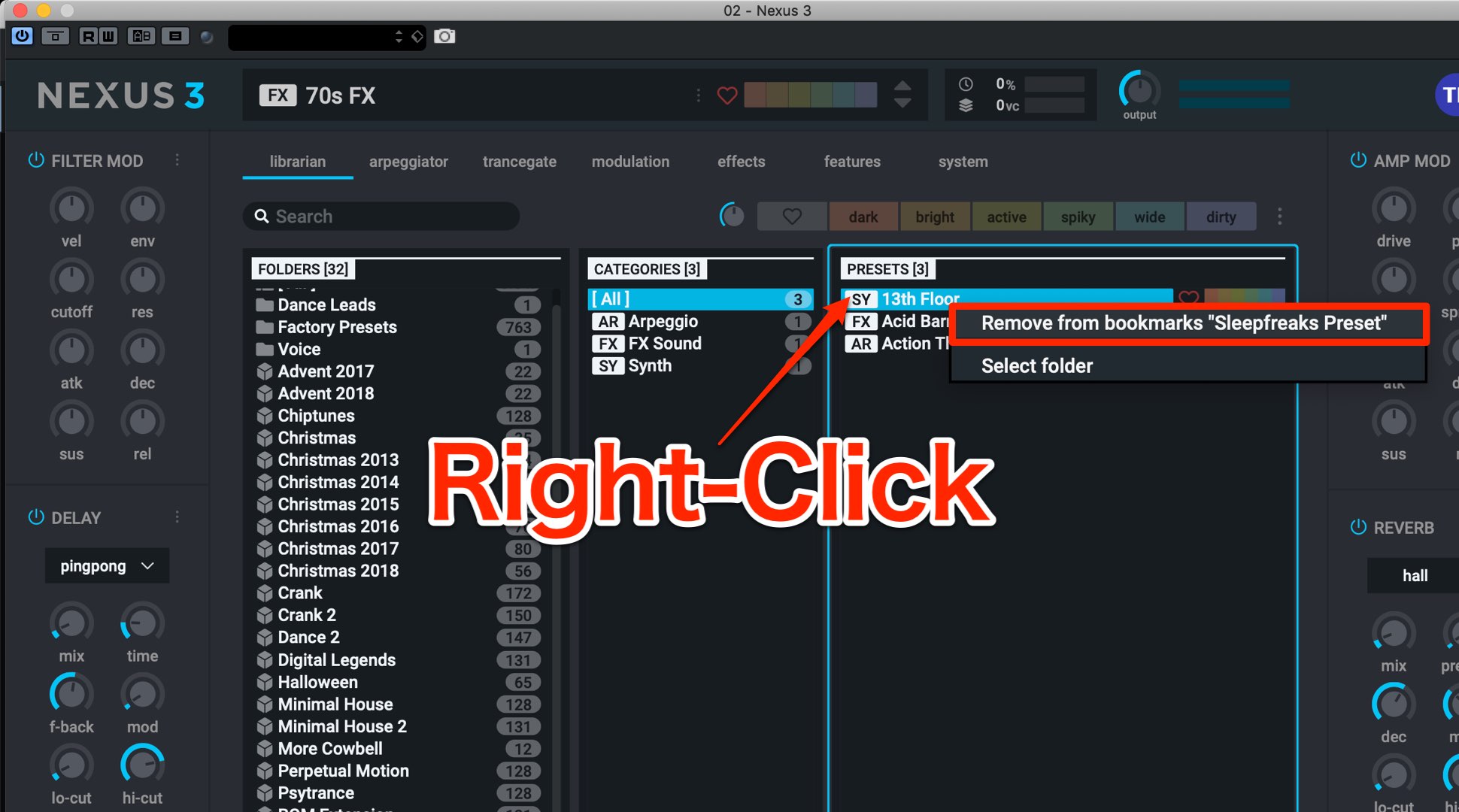 To remove a preset from a bookmark folder, right click it and select "Remove from bookmarks".

To delete a bookmark folder, right click on the folder and select "Delete".
Saving Presets
You can save edited presets as well.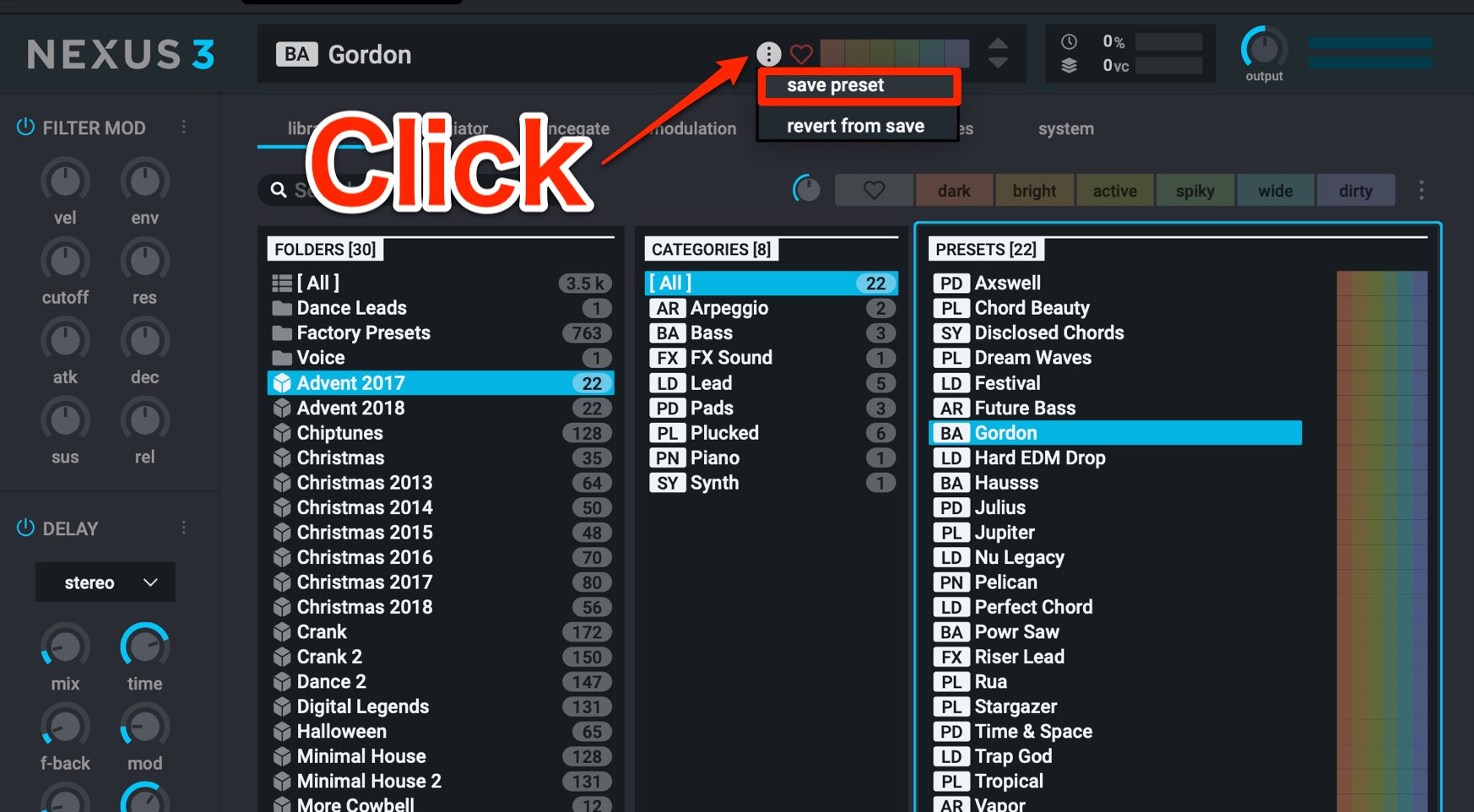 Click on the menu icon above and select "save preset".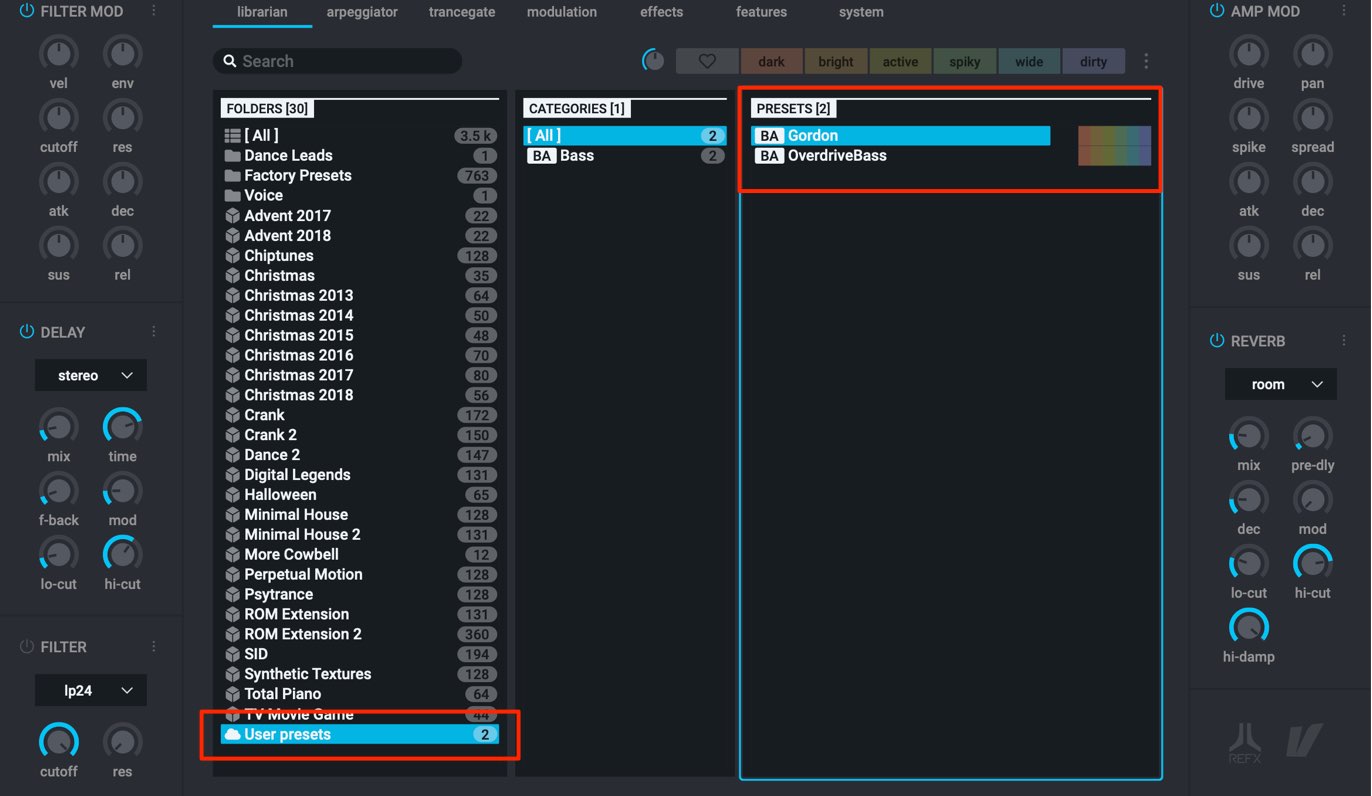 A "User presets" folder will be created with your preset saved in it.
The preset name can be changed as well.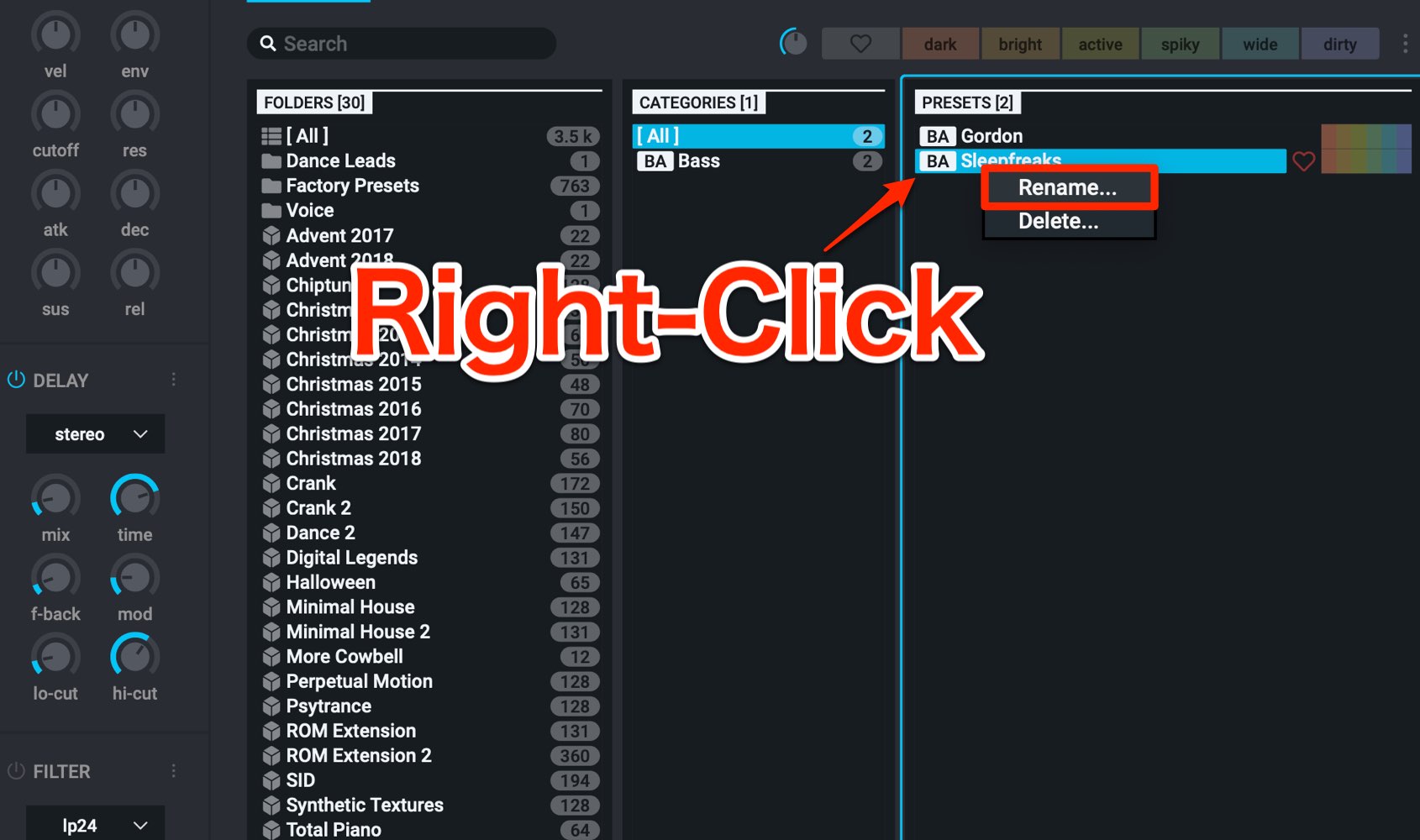 Right click on the preset and select "Rename".
To delete the preset, click "Delete" from below it.
Easy Sound Editing
You can quickly and easily edit preset sounds as well.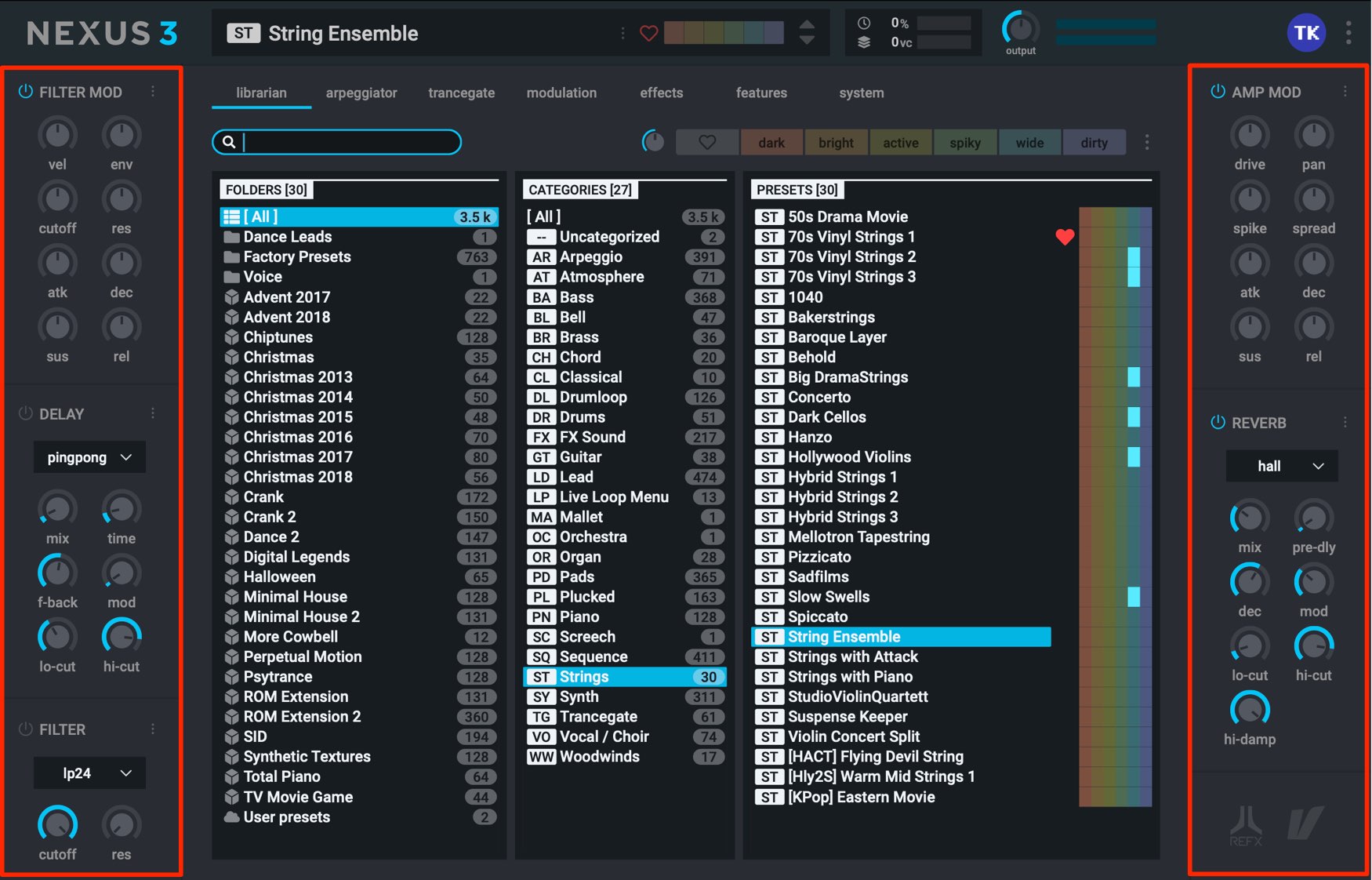 On the right/left panels there is "FILTER MOD (LowPass)", "DELAY", "FILTER", "AMP MOD", and "REVERB".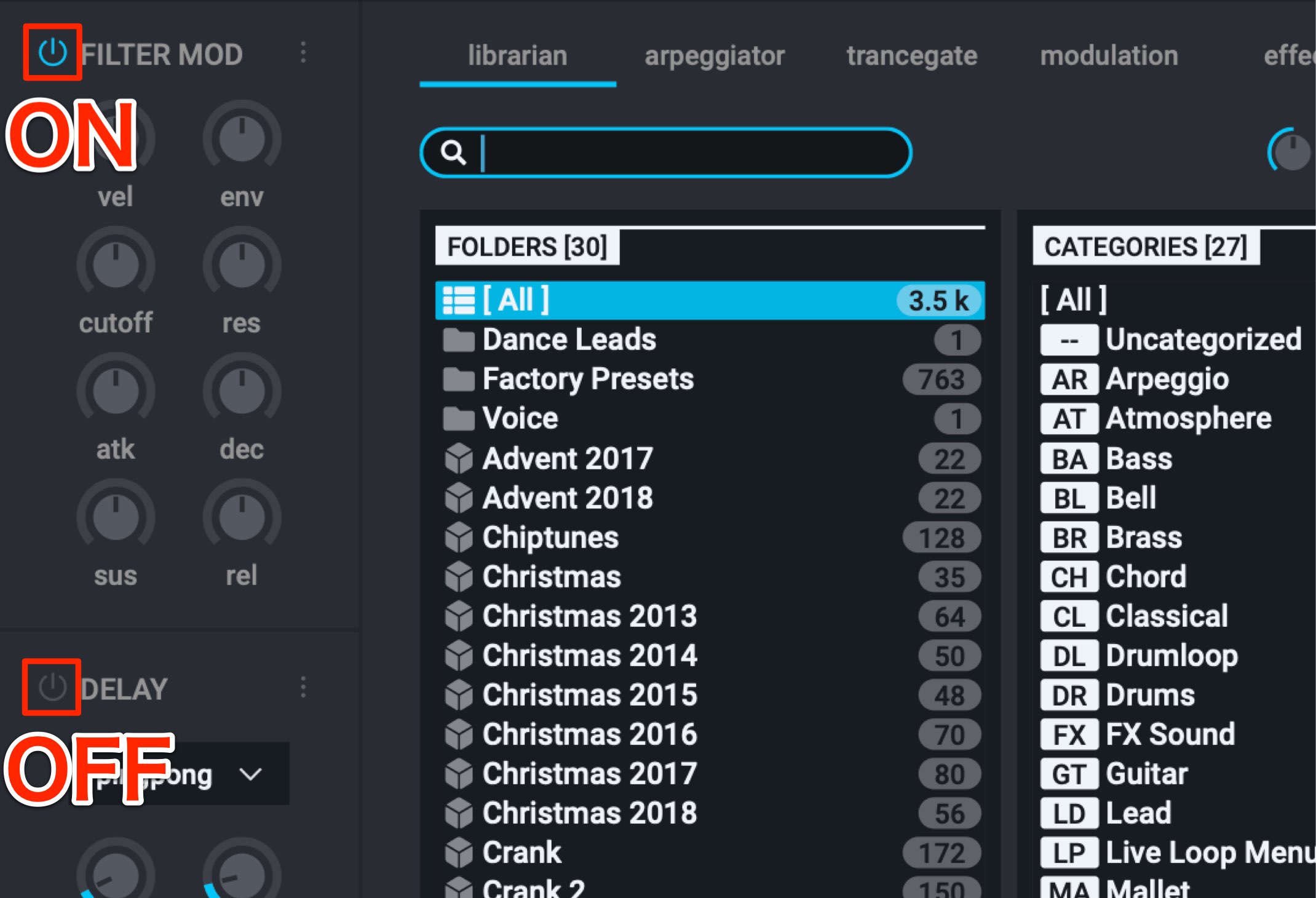 By turning on a panel, it will effect the sound.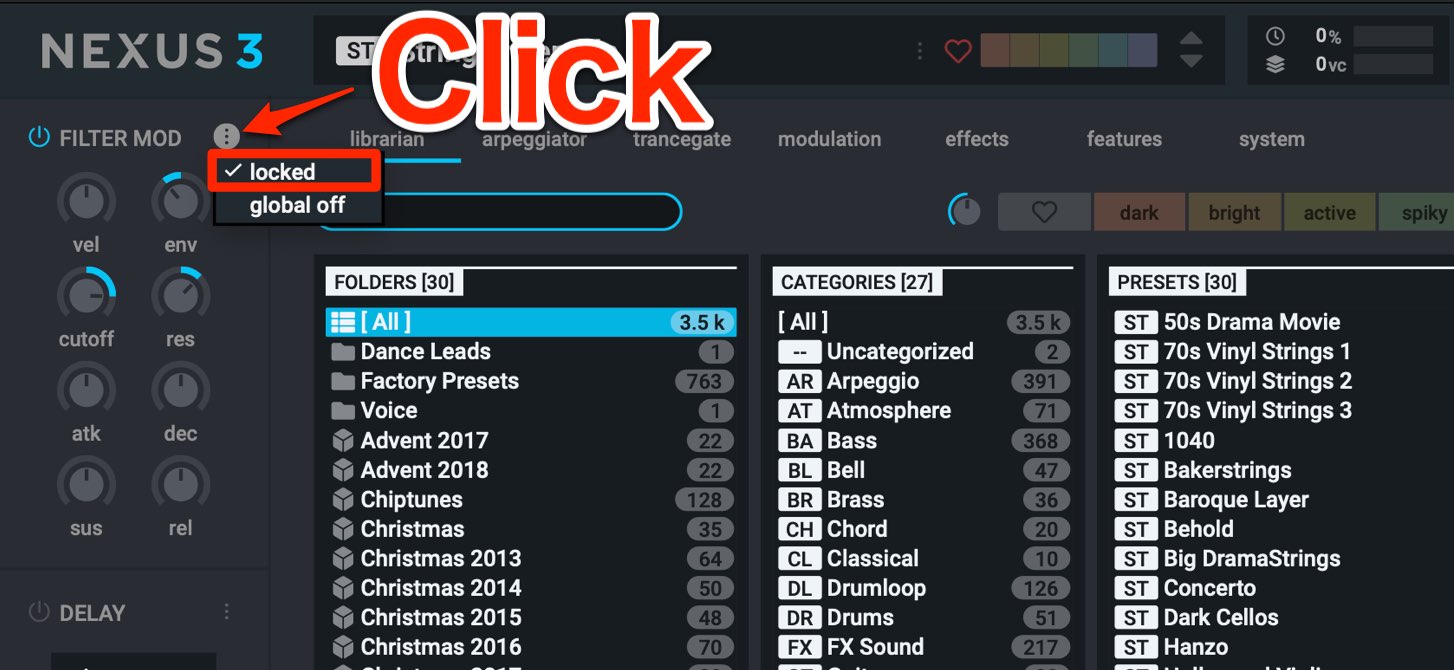 You can utilize the useful parameter lock function.
By selecting "locked" from the panel menu, you can switch to a different preset with the same current effects applied.
The basics of the panel work the same as in Nexus2.
We have a past article/video below so check it out:
4 Macro Knobs
There are now 4 macro knobs on the front panel.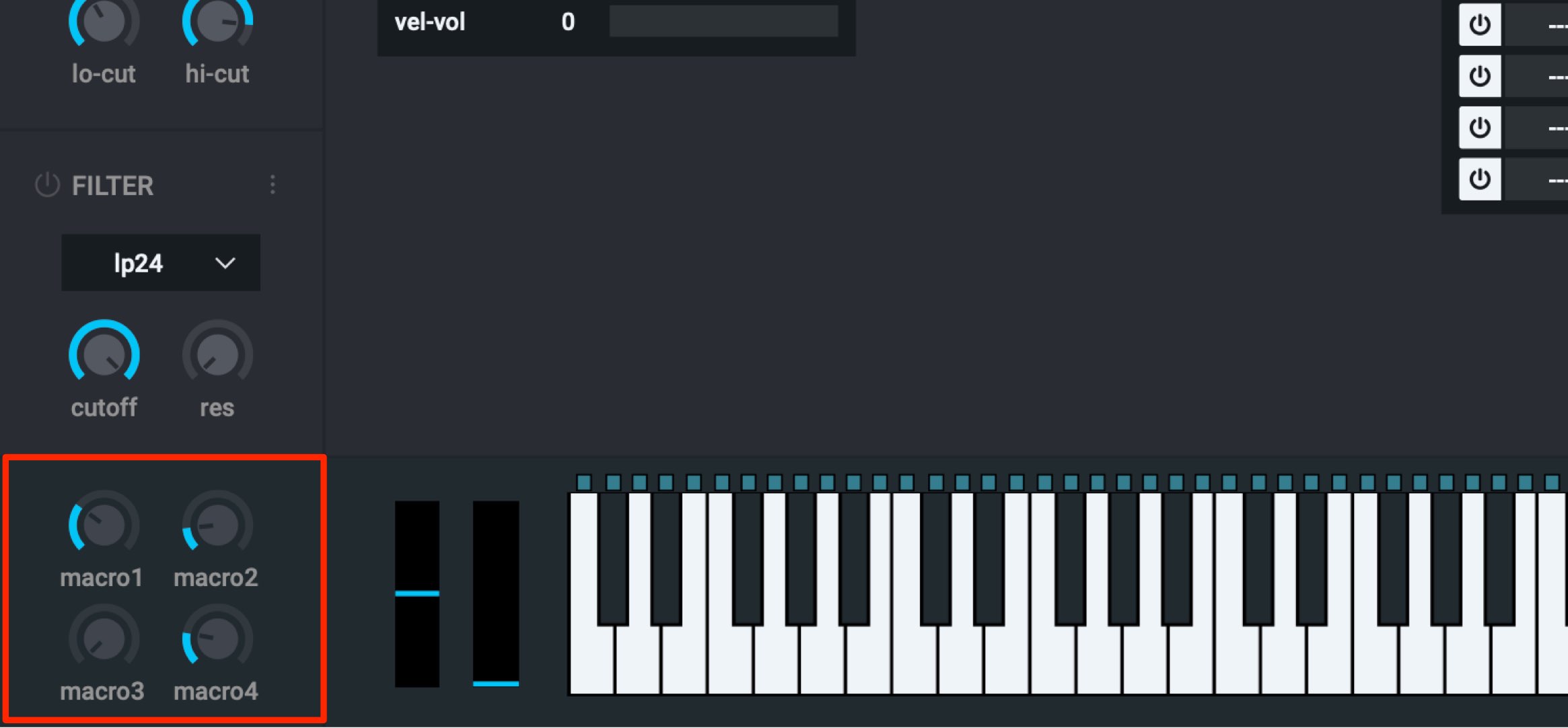 You can apply multiple parameters in Nexus 3 to 1 macro knob as well, allowing you to utilize it for live performance.

Access "modulation" from above.
We will apply filter cutoff and pan to a macro knob for this example.
1. Select macro knob (macro 1 here)
2. Designate what parameter to send to the macro knob (filter cutoff and pan)
3. Determine the span of movement with the macro knob (maxed out in this example for an obvious effect)
When macro 1 is moved a yellow line will be disaplyed on the effected parameters, showing the amount of change applied by the macro knob.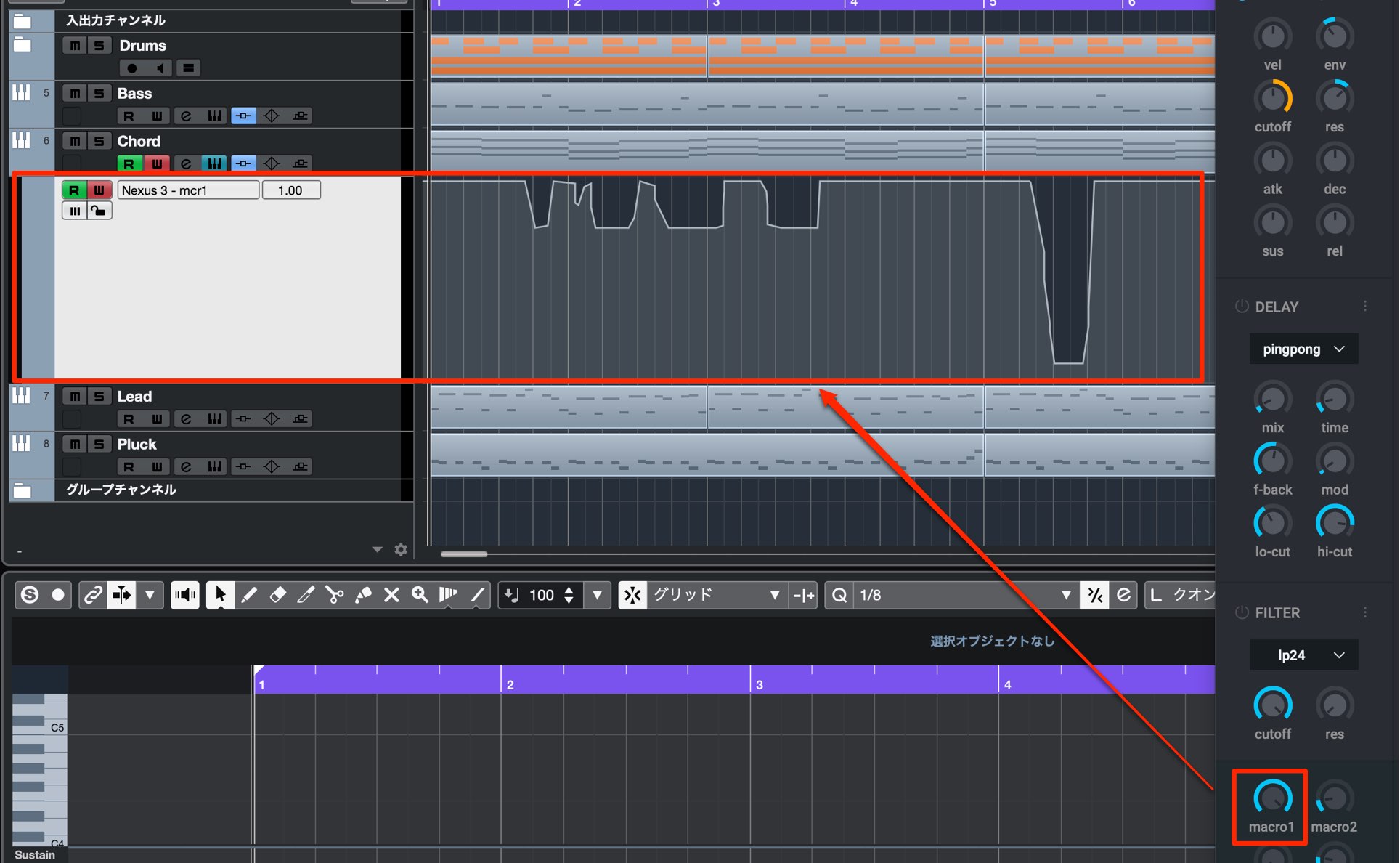 Of course, you can automate this macro movement in your DAW as well.
Controlling Sound Layers
Some presets contain multiple sound layers.
By controlling these individually, you can customise the sound to better fit with your track.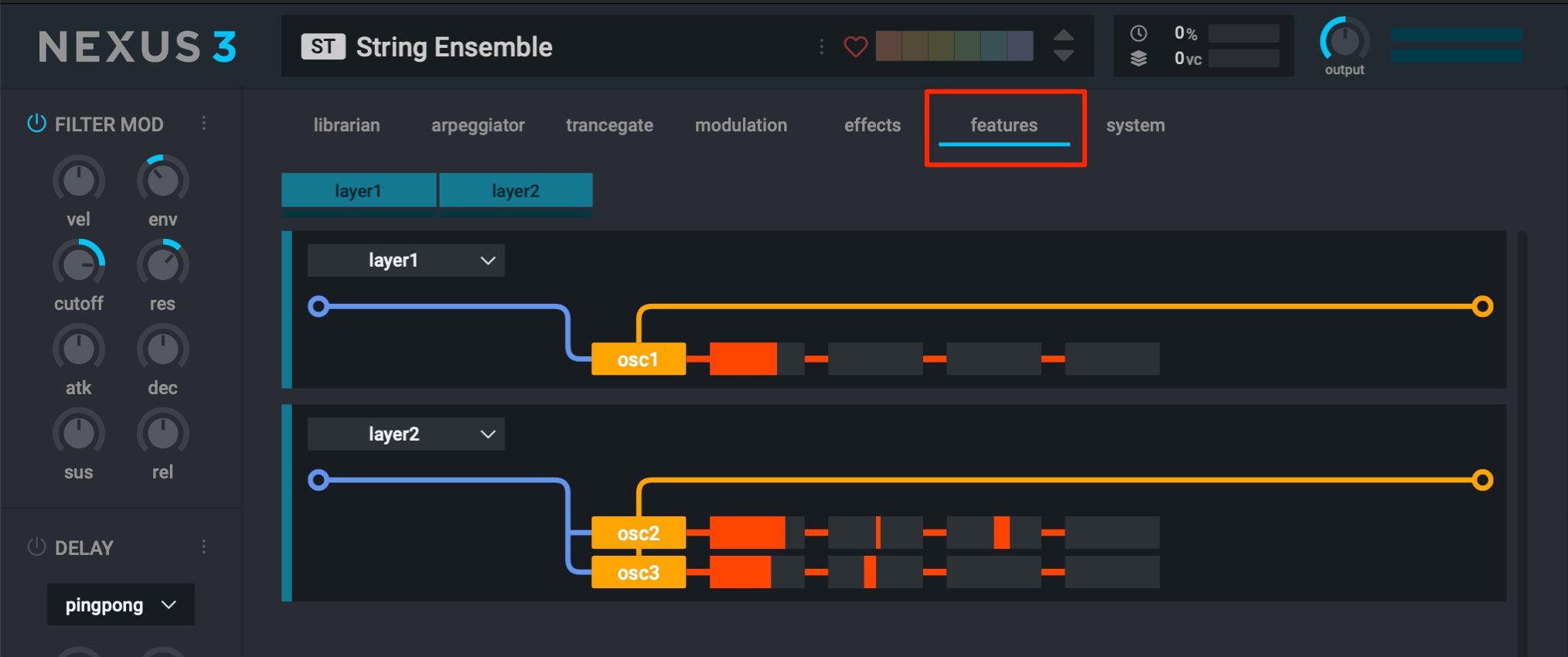 Go to "features".
The layers will be displayed as shown (here we have 2 layers and 3 oscillators).

Click "layer" to mute a specific layer, allowing you to easily preview/edit individual layers.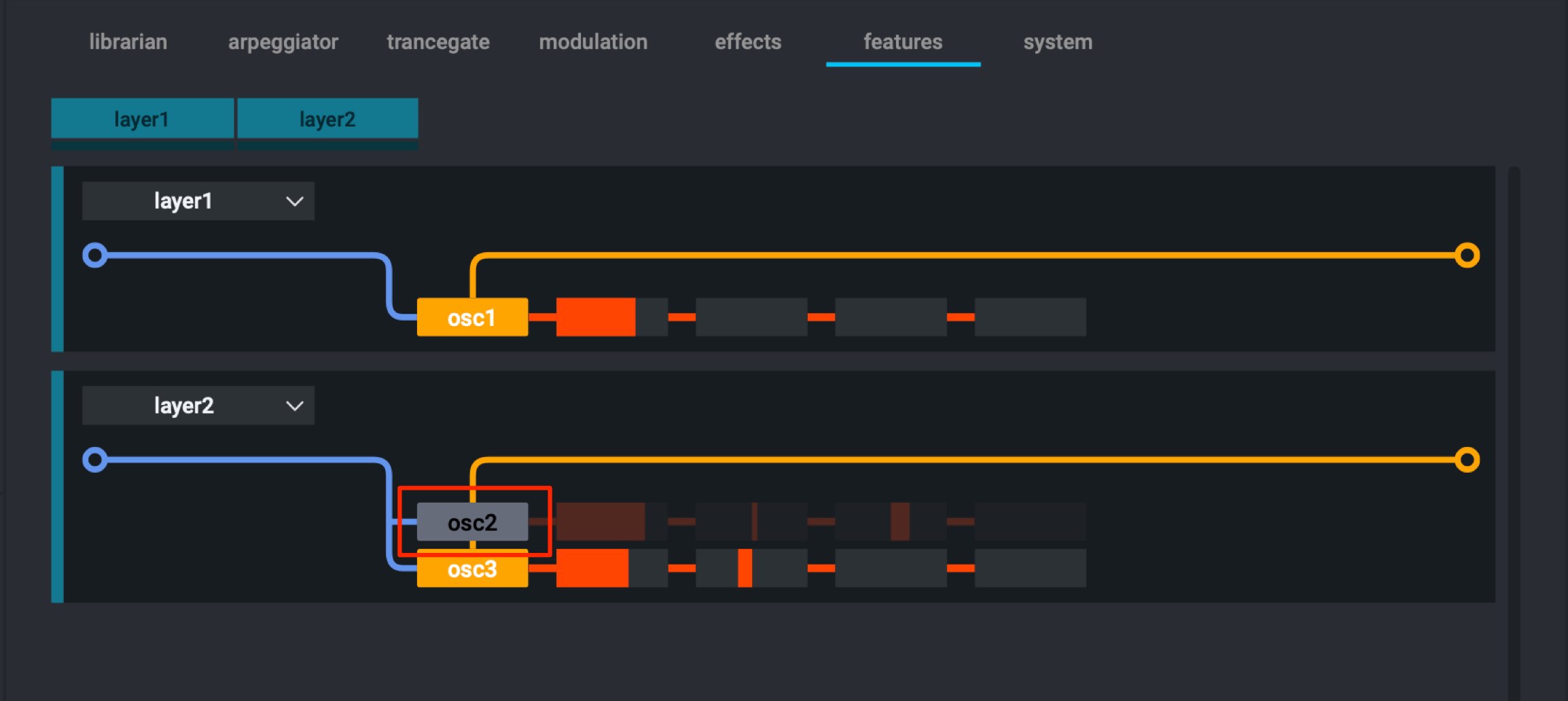 Multiple OSC can be found in a layer, and muted individually by clicking them as well.

Each layer can be edited in detail:
Volume : Designates the layer's volume. Changing the balance of volume between layers can greatly influence the overall sound.
Pan : Designate the layer's pan. Create width and a stereo spread, or tighten the overall sound.
SemiTone : Adjusts pitch in semitones. You can create single note harmonies or layer with octaves.
Cent : Adjusts pitch in cents (1/100). By shifting the pitch of a layer, you can create a chorus-like effect to thicken the sound.
---

We hope you enjoyed this article.
This product has greatly evolved from the previous Nexus2.
Though the high quality presets are a huge plus, many improvents on usability have been made, and the removal of the need for a license key is also a happy addition.
Please try out the new and improved Nexus 3!
Product URL: https://refx.com