ARTURIA PIGMENTS Tutorial - Features and Sound-control Functions
Edit functions that leave nothing to be desired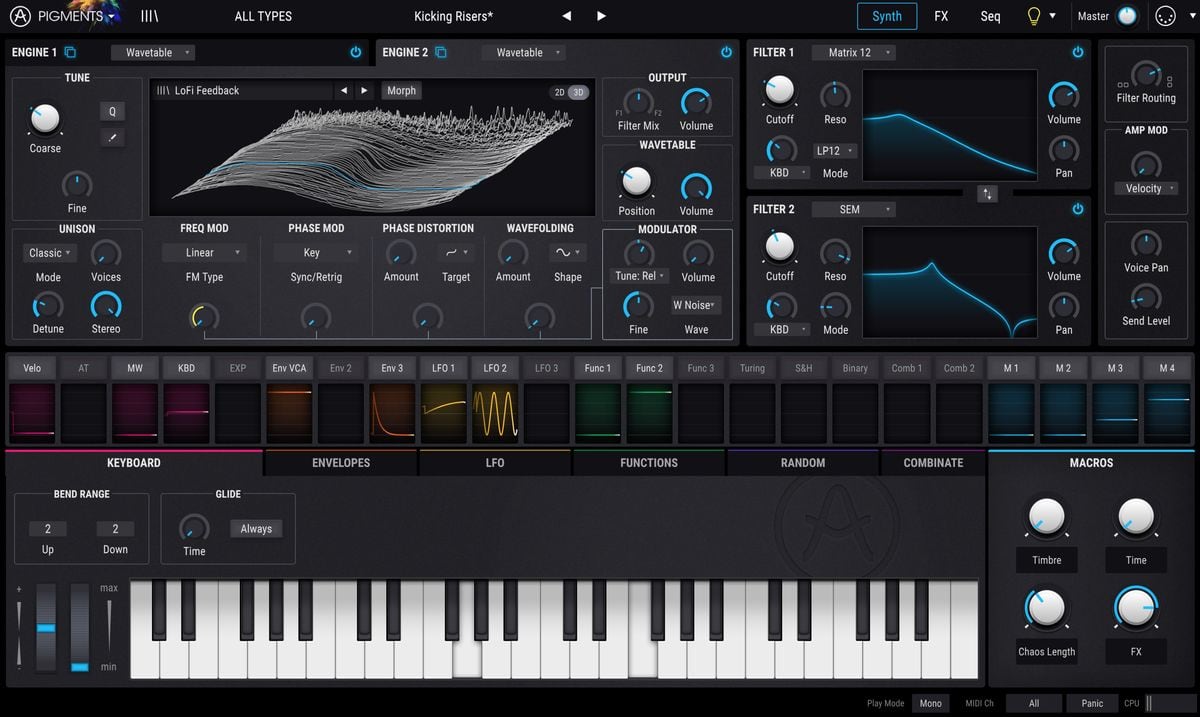 We will be taking a look at Arturia's new synth release「PIGMENTS」.
PIGMENTS contains tools to control your sound including a「wavetable compatible oscilator」「various filters」and the ability to「freely choose modulation sources」.
In addition, you can create phrases in-plugin with「sequencers」&「arpeggiators」, and in the effect section, you can use「6 inserts」「3 sends」, with 9 total effects you can apply.
Please give a listen to a demo song we made with PIGMENTS first.
All synth tracks in the song were made with PIGMENTS.
ARTURIA PIGMENTS Video Access
Wavetable compatible oscillator section
Lets start by taking a look at the oscillator section.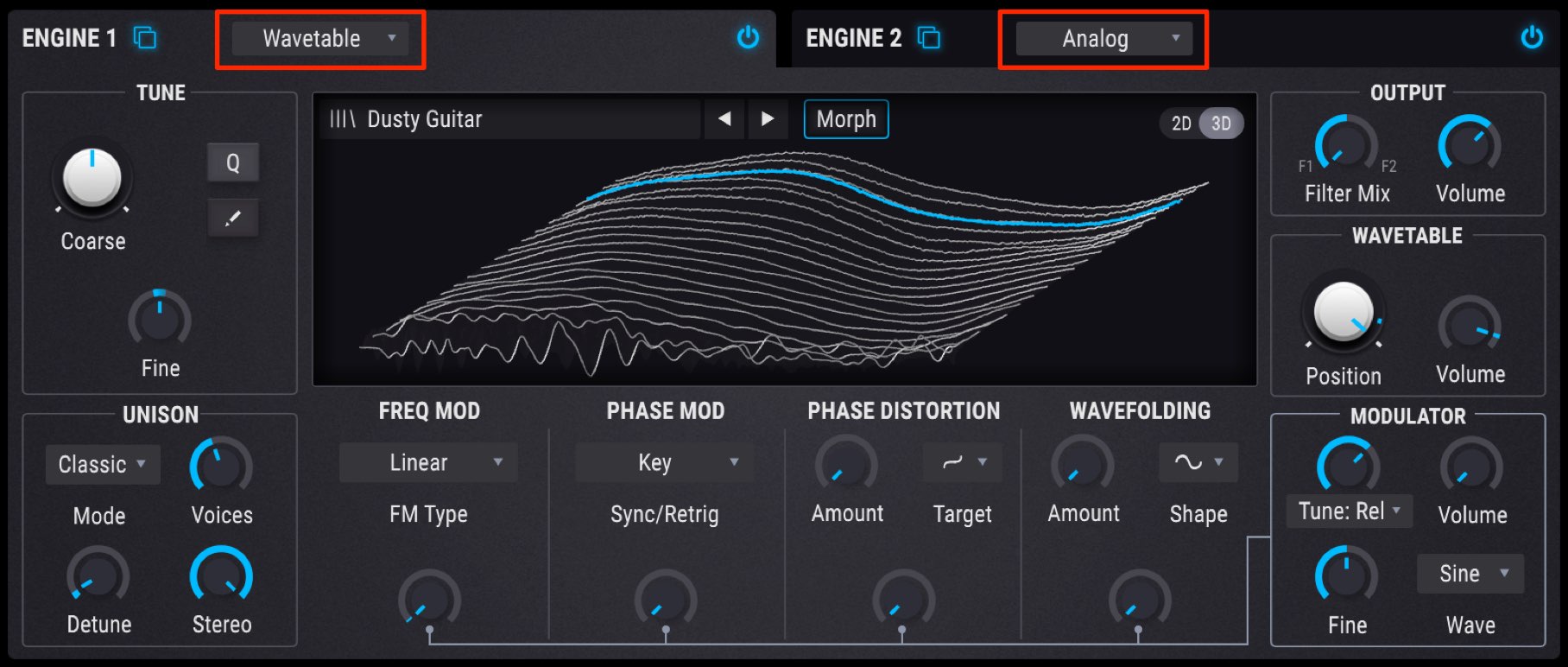 The 2 oscillators, can be switched between the modern wavetable type, and the classic analog type.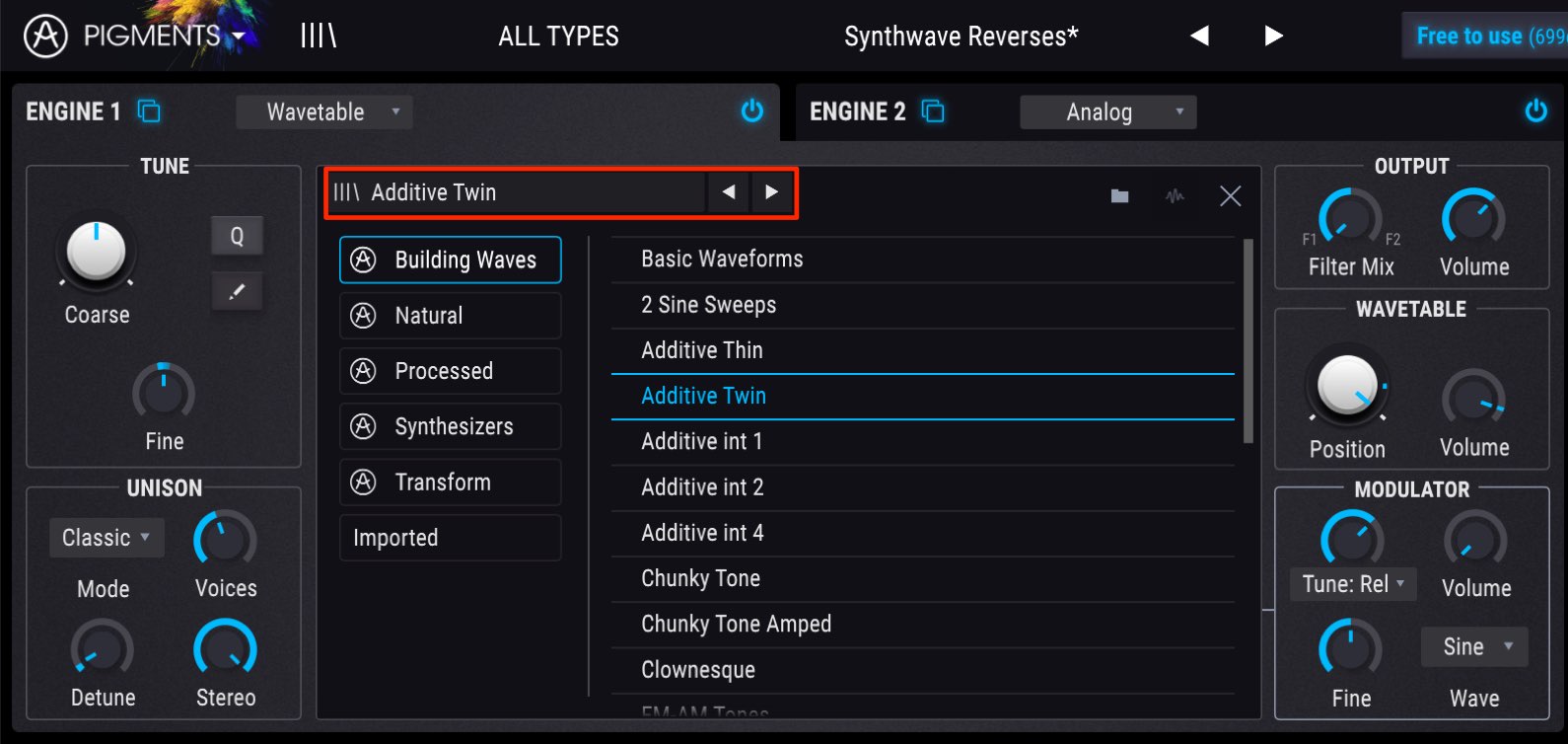 The wavetable can access a rich variety of provided wave forms,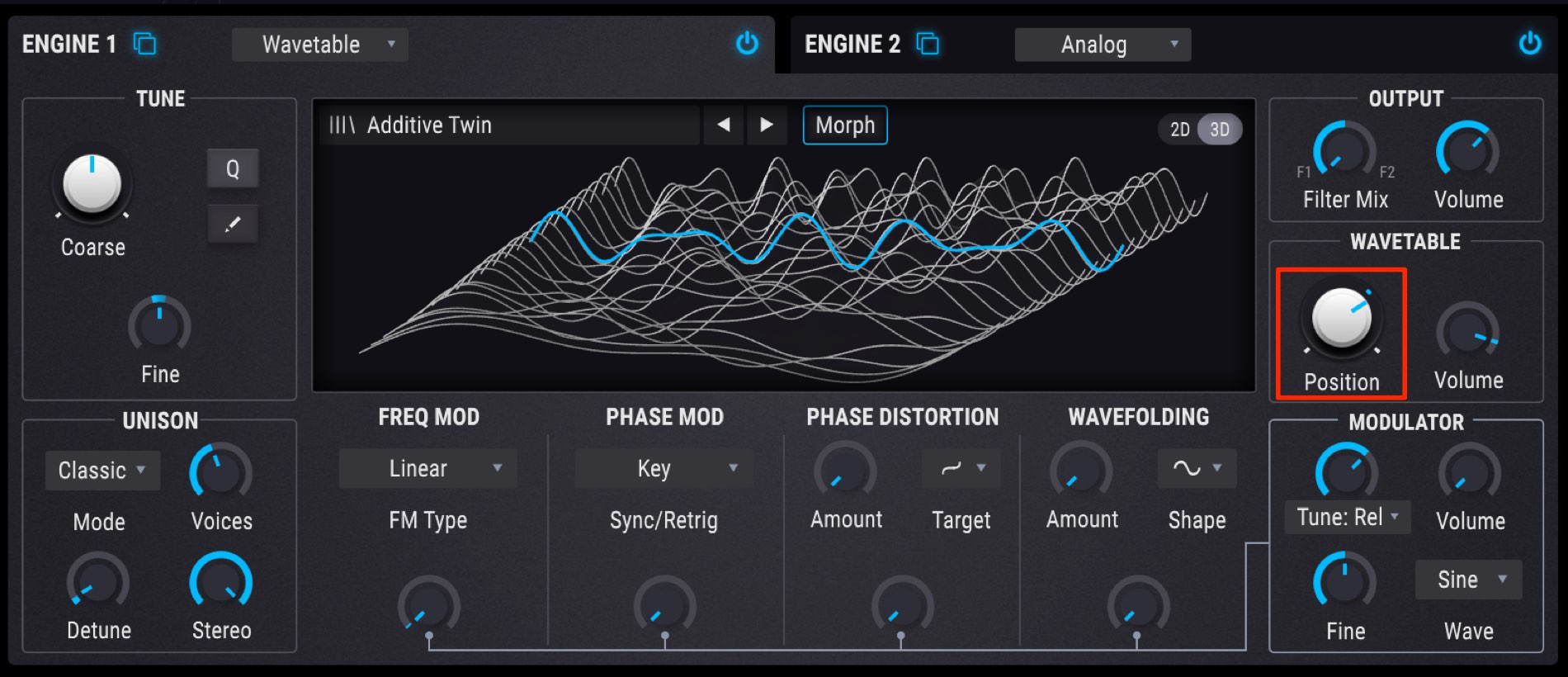 and designate the starting point from the「Position」.
You can apply modern modulations such as「FM」「PHASE」「PHASE DISTORTION」「WAVEFOLDING」
to the wave form.
This allows you to place complicated overtones and create flamboyant tones.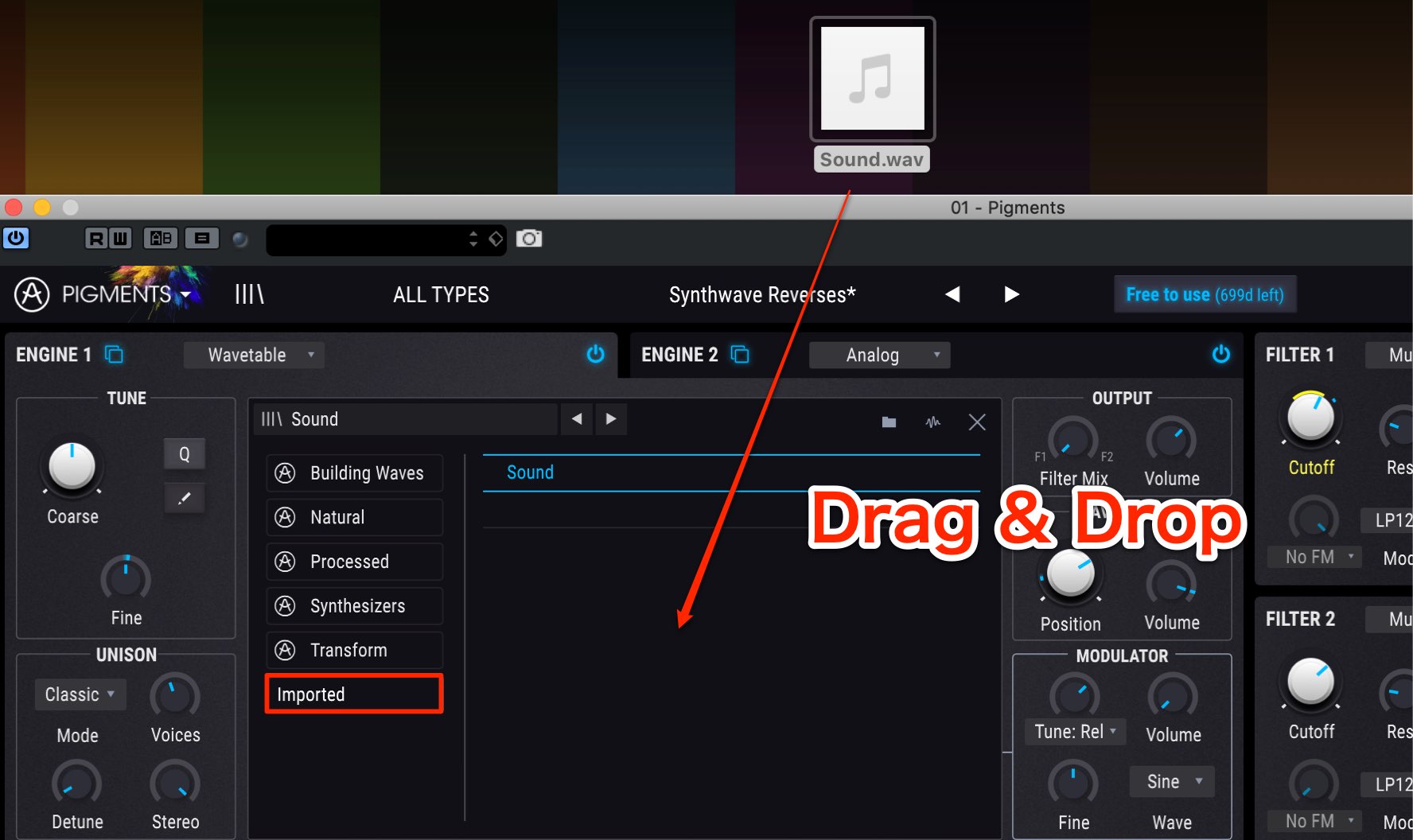 You can read your own audio into the oscillator as well.
Select「Imported」, and import the Wav file that you want to use.
Lets take a look at the analog oscillators as well.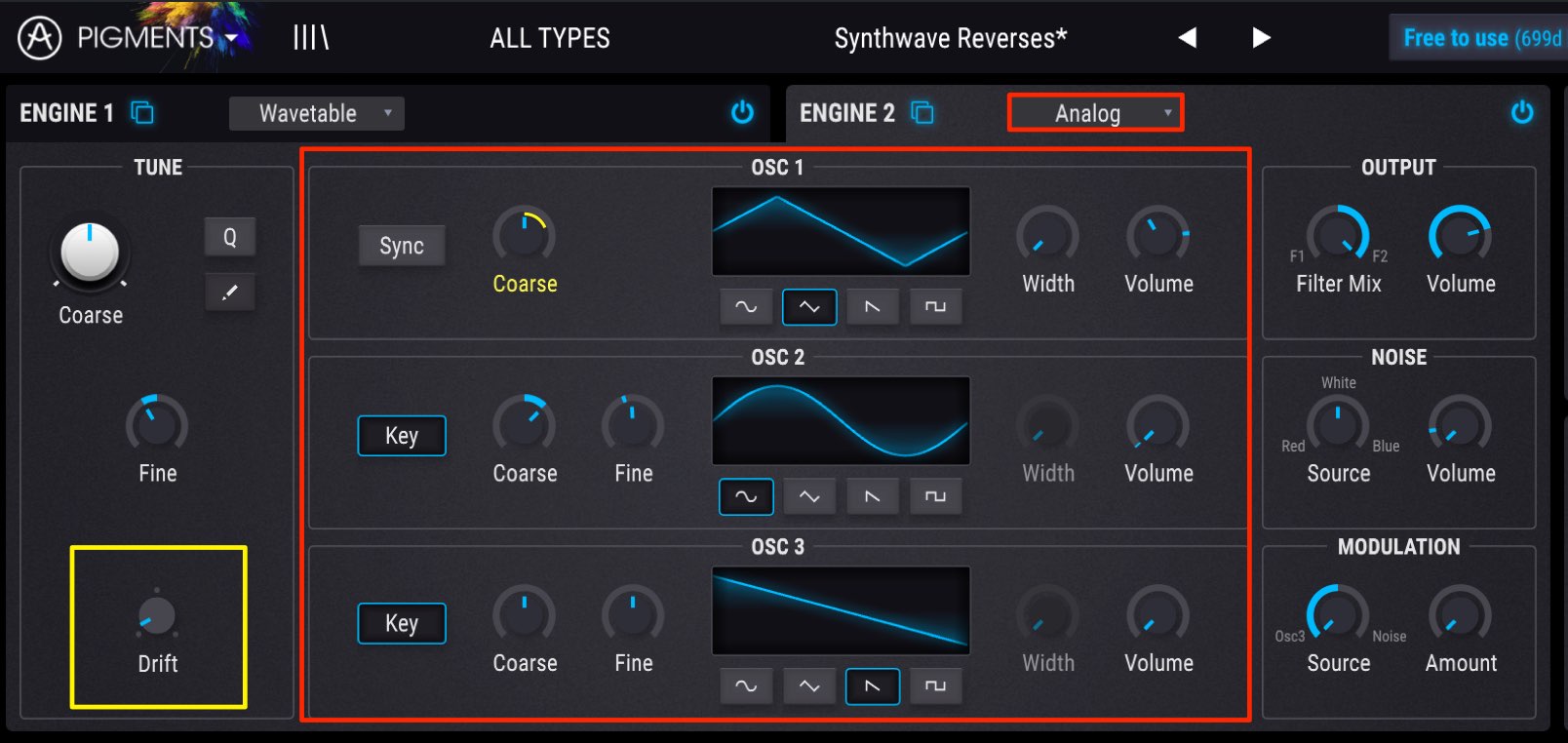 You can layer a maximum of 3 waveforms in the Analog mode.
It has a unique「Drift」function, which recreates that distinct analog synth pitch shift,
adding thickness and warmth to your sounds.
Visualized modulation
One advantage to PIGMENTS is the ability to designate envelopes/LFOs,
and visually see the changes that are applied.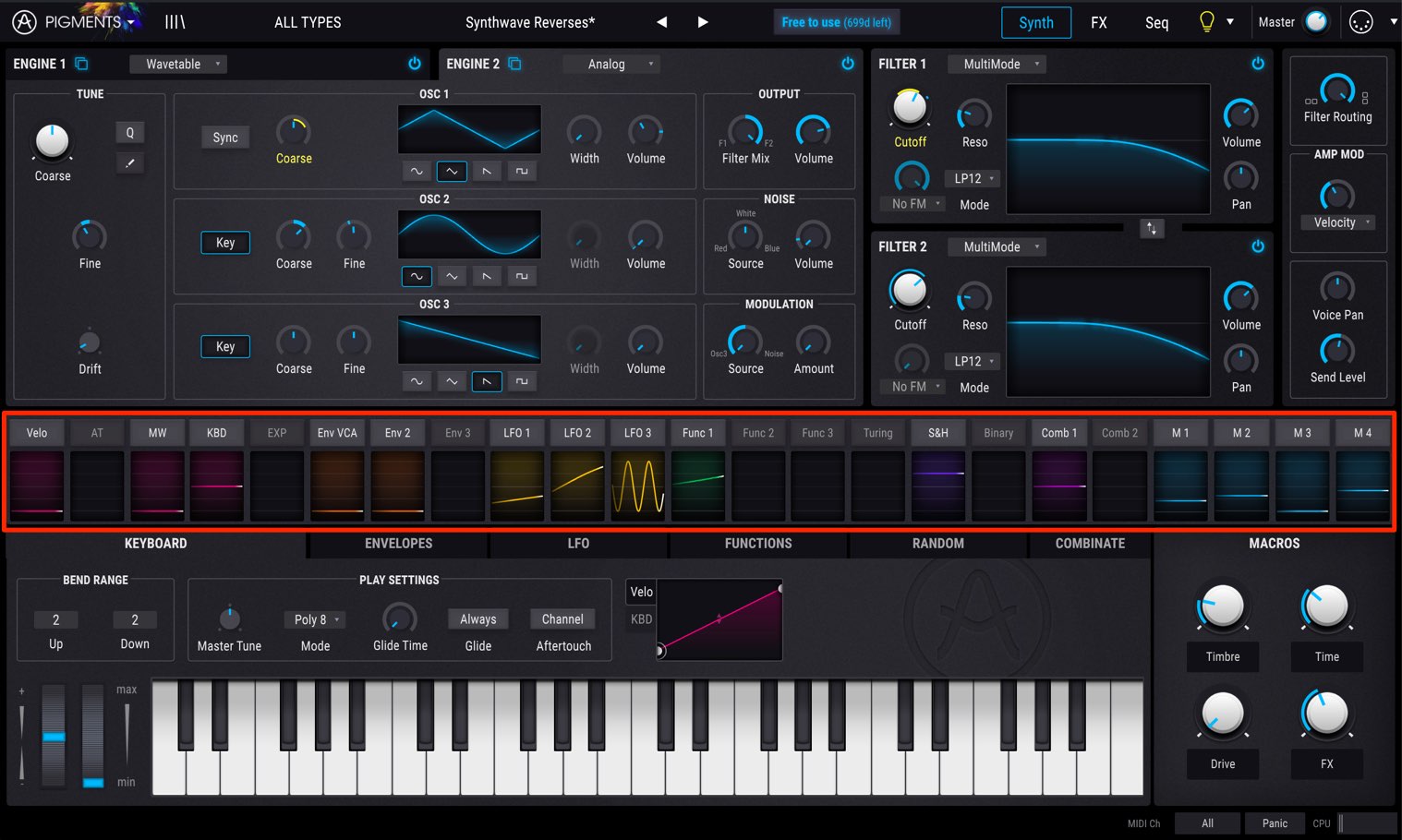 It's created to allow you to see the modulation through a screen,
and makes complicated sound editing easy.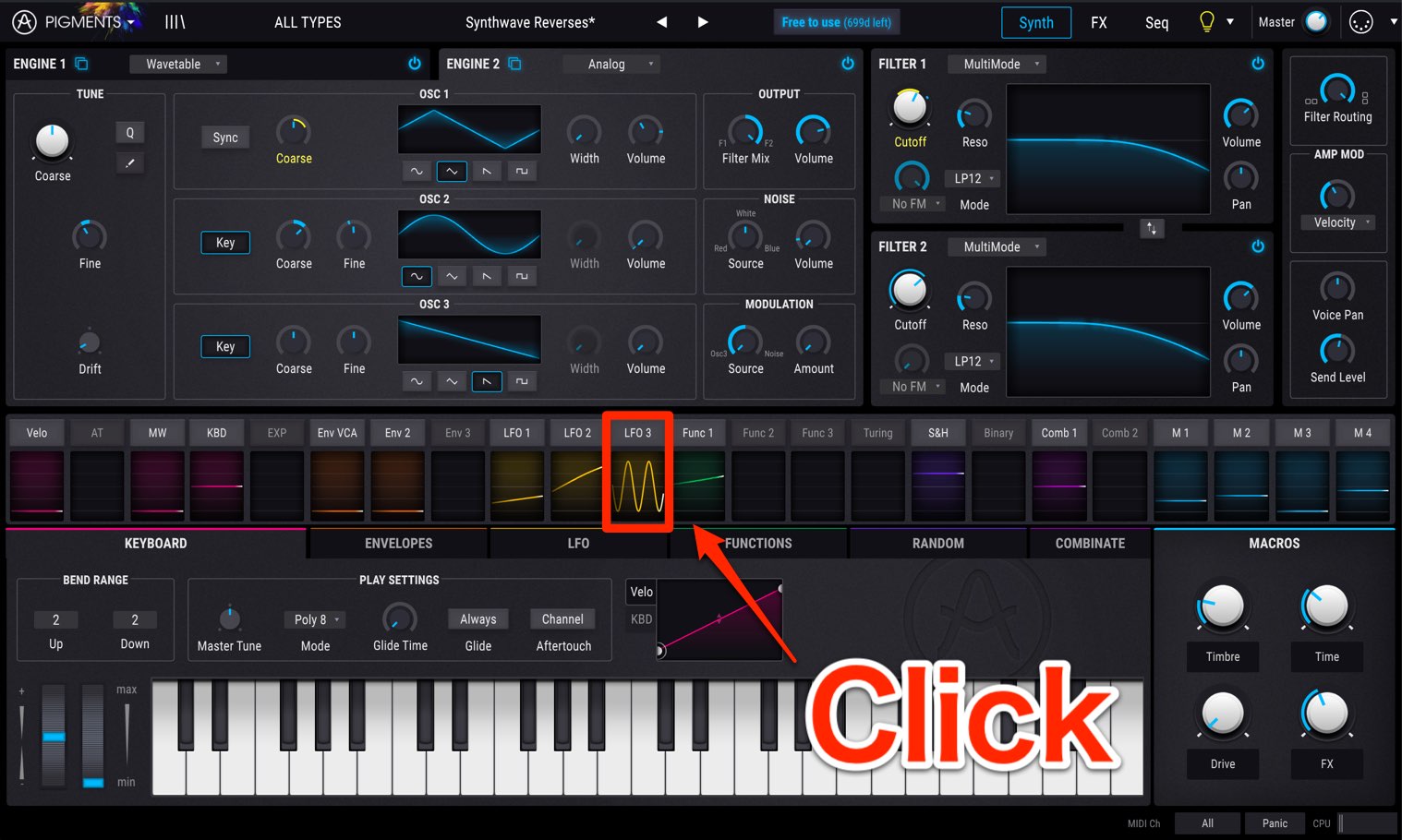 To apply modulation to different parameters, click on the modulation source to select it.

Simply drag it to the knob that you want the modulation applied to.
The amount can be adjusted too, and the modulation movement graphically changes.

As shown, above each modulation, you can see the parameters that it's applied to.
Super-functional filter section
2 filters are available in the filter section.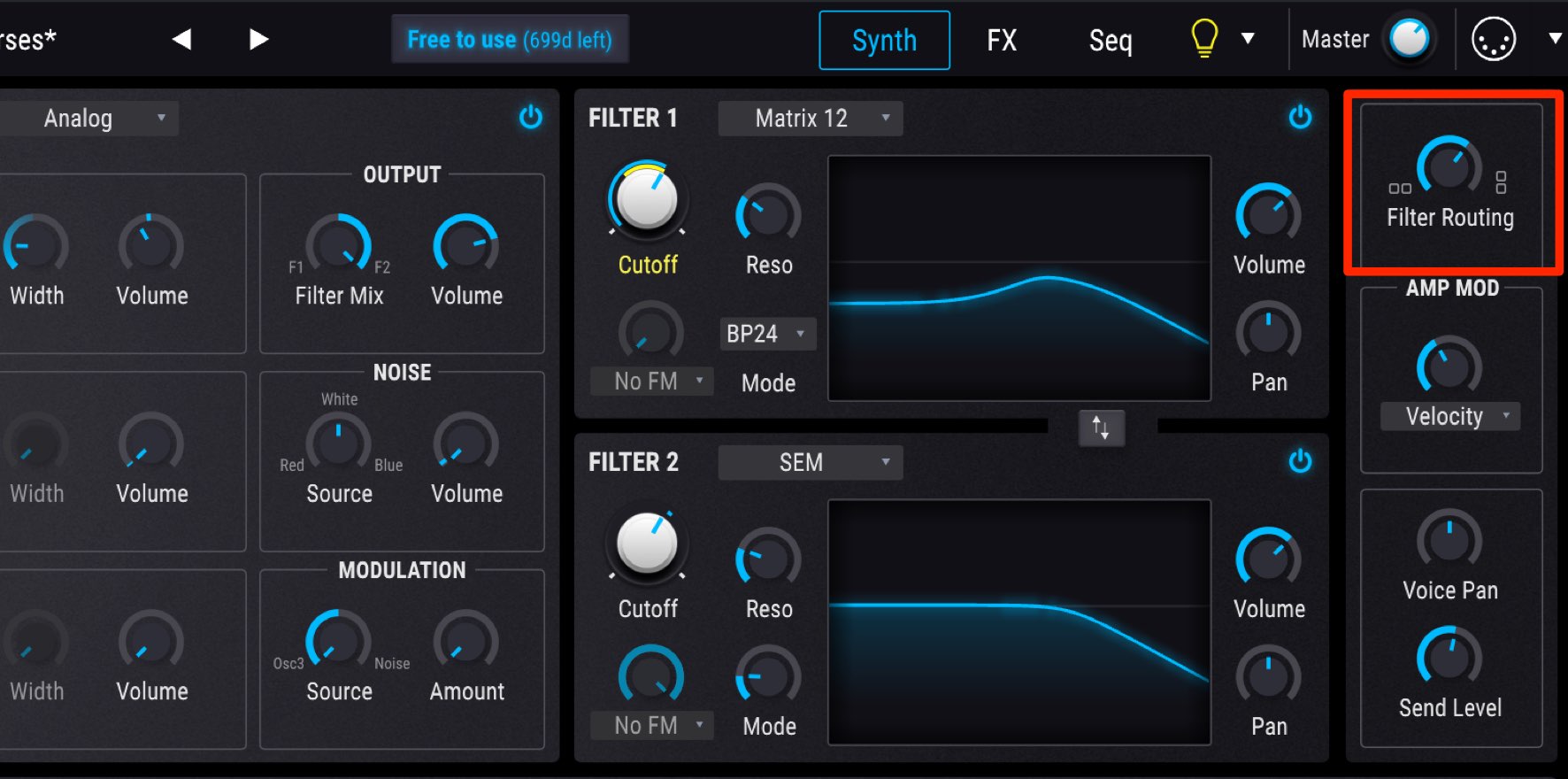 The filters can be applied as inserts or as sends.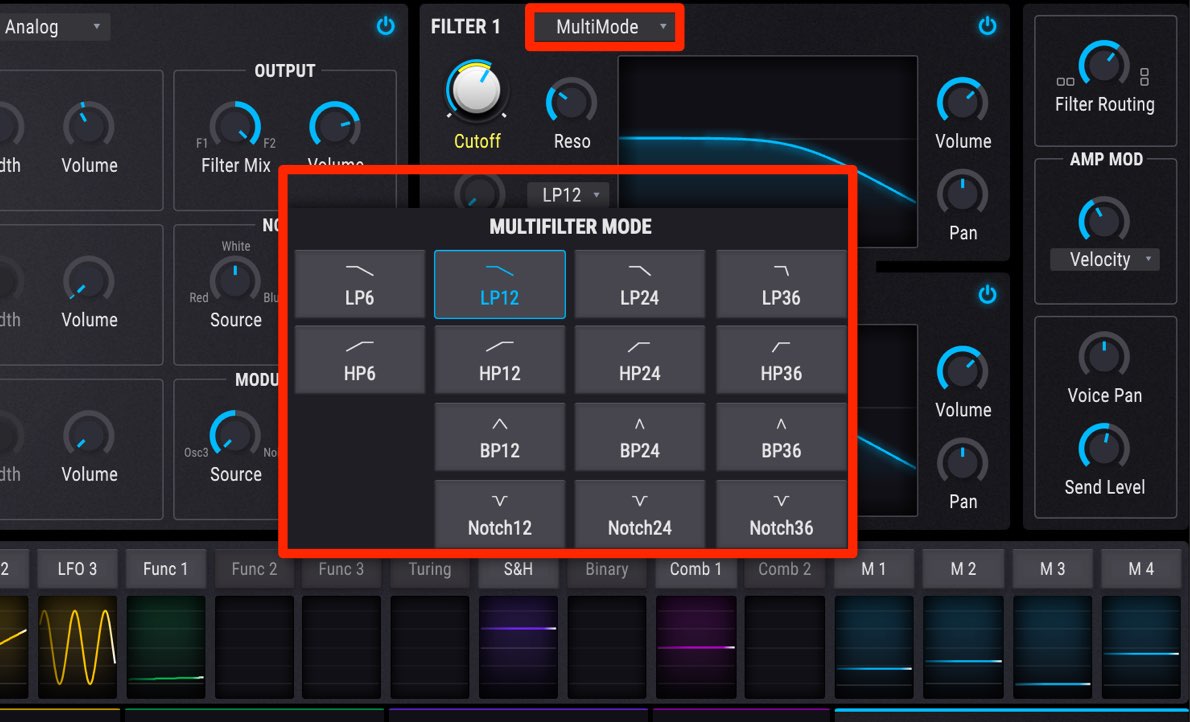 Traditional hi/low-passable filter types available in「MultiMode」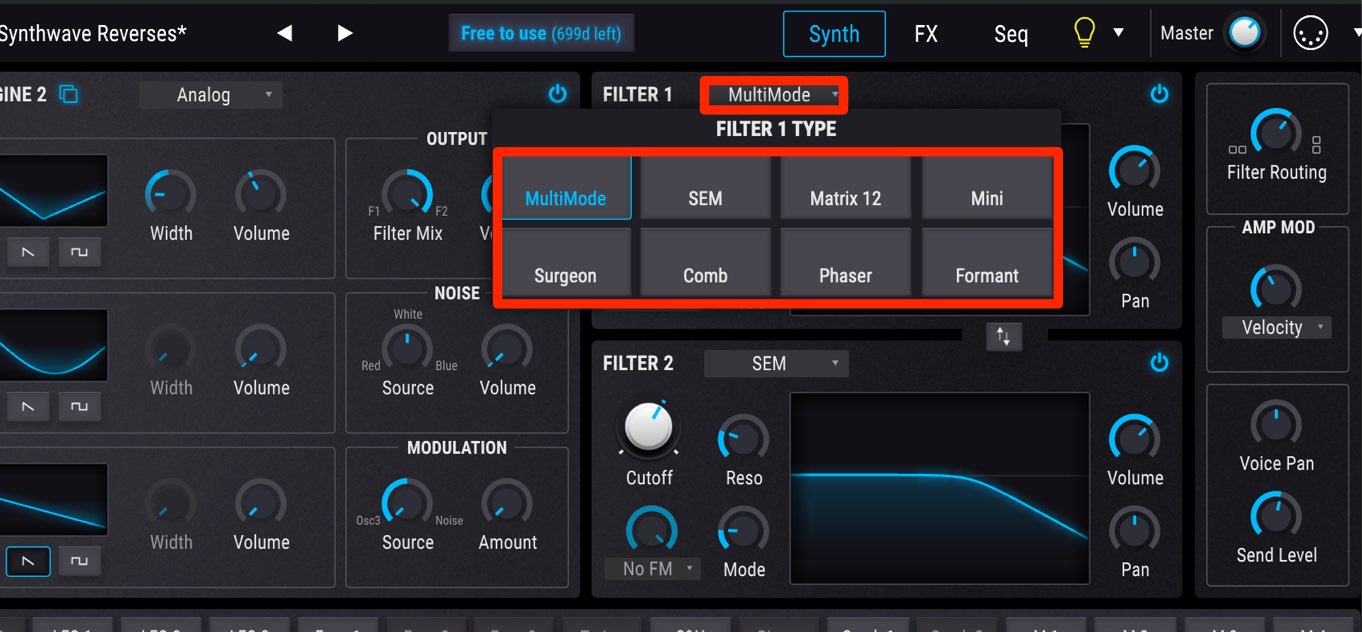 Vintage synth simulation via「SEM」&「Mini Moiog」filters.
Special effects such as「Comb」&「formant shifter」allowing for the creation of new and original sounds.
DAW synchronization and functions generators
Next we will take a look at the「functions generators」.

This area contains both envelopes/LFO, and can have different roles assigned from the PlayMode.
One : When triggered it's played once (one shot)
Once trigged, loops until re-triggered again
Run normally (ignores all triggers)

Click to add points and create your own custom curvatures.
The curve lines between points can also be edited in detail.

The points can be synced your DAW tempo as well,
allowing for rhythmic modulation effects to be easily created.
Auto-create synth phrases with the sequencer/arpeggiator
Pigments contains both「sequencers」&「arpeggiators」.

The sequencer allows you to create phrase patterns from inputted notes.
A maximum of 16 steps are available to create 1 pattern phrase.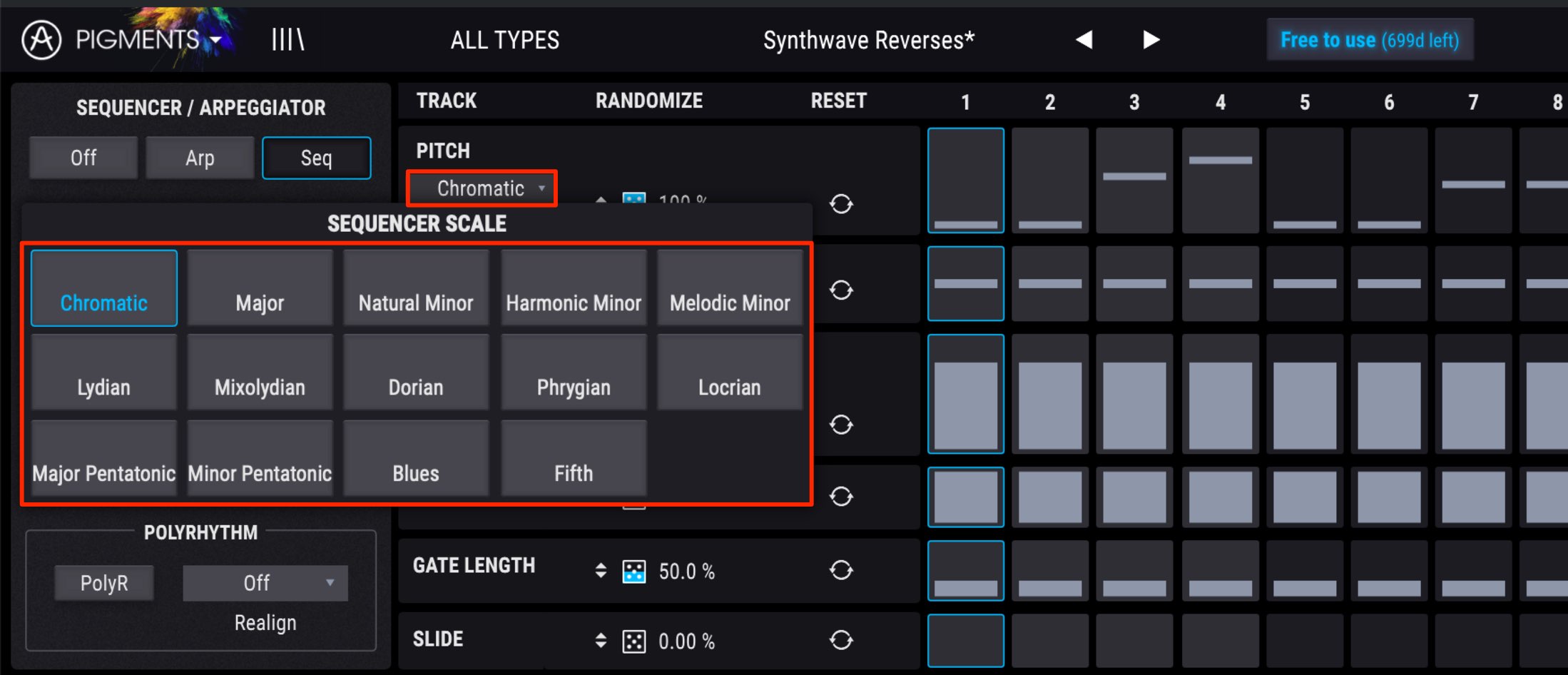 You can designate scales from「PITCH」as well.
For example, by setting「Natural Minor」a natural minor phrase routed around the notes you play will be created.

In addition to「PITCH」settings such as「OCTAVE」「VELOCITY」「GATE LENGTH」「SLIDE」can be done by step.
A particularly unique included function is「TRIG PROBA」.

This function determines the chance at which a step will trigger, and by setting the amount to 50% (for example),
the note will be played 1 out of every 2 loops.
Variation will be added to your loop, and prevent them from sounding too repetitive.
FX section
Last but not least lets take a look at the effects section.

FX in split into 3 groups -「Bus A」「Bus B」「Send Bus」- and each section can have a max of 3 effects on it.
BusA/B's output volumes can be controlled individually as well.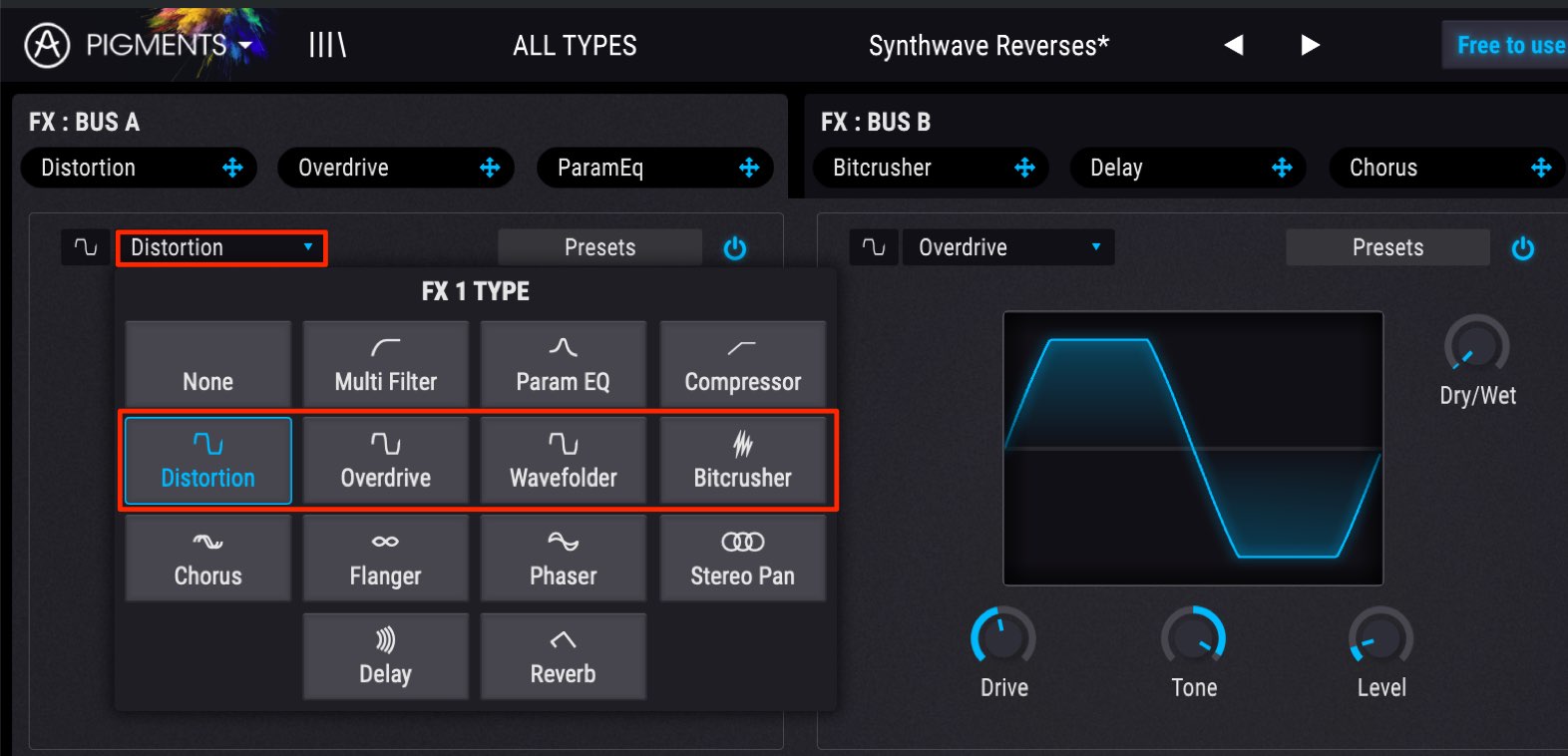 In addition to standard effects, drive type effects such as「Overdrive」「Distortion」「Wavefolder」「Bitcrusher」are plentifully available, allowing you to delve deeper into modern sound-design.
---

We hope you enjoyed this article.
PIGMENTS is a relatively late contender in the wave-table synth market.
However, because of this it has a perfected design, and answers to a wide variety of user's needs
A demo version is available as well, so if you're curious go ahead and try it out!