Waves V11 Install/Register Plugins (Upgrading Products) How to Use Waves Central
Waves V11 Content, How to Upgrade, Overview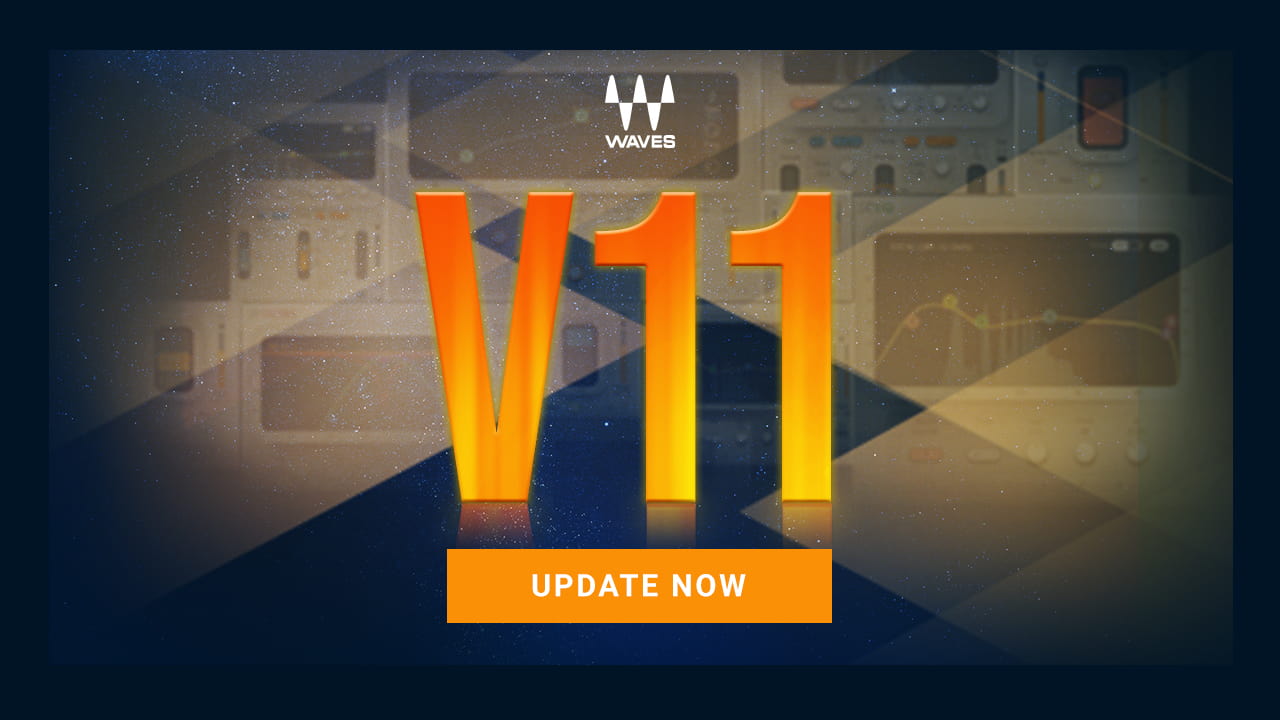 "V11" has been released from Waves Audio.
Here we will take a look at the contents of Waves V11, how to upgrade, and a basic overview.
In addition, we have another article for those who are purchasing a Waves product for the first time. Check it out from the link below:
First lets check the contents of WavesV11.
The Newly Reborn Renaissance Series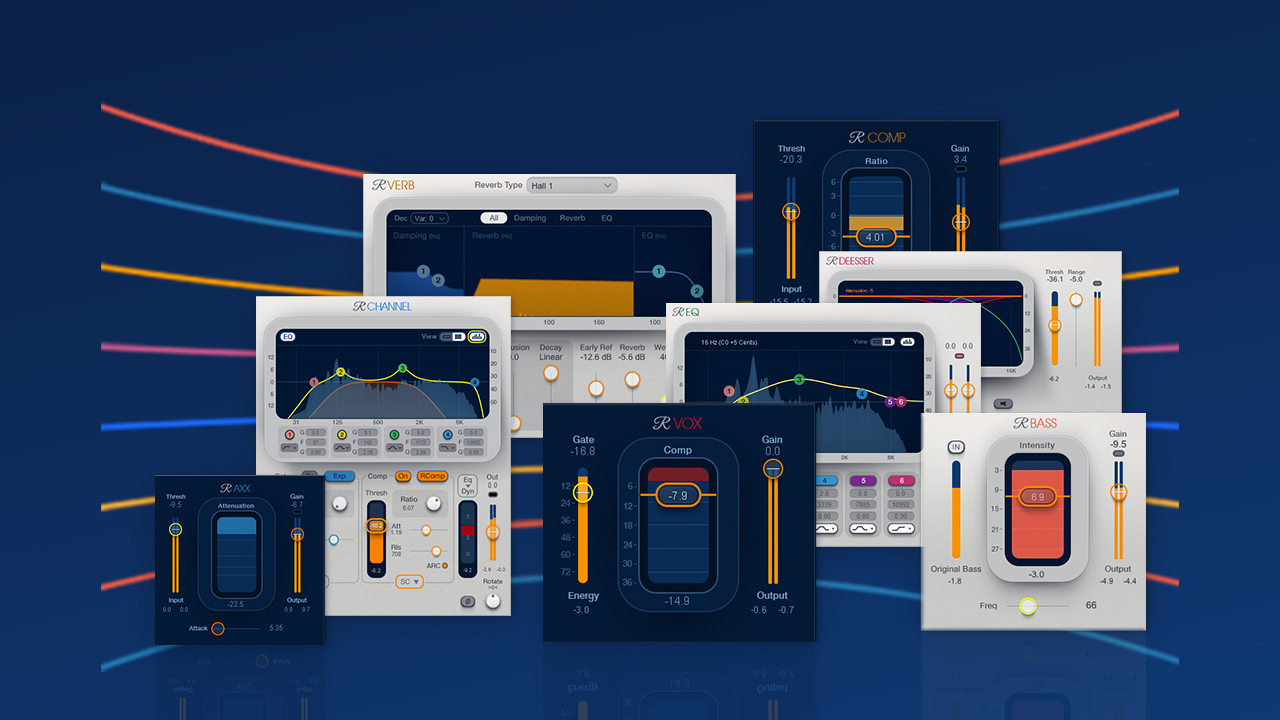 The popular interface of the Waves "Renaissance Series" has been updated, with some newly added functions.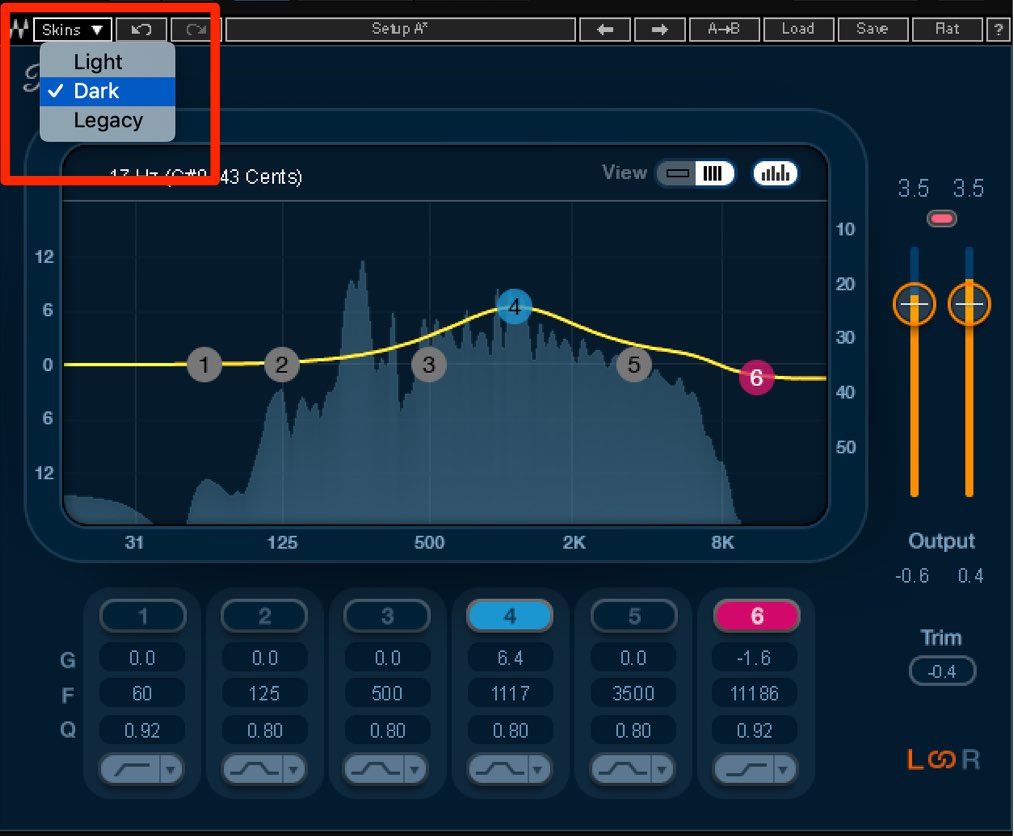 You can now choose from 3 different Renaissance series skins.
In addition, by selecting "Legacy" you can return it back to the "V10" look.
There are now real-time displays of the track's frequency for the R-EQ/R-Channel eqs.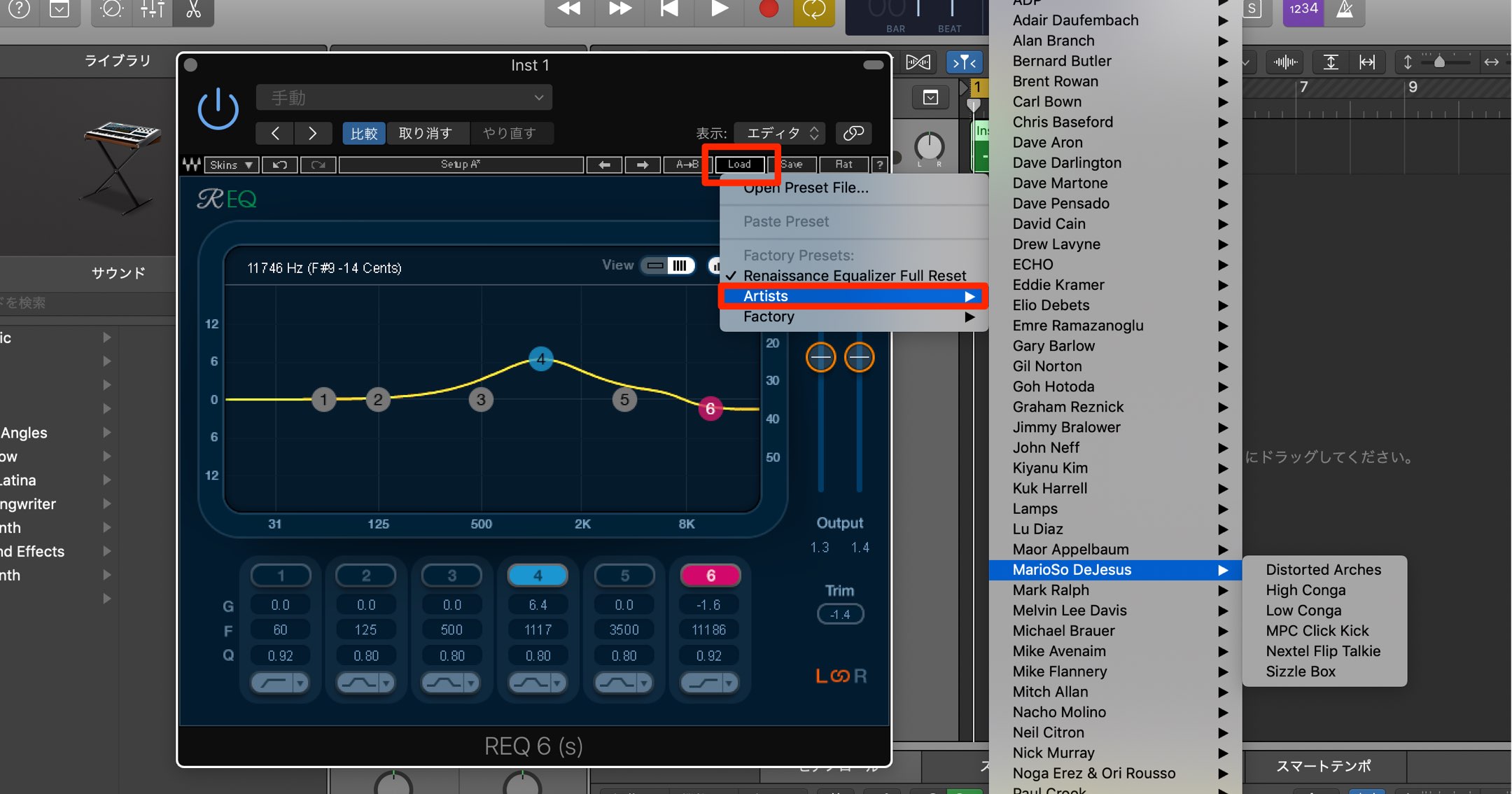 There are 700 new Renaissance series presets from various artists, allowing you to quickly dial in various sounds and effects.
New Plugins Added to Each Bundle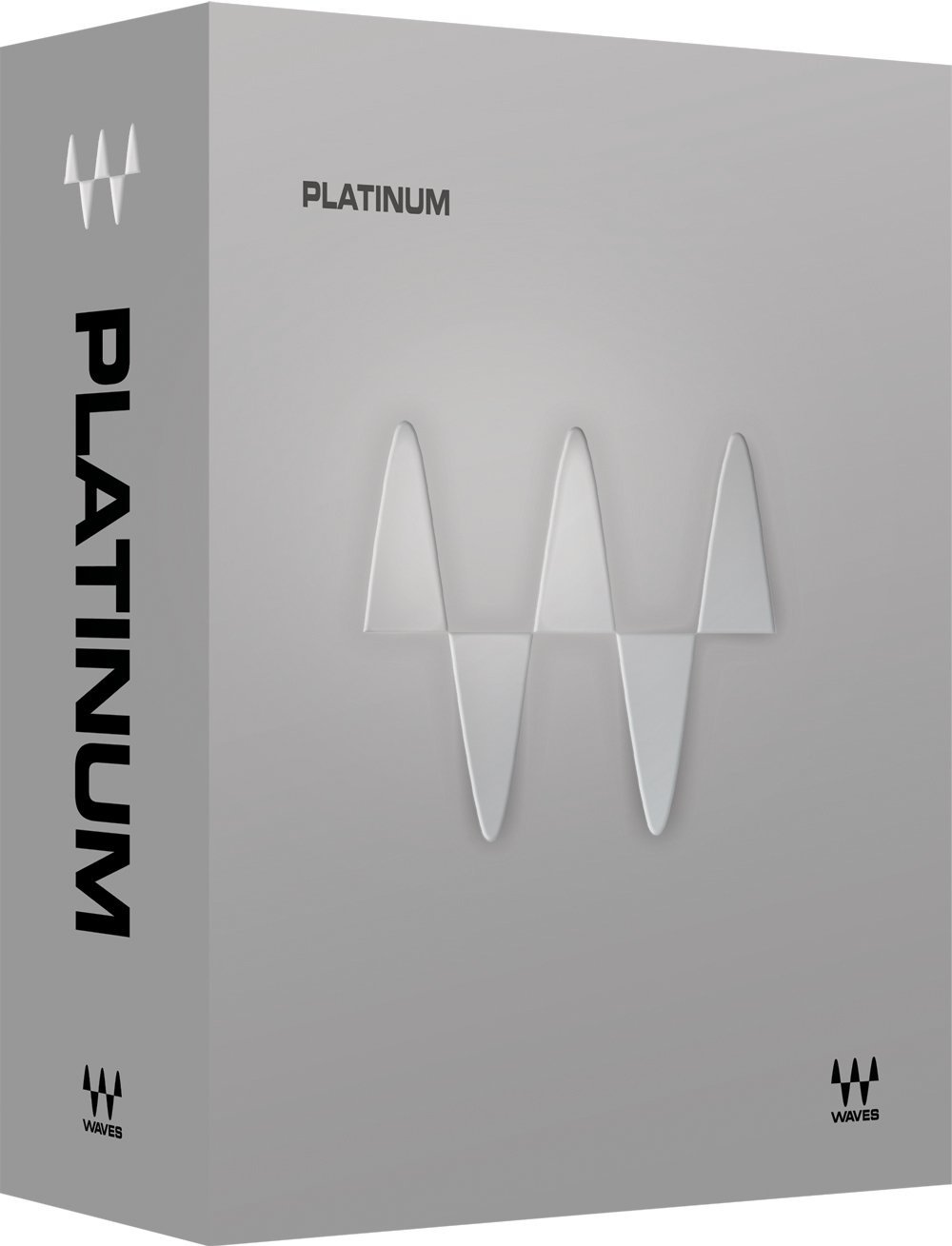 There are new plugins included in the following bundles.
Platinum: OneKnob Pumper/MetaFilter/Greg Wells/ToneCentric
Diamond: OneKnob Pumper/MetaFilter/Greg Wells ToneCentric/Cobalt Saphira
Horizon: OneKnob Pumper/ MetaFilter/Greg Wells ToneCentric/WLM Plus Loudness Meter
Mercury: Pro Show/SD7 Pro Show/Infected Mushroom Pusher
We have taken a look at Waves OneKnob Pumper previously so be sure to check it out
Waves OneKnob Pumper Tutorial
Bug Fixes for Optimum Performance
The V11 update has fixed some bug issues with plugins.
The products can now be used without any worries.
For more details, check out the link below:
https://www.waves.com/downloads/release-notes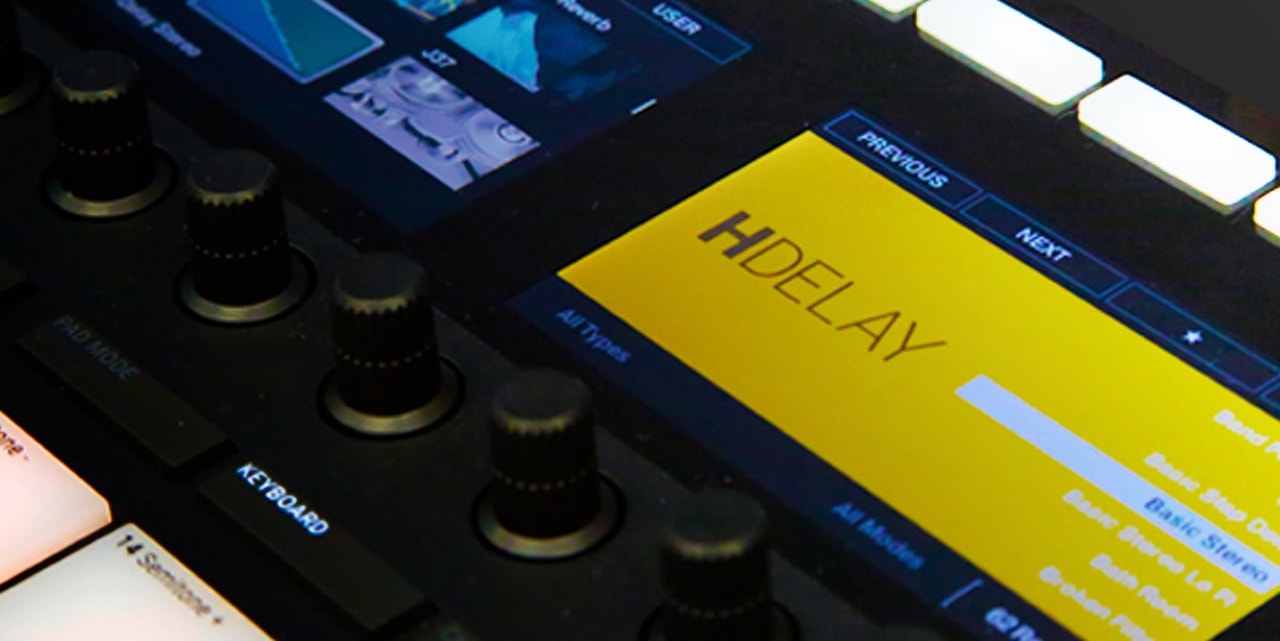 In addition, various plugins are now "NKS format" compatible, allowing them to be used with Native Instruments "Komplete Kontrol" and "Maschine".
Over 1,400 Artists Presets Added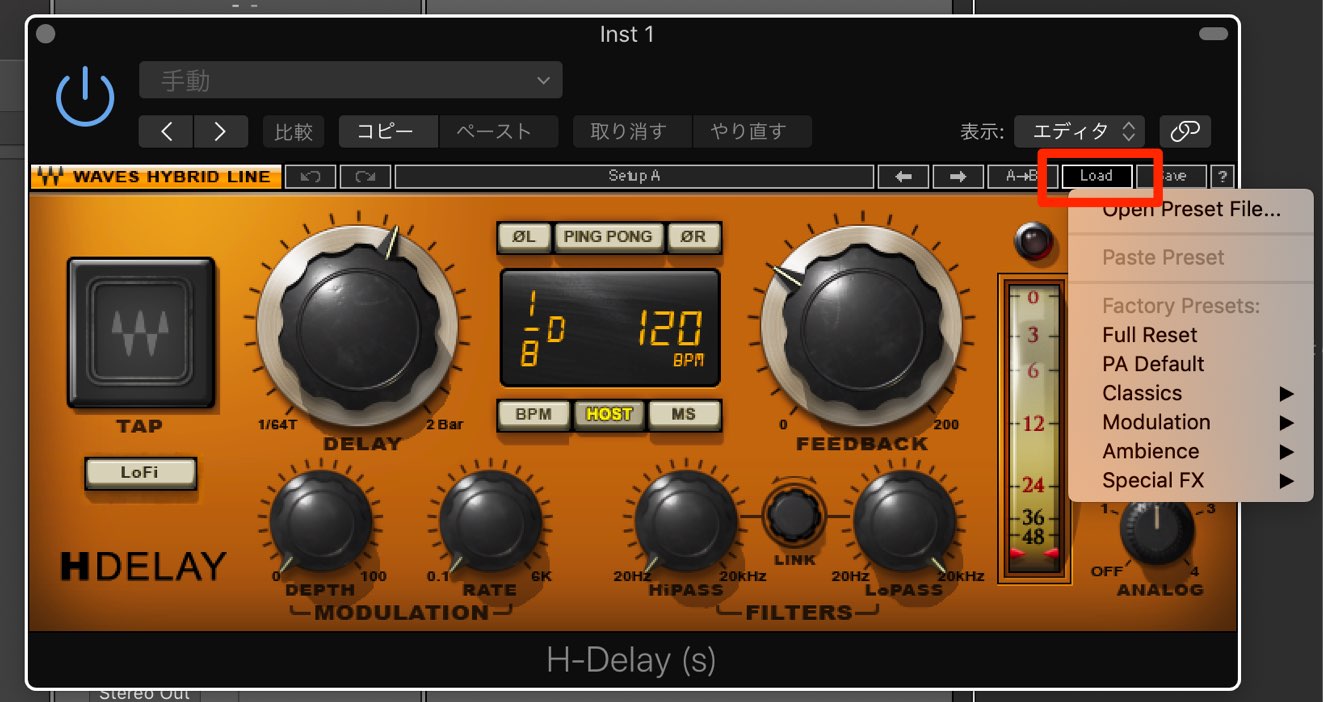 Though we have taken a look at the Renaissance series, there are a total of over 1400 artists presets added to these plugins.
Because of this, you can easily get highly functional effects.
The new presets can be seen from the PDF below.
https://www.waves.com/1lib/pdf/presets/V11-presets-automatically-added-to-plugins.pdf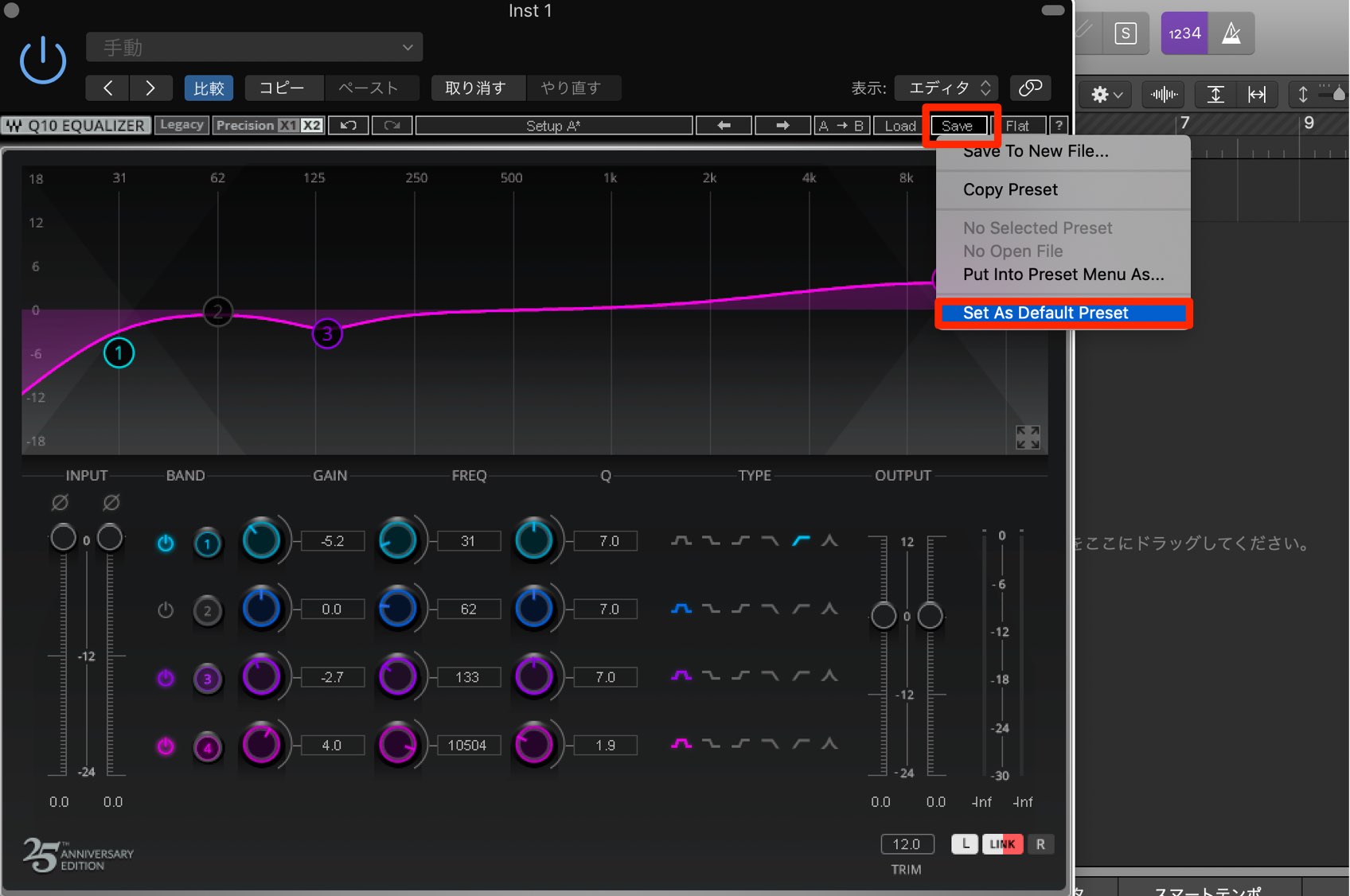 You can now designate the default startup setting for a plugin.
After setting up the plugin how you'd like, simply select "Set As Default Preset".
Next time the plugin is opened it will open with the new default setting.
Upgrading pre-V10 products to V11
If it has been less than a year since purchasing the plugin, or if you have the "Waves Update Plan", you can upgrade to V11 for free.
Check if your plugin is included by checking the steps below.
How to Check for Free Upgrade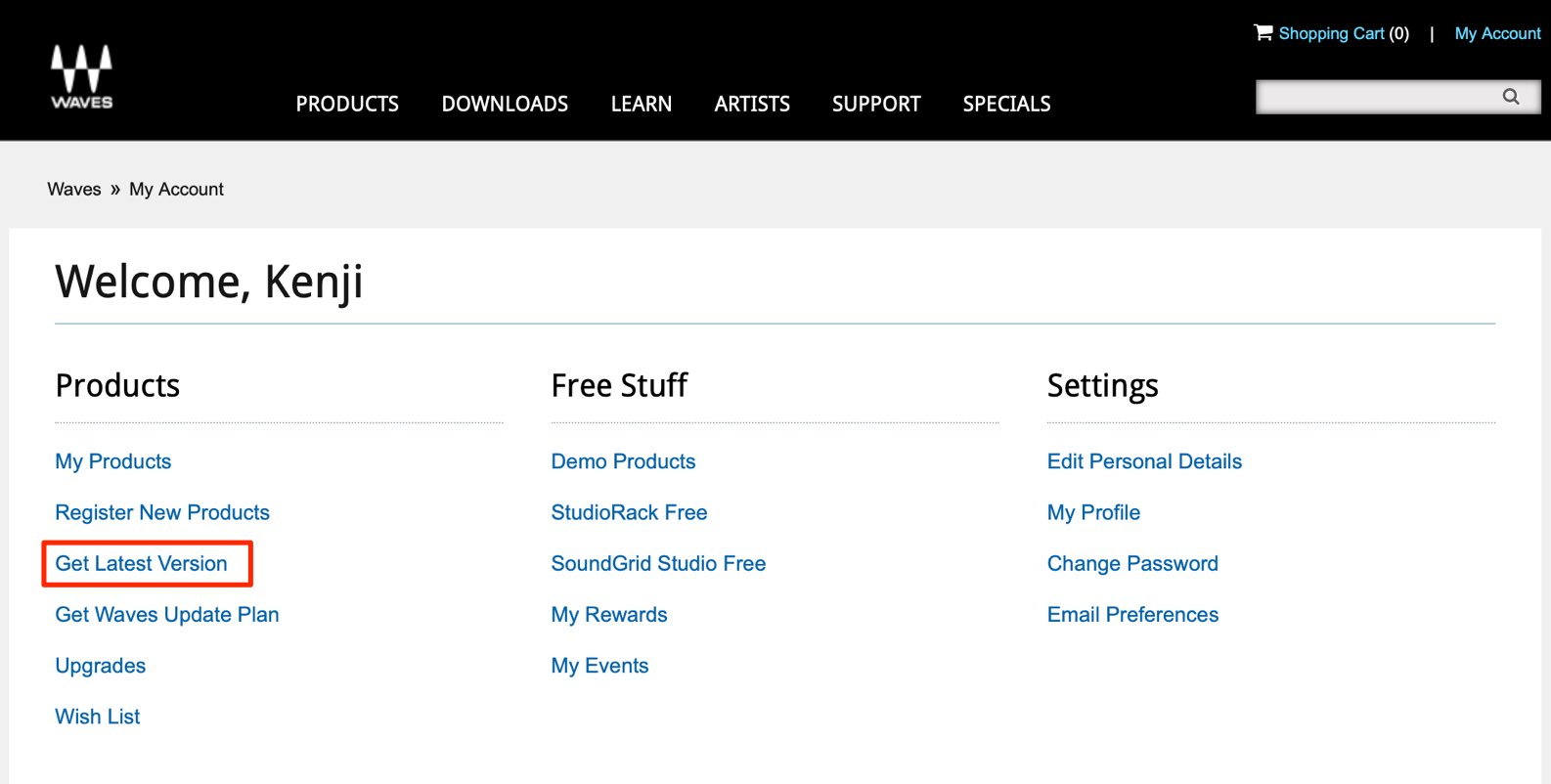 Login to your Waves my page and select "Get Latest Version".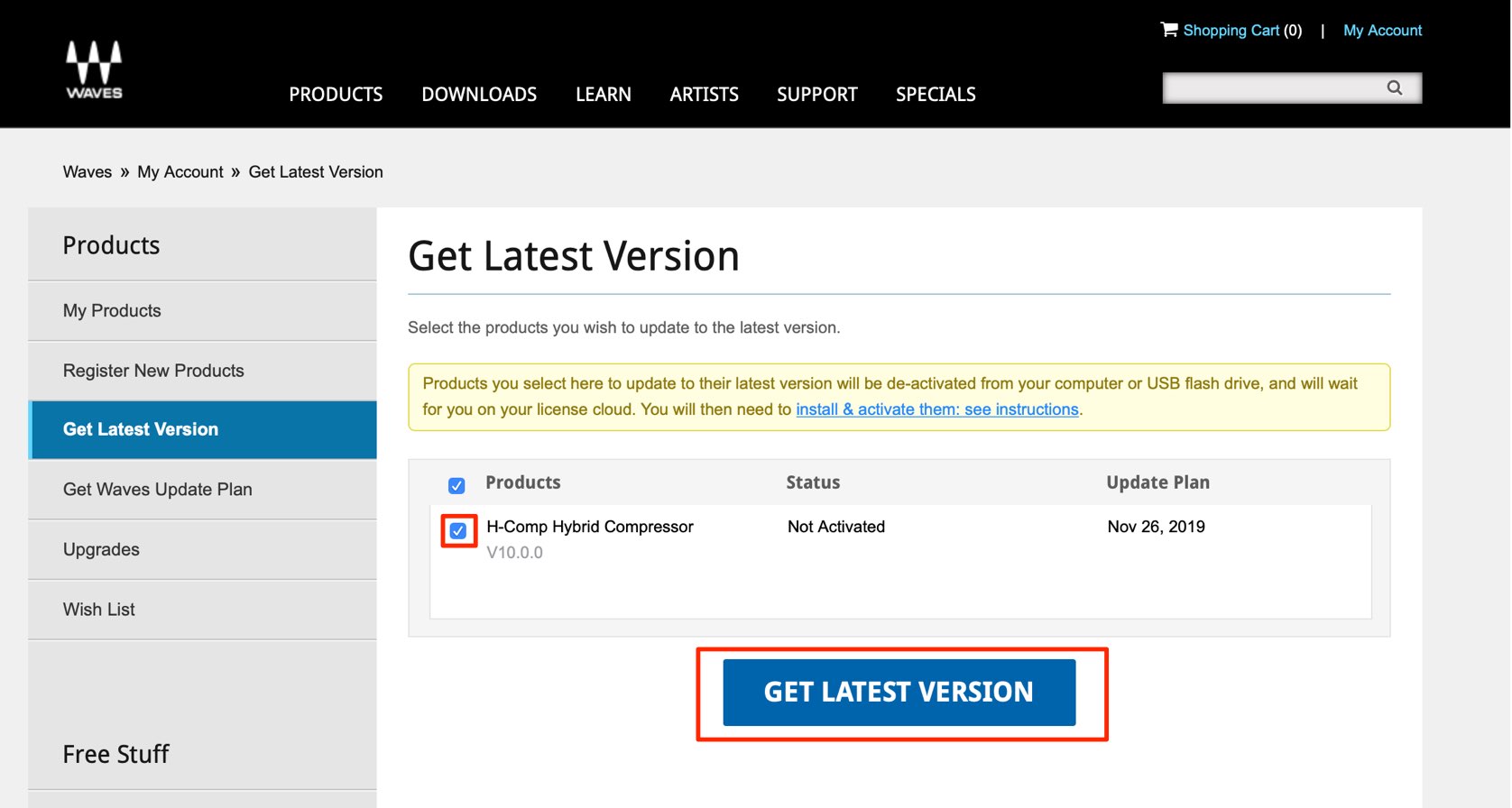 The products that can currently be upgraded for free will be displayed.
Check the box and click "Get Latest Version".
Now you can utilize the V11 plugins.
How to Check for Paid Upgrades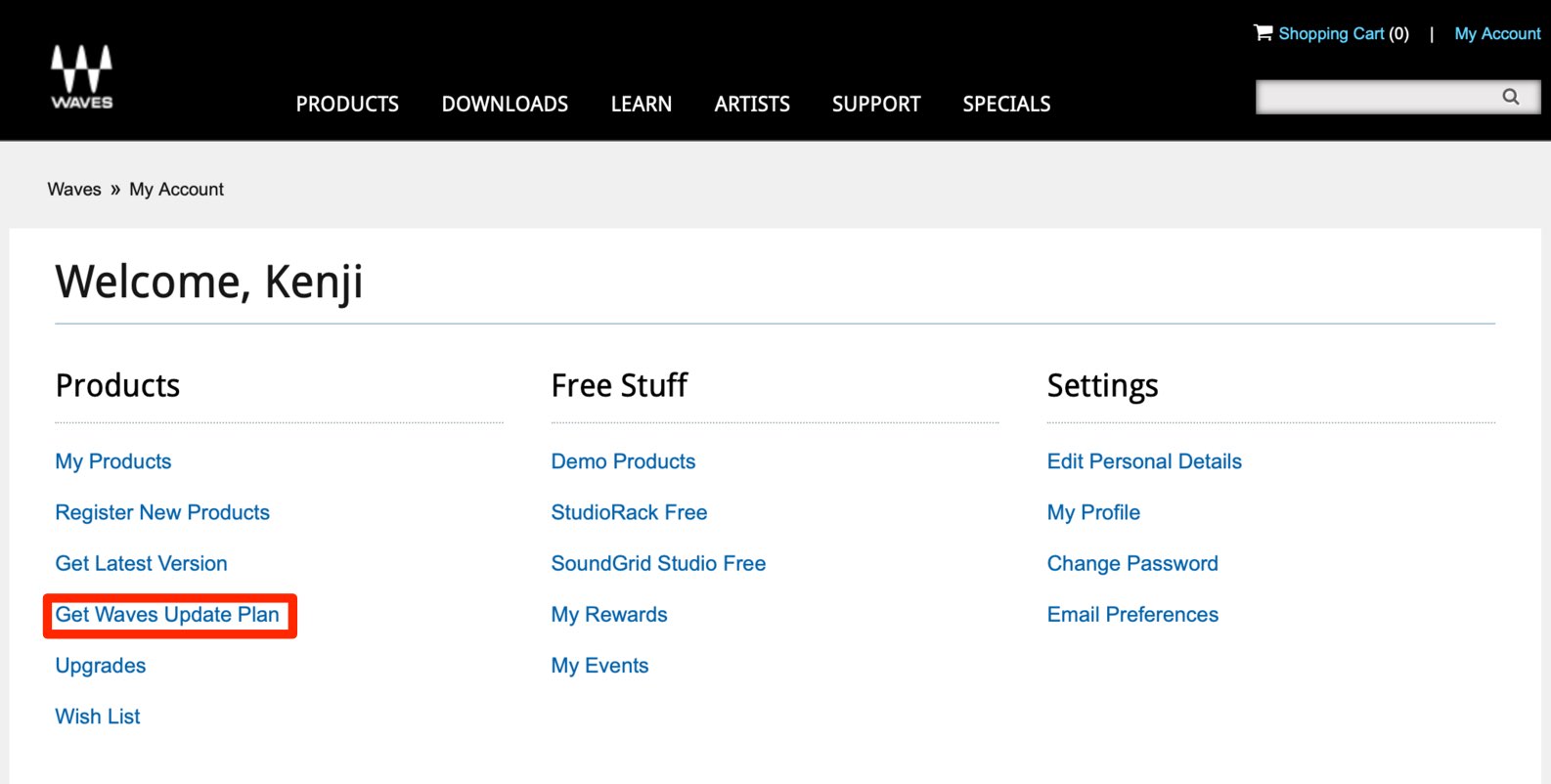 Login to your Waves my page and select "Get Waves Update Plan".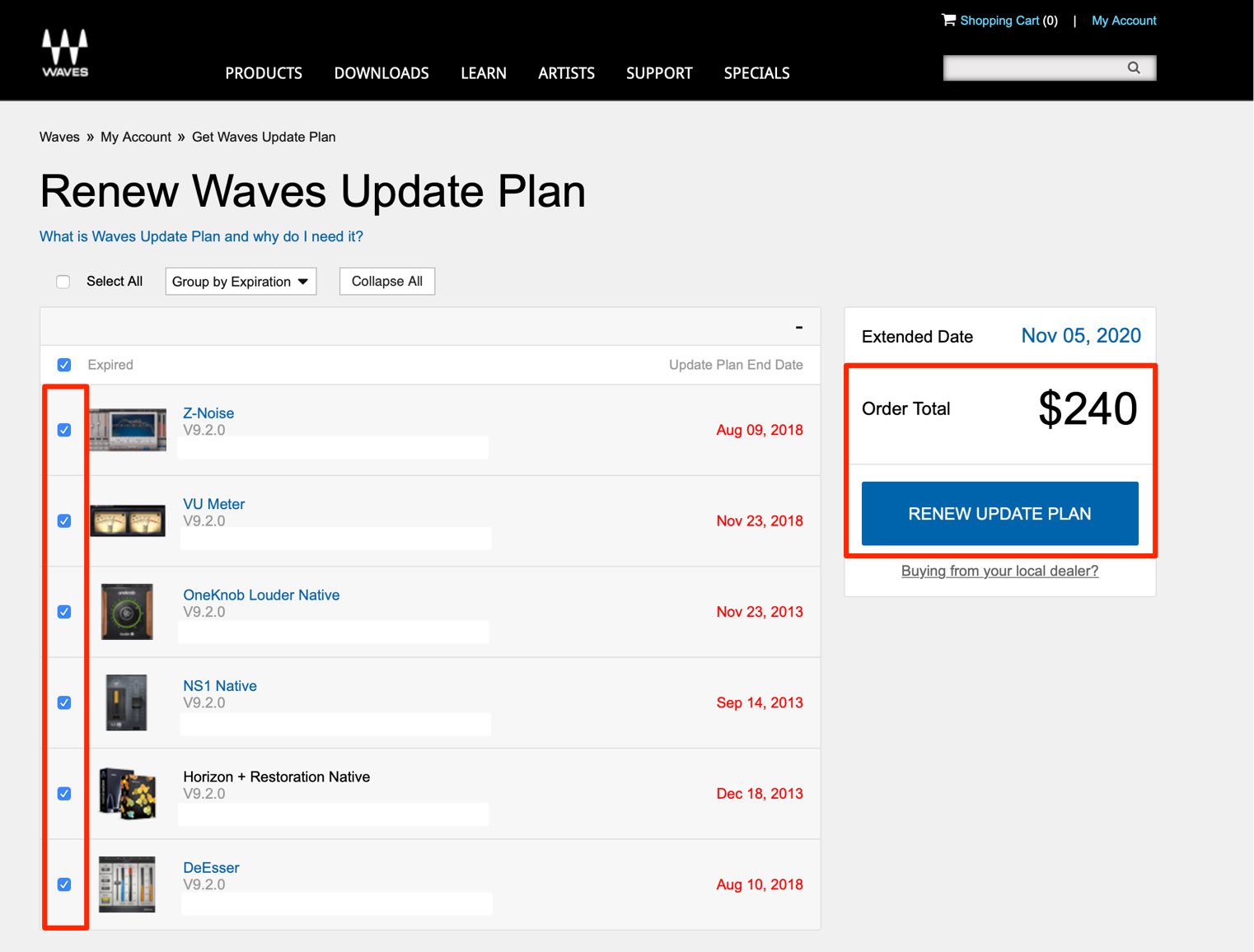 By ticking the box of a plugin that you want to upgrade to V11, the price will be displayed.
The maximum price of upgrading is 240 dollars and will not go above that point.
If there are no issues, select "RENEW UPDATE PLAN".
After completing the payment, the selected plugin will be upgraded to V11.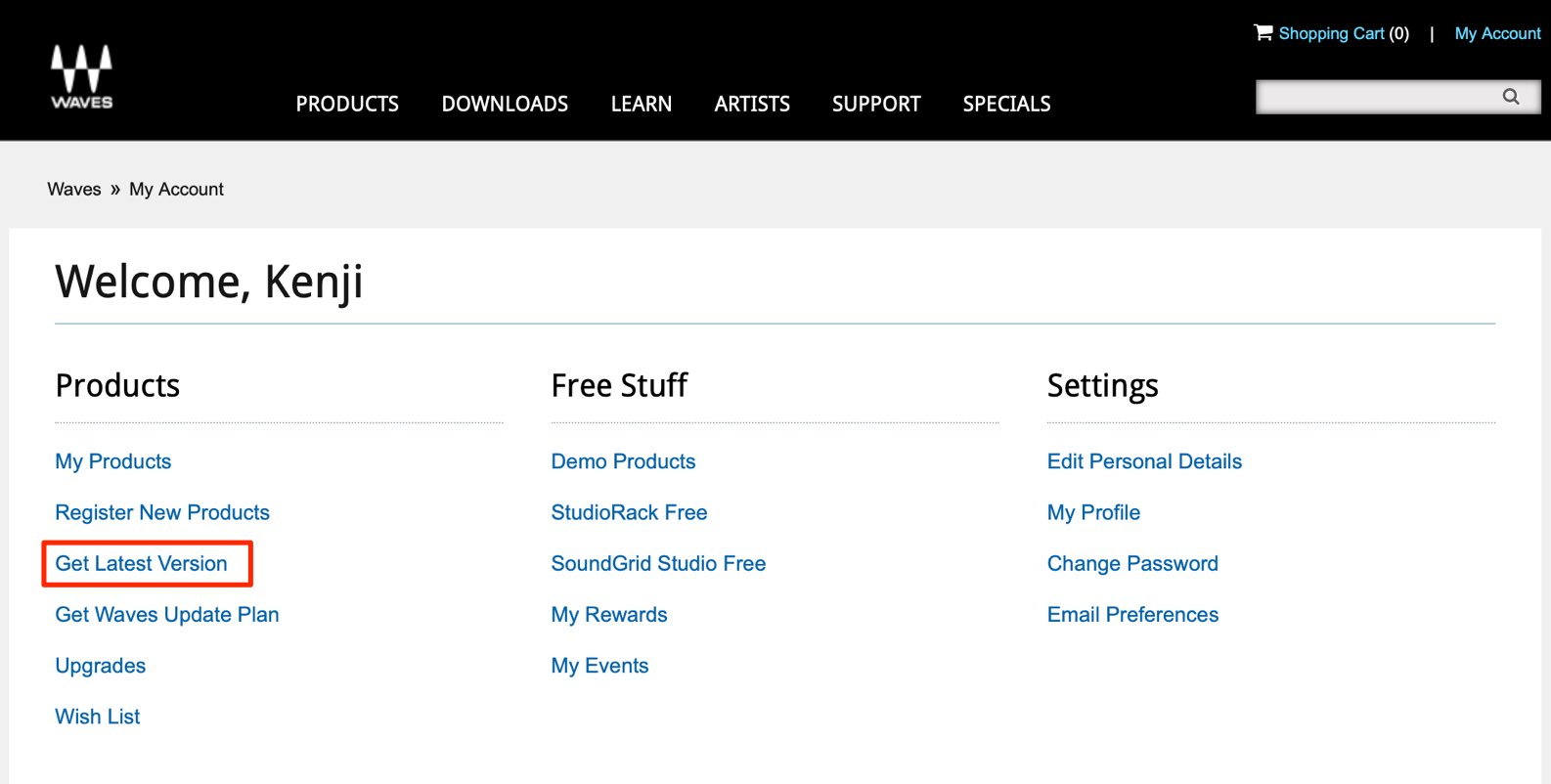 Next login to your Waves my page and select "Get Latest Version".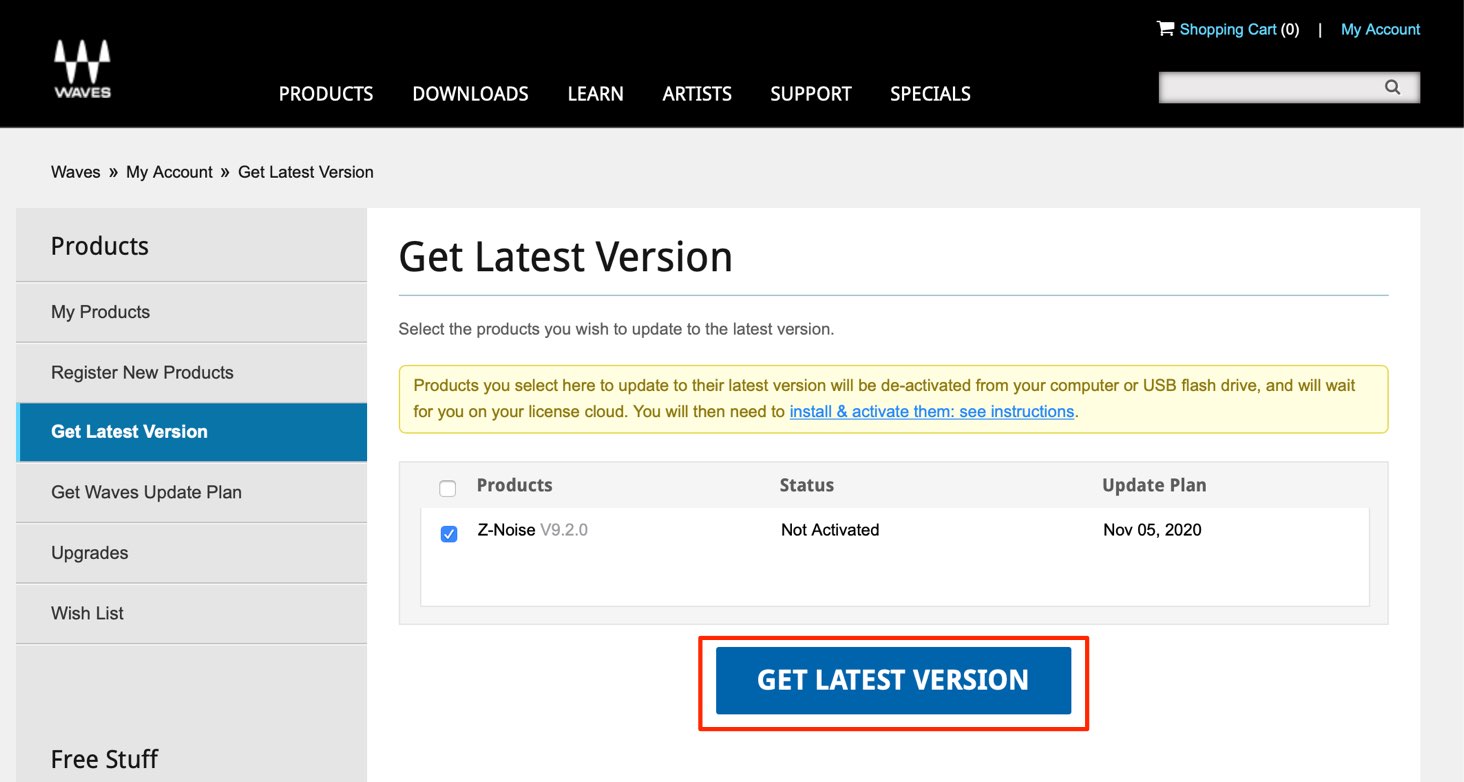 The upgraded product will be displayed.
Check the box and click "Get Latest Version".
Now you can use the V11 version of the plugin.
Next we will install and activate the plugin through "Waves Central".
Installing and Activating Waves V11
After updating a product's license to V11, we will install the V11 plugin and activate it.

Click "DOWNLOADS" from the Waves website and select "Latest Version".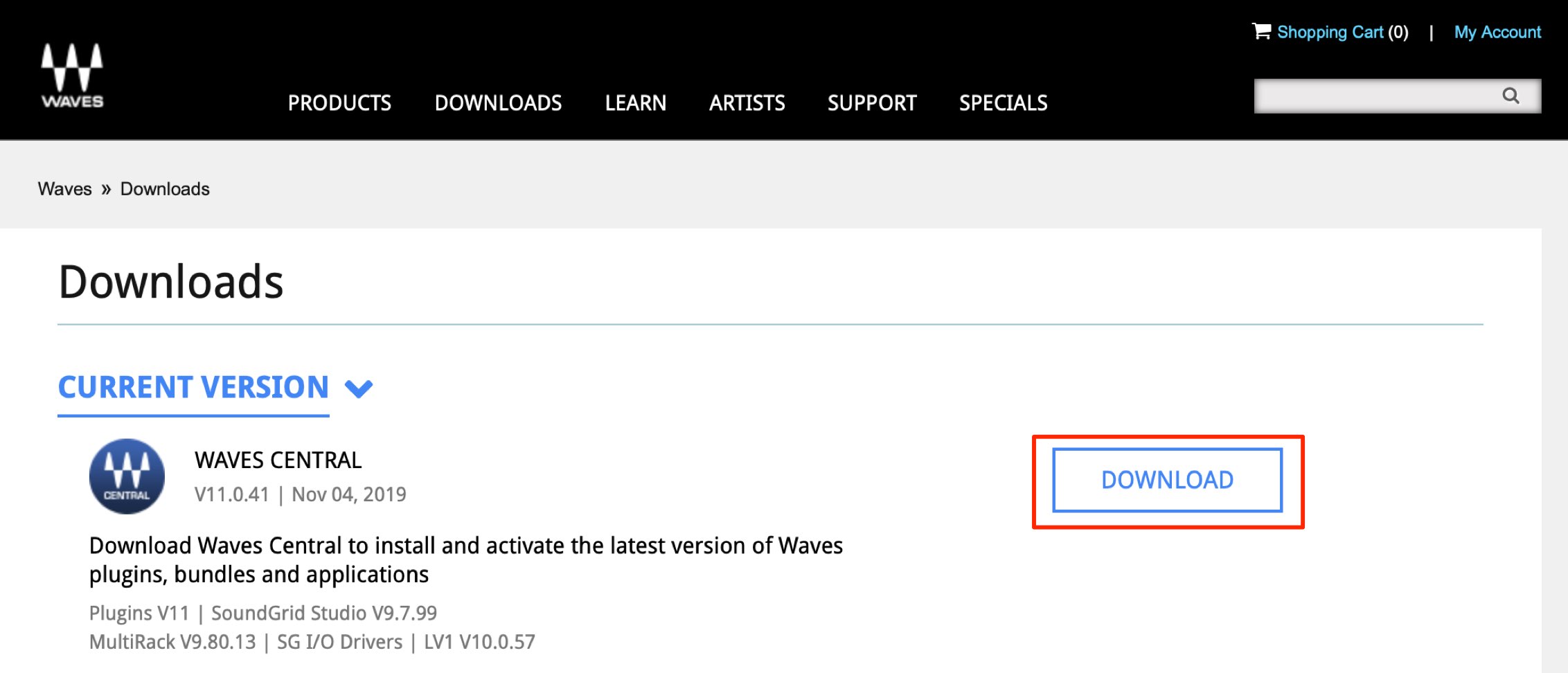 Click DOWNLOAD for "WAVES CENTRAL".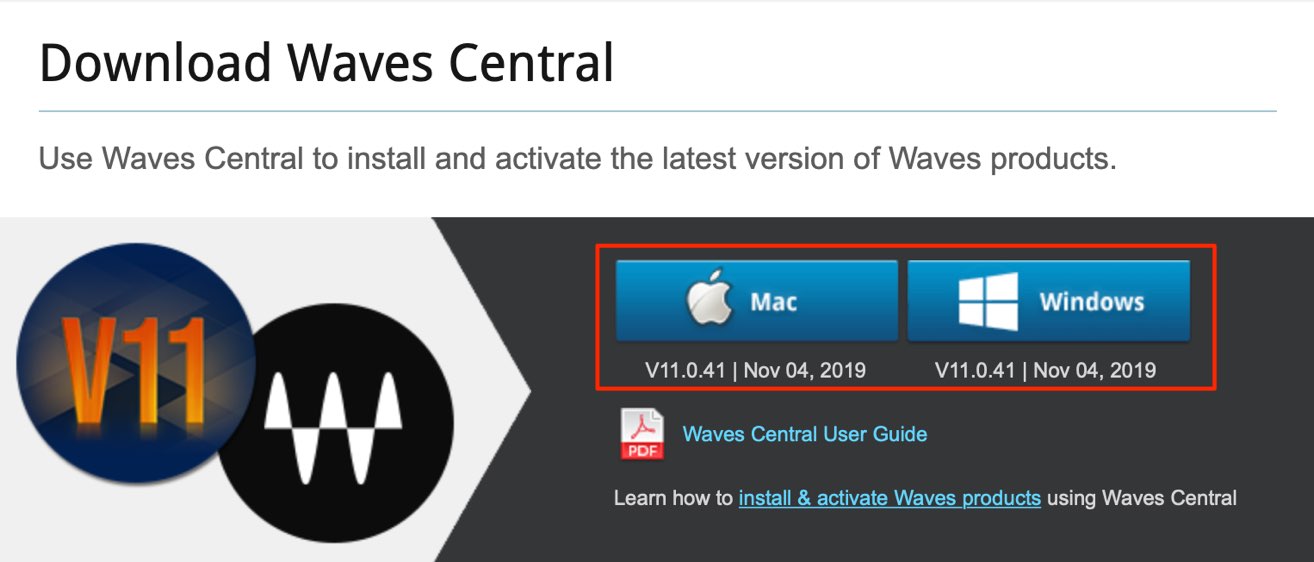 Select "MAC/WINDOWS" depending on your OS and download.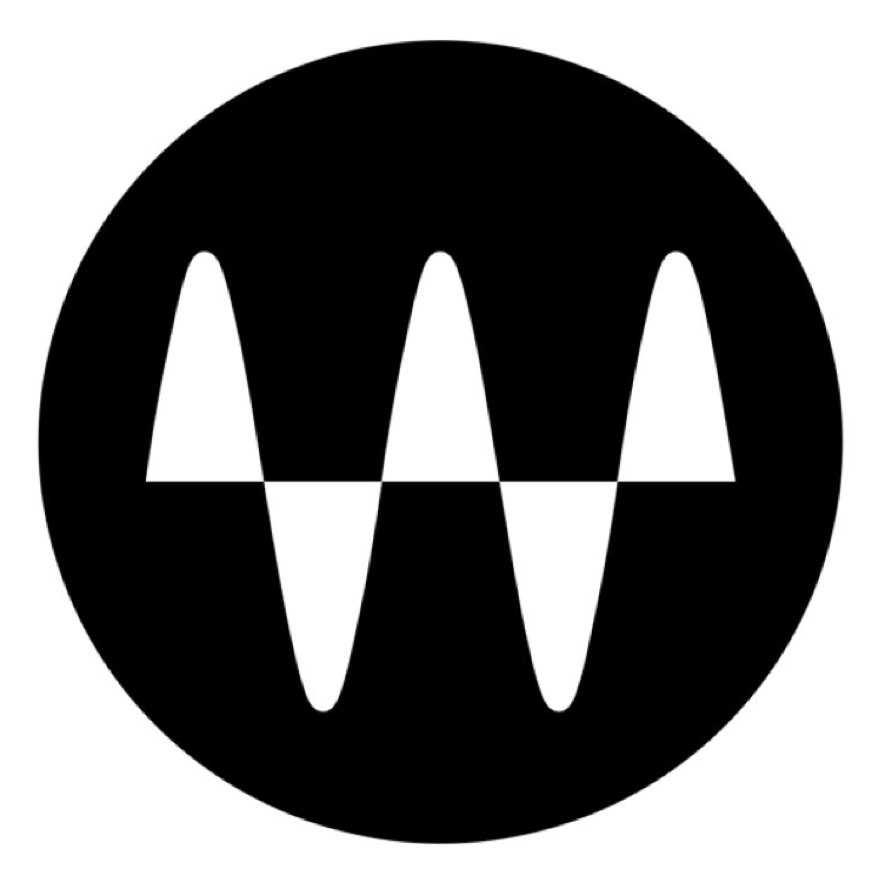 After downloading Waves Central, we will install it.
Mac : Application Folder → Waves Central
Windows : C Drive → Program Files → Waves Central
Waves Central can be found and activated from the above locations.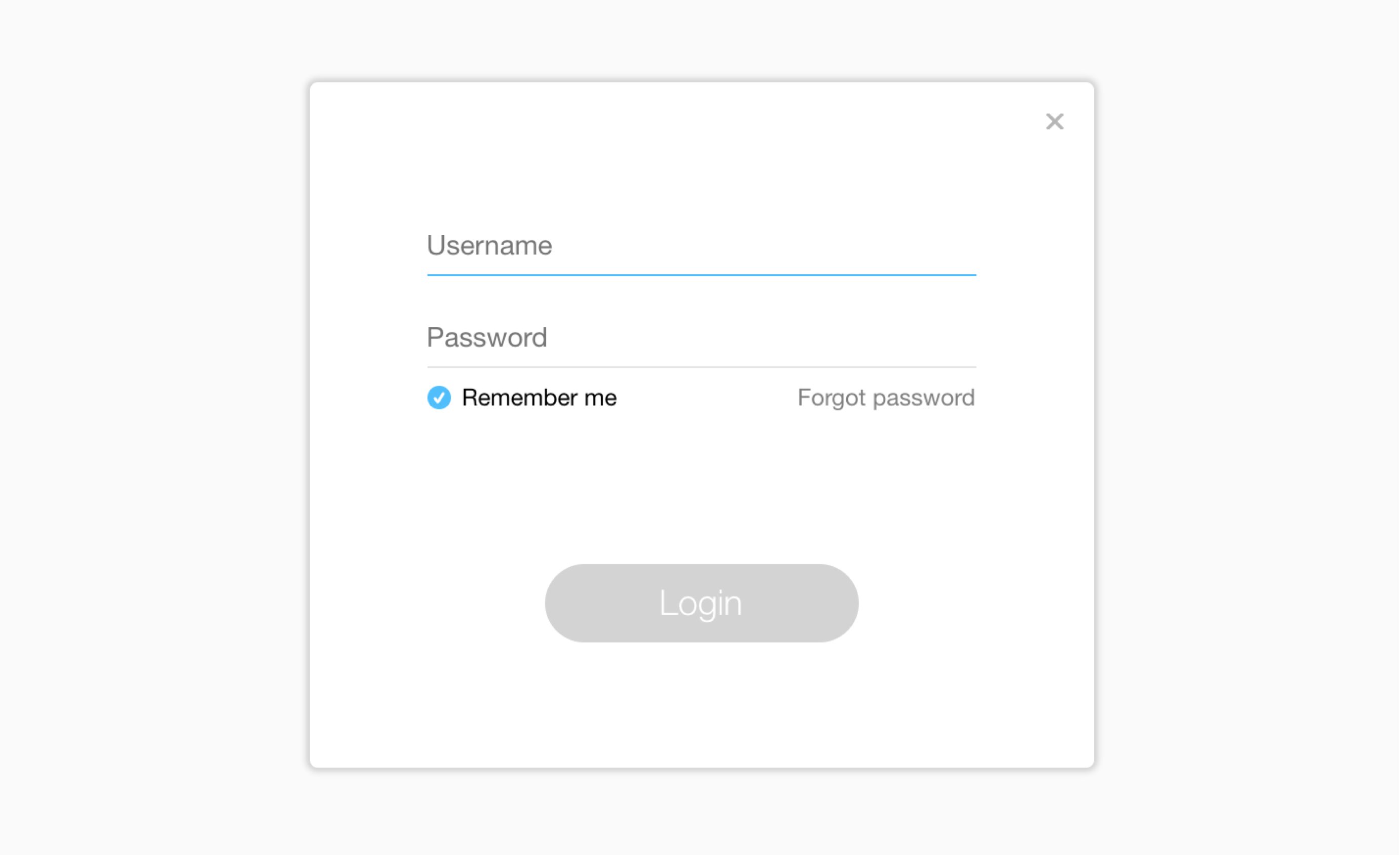 Login to your Waves account.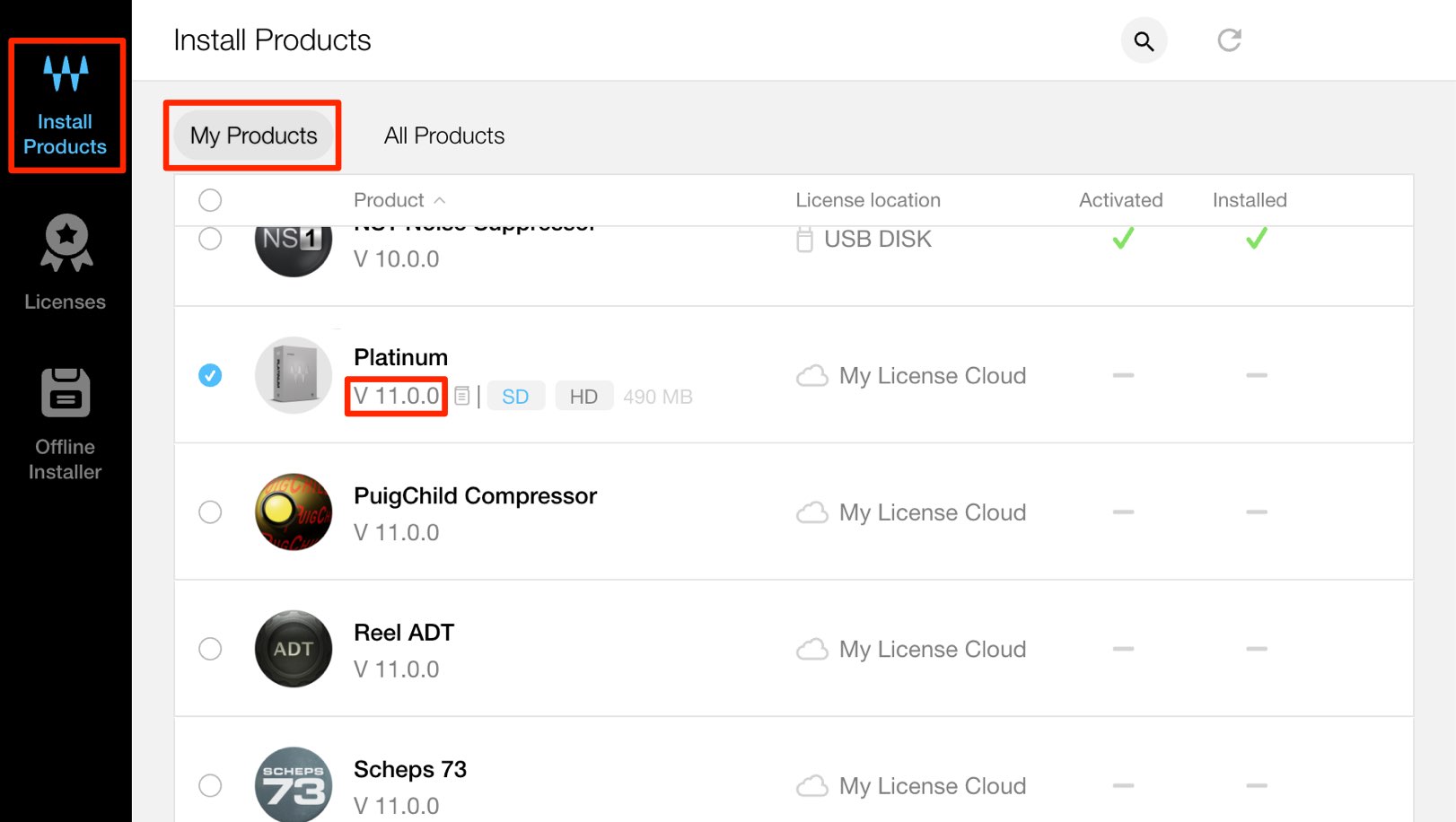 By selecting "Install Products", the products that you own will be displayed.
Check that the plugin(s) is "V11" and check the circle.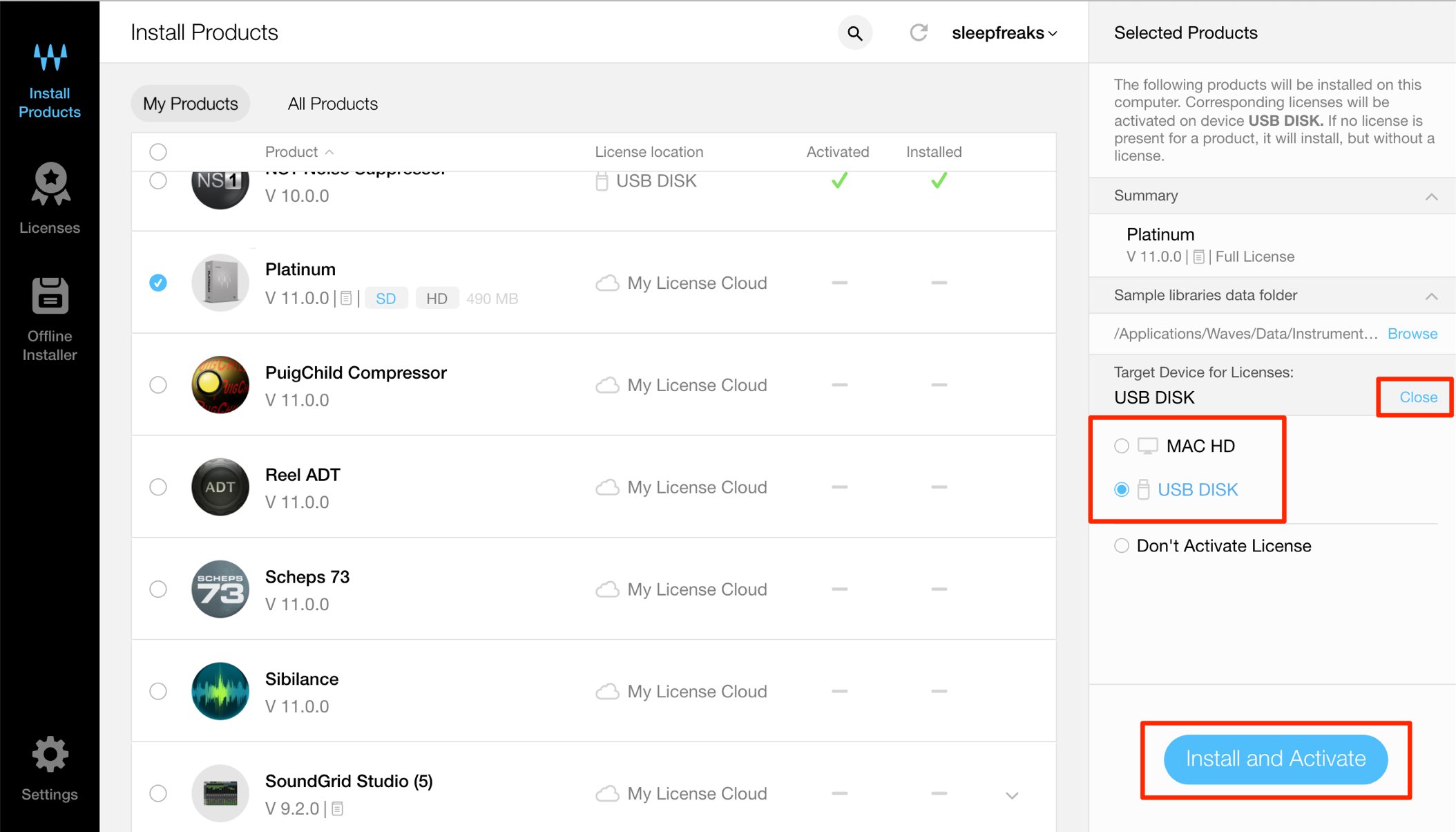 Click on this area, and you can input the product license from a USB memory card as well.
This technique works when using the product on multiple computers, allowing you to plugin the USB to whatever computer is currently being used.
Check these things and click "Install and Activate".
Be sure not to turn off the computer or unplug your USB memory card during the installation/activation process.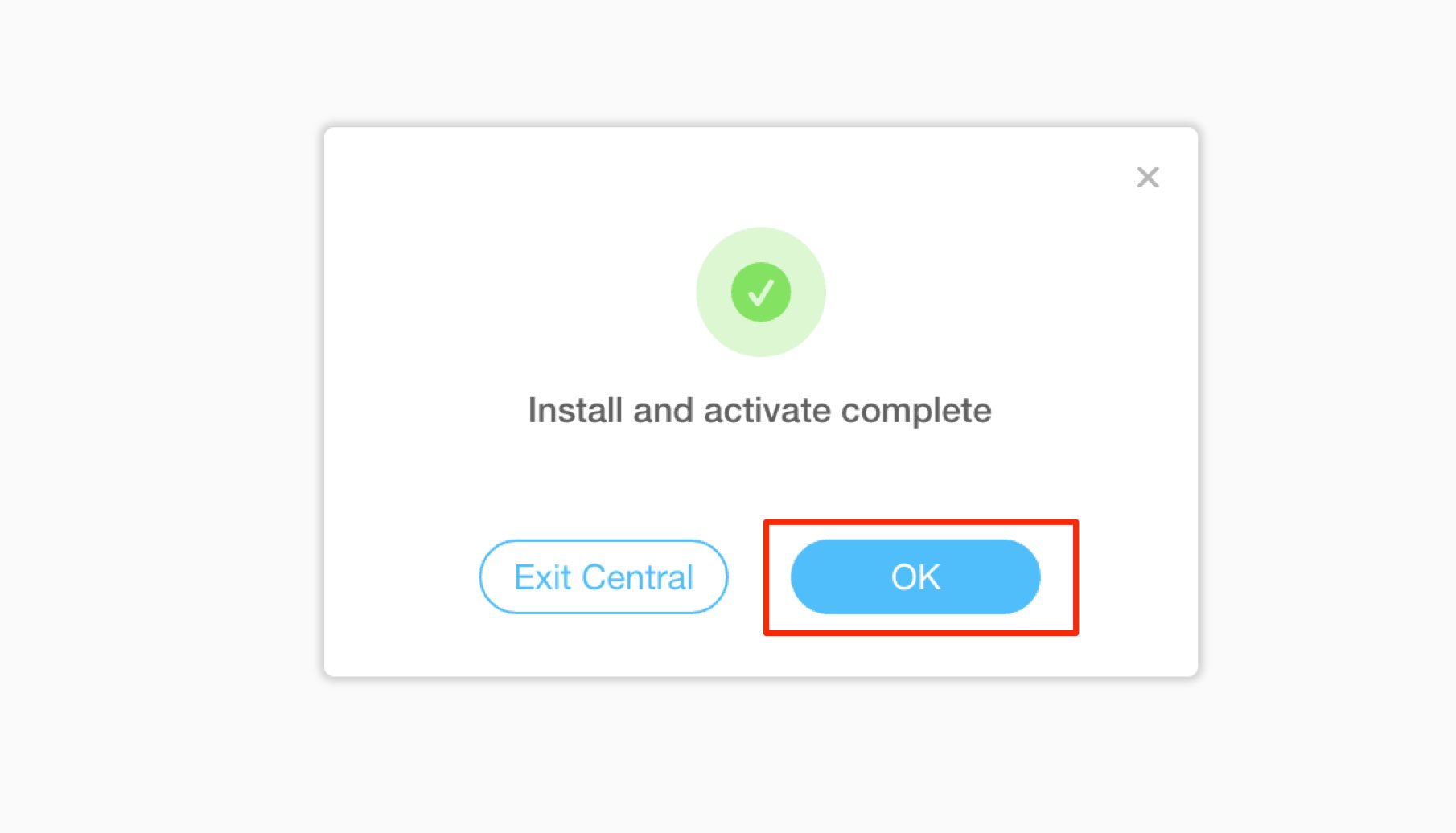 Once a window like this is displayed, the installation is complete.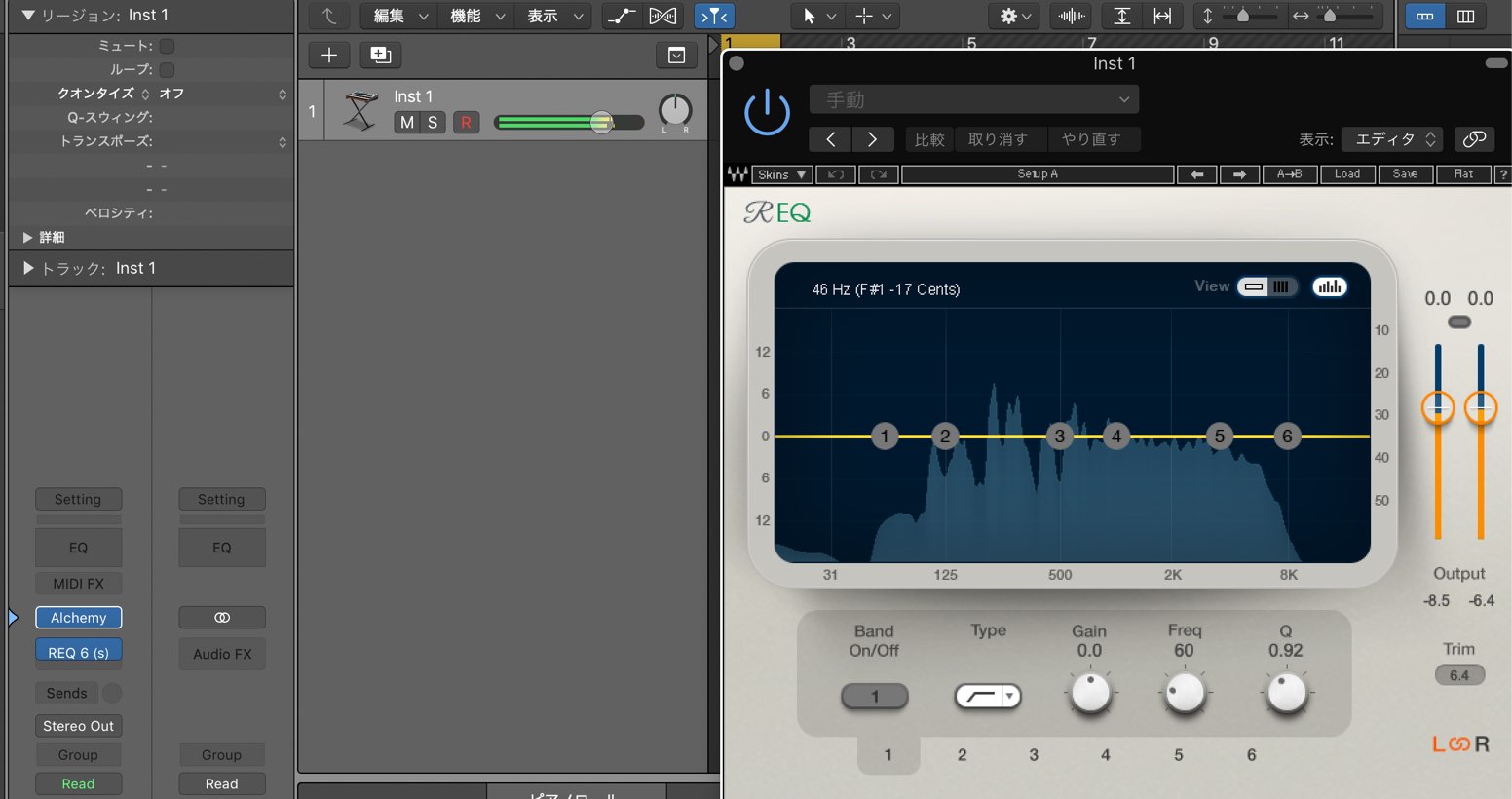 Now you can utilize the V11 product in your DAW.
Changing the License Disk
If your plugin license is kept on a USB memory card, even when clean installing your computer, you can re-install the plugin and use it just by plugging in your USB license.

However, if wanting to save the license onto your computer, before clean installing your computer, you will have to remove the license first.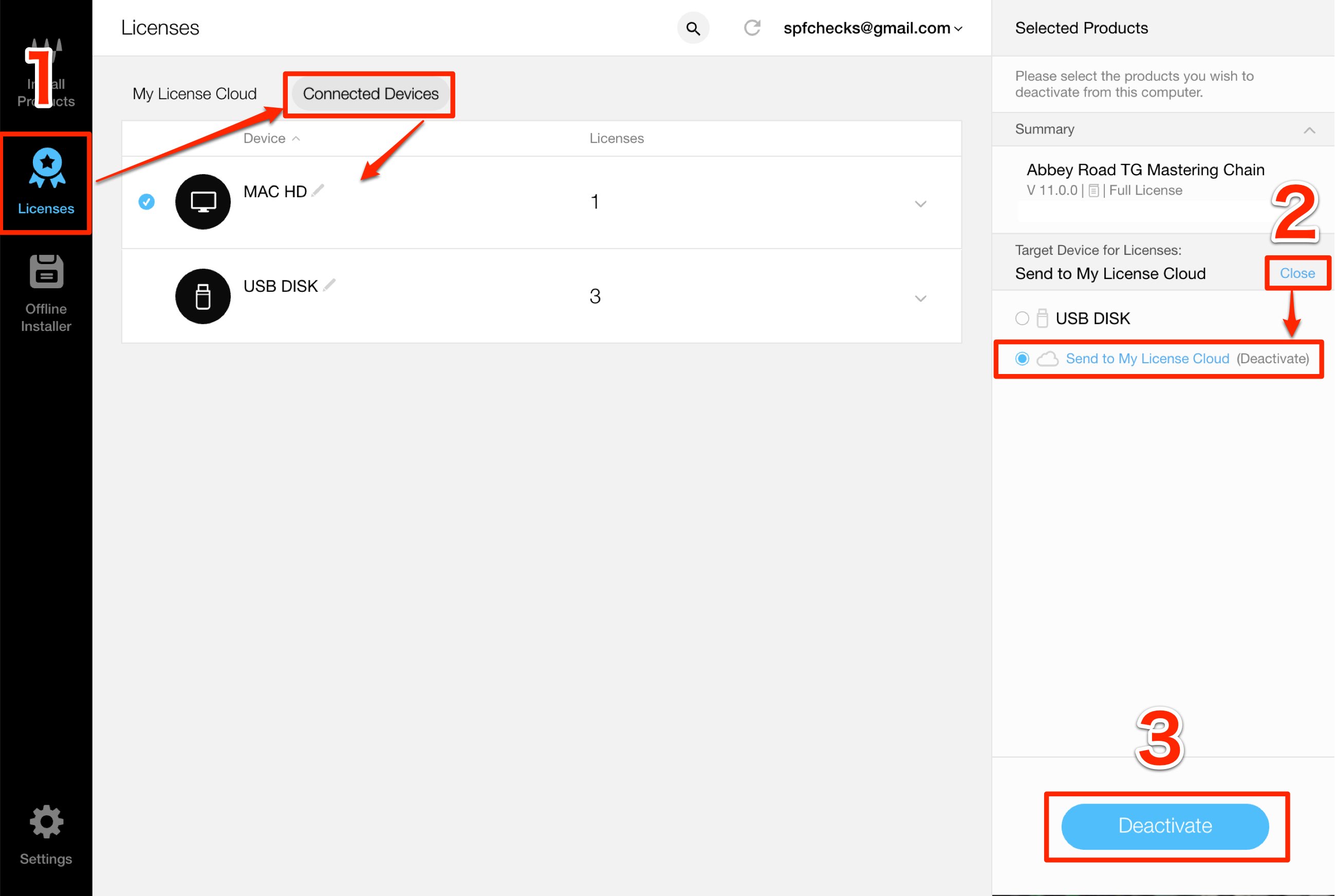 1. Select "Licenses" and select "Connected Devices".
Select the device (USB in this case) that contains the license.
2.Select "Send to My License Cloud" from the menu on the right.
3. Click "Deactivate" to move the license.
Open Waves Central on a new computer and you can now newly activate your license.
You can use this method to transder licenses from one USB memory to another as well.