New WAVES Berzerk Plugin - Tutorial
Creative Distortion Plugin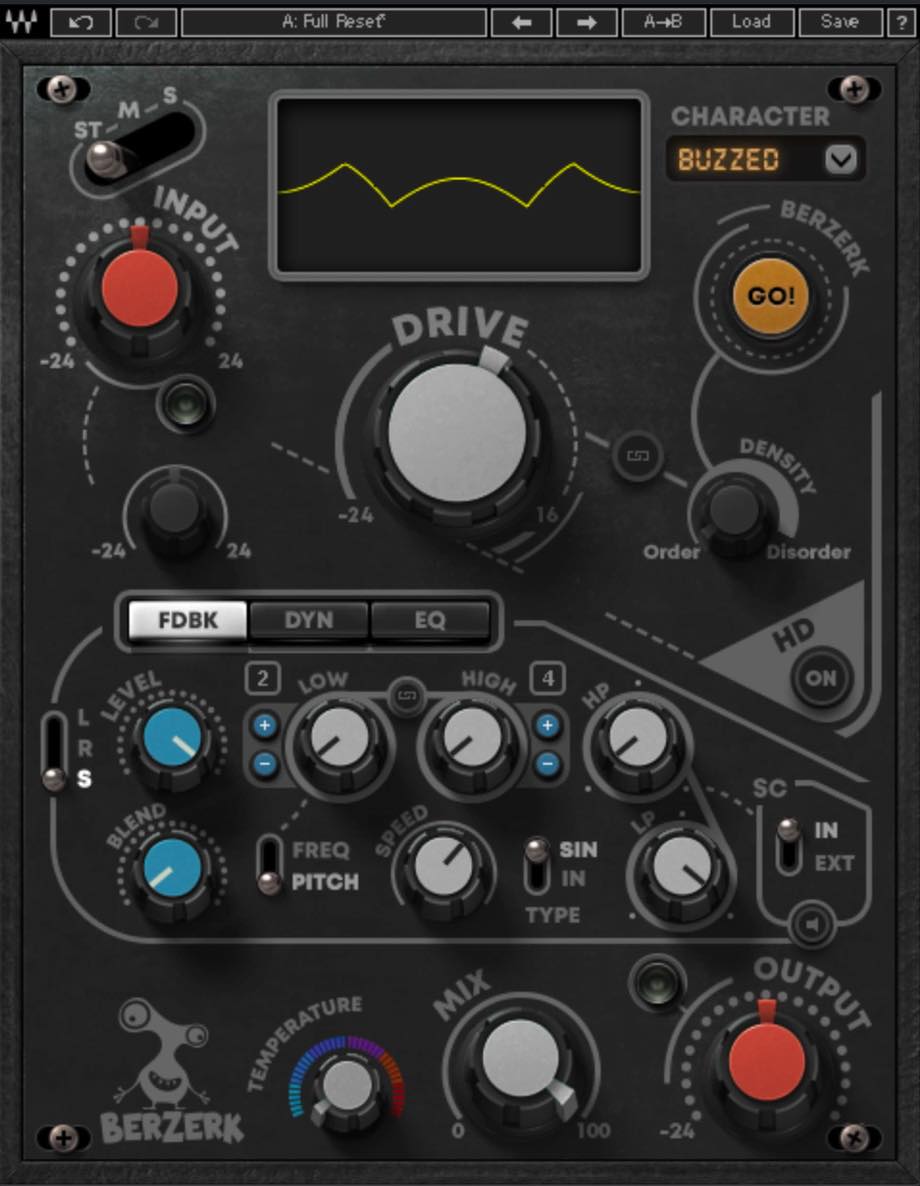 This time we will be taking a look at the new Berzerk plugin from Waves.
Berzerk is a distortion plugin that provides simple distortion sounds to more intensely modulated saturation.
Berzerk Tutorial Video Access
Drive Section
Lets start from the Drive section. We can create basic distortion/saturation sounds here.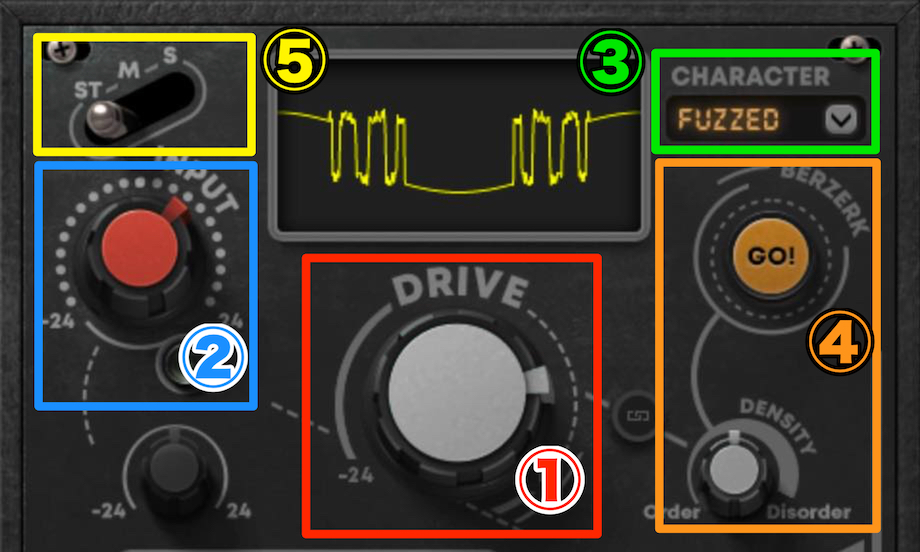 ①DRIVE:Determines the saturation strength.
②INPUT:Determines the input volume. The higher the input, the more obvious the distorted sound.
③CHARACTER:Determines the type of saturation.
④GO!/DENSITY:Randomizes the style of saturation. The strength of this effect is determined from the DENSITY knob below it.
⑤STEREO INPUT MODE:Determines whether the saturation is applied to the ST (stereo) source, M (mid) only, or S (side) only.
Processing Section
There are the 3 functions of FDBK (feedback), DYN (dynamics), and EQ available from the Processing section.
FDBK (feedback)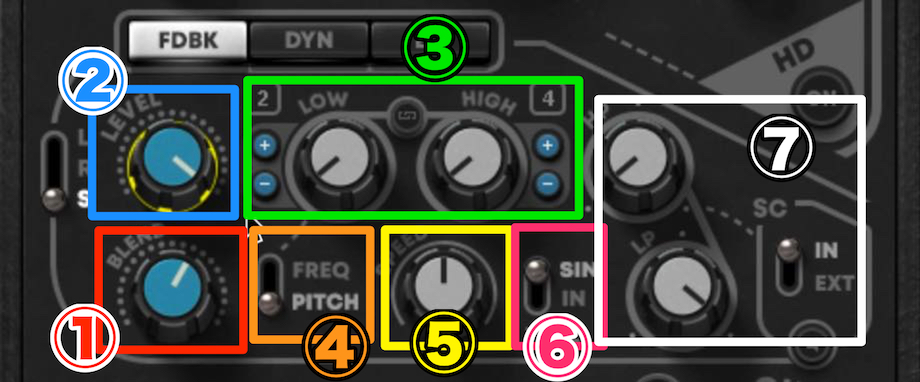 Feedback is an oscillator that creates a sine wave according to the rhythm of the source signal to create unique and interesting sounds..
①BLEND:Raise it to gradually introduce a pitched sound.
②LEVEL:Controls the volume of feedback.
③LOW/HIGH:Determines the span of pitch change of feedback. The pitch changes from HIGH to LOW.
④FREQ/PITCH:Determines the increment of the LOW/HIGH knobs. FREQ uses frequency, while PITCH uses note pitch.
⑤SPEED:Determines the speed of pitch change from HIGH to LOW
⑥TYPE:Changes the type of modulation used. SIN uses a generated sine wave, while IN uses the source sound.
⑦SIDECHAIN:When the IN/EXT (internal/external) switch is set IN, the modulated signal can be filtered. Raise HP (highpass) to exclude low frequencies from the designated point, or lower LP (lowpass) to exclude high frequencies from the designated point.
When the IN/EXT switch is set to EXT, the sidechain signal can be sent from an external track to create even wilder forms of modulation.
DYN (Dynamics)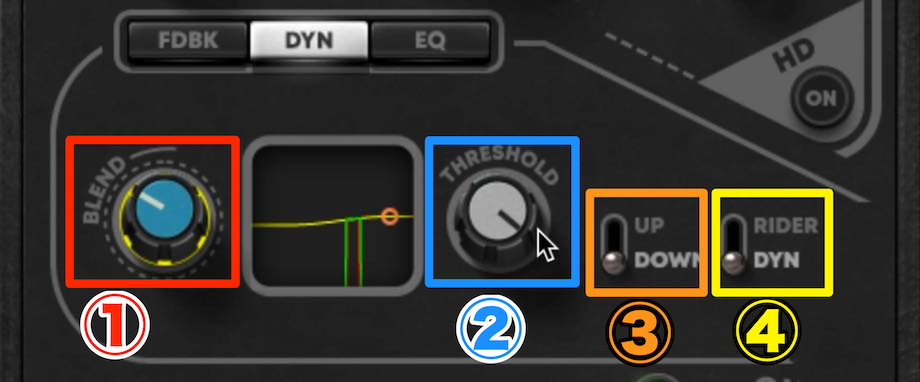 DYN (dynamics) works like an expander, and applies saturation depending on the dynamics of the input signal, to accent particular instances.
①BLEND:Determines the strength of the effect, and creates a gate like sound when turned further right.
②THRESHOLD:Determines the volume point where distortion begins to be applied.
③UP/DOWN:Determines whether distortion is applied to sounds above/below the threshold point.
④RYDER/DYN:When changed to RIDER, DOWN will distort sounds above the threshold, while sounds below the threshold remain unaffected. UP does vice versa.
EQ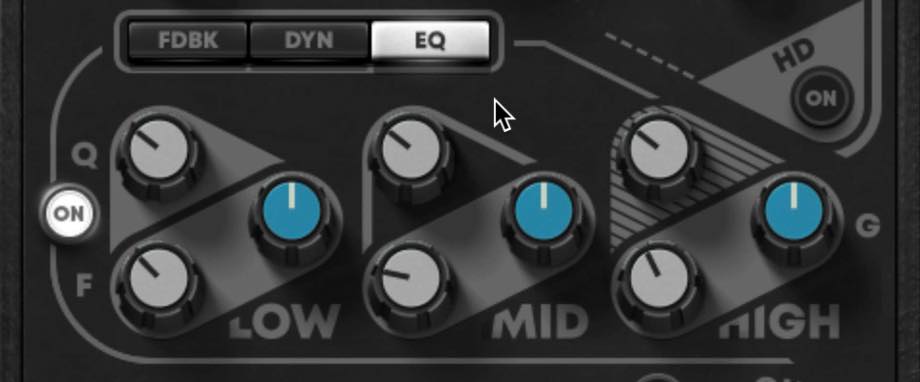 EQ is an equalizer that allows you to adjust 2 bands of EQ (High, Mid, Low).
Output Section

①TEMPERATURE:Determines the color of the sound. Creates a warmer and smoother sound when turned right, and a clearer and sharper sound when turned left.
②MIX:Determines the balance between the original and effected sound (dry/wet signal).
③OUT:Determines the overall output level.
---
Berzerk goes well beyond the realm of an ordinary distortion, and allows you to create unique and creative sounds.
Try it out on various sources to create your own type of chemical reaction!