VOCALOID 5 Tutorial - Using Attack Effects #2
Improving Workflow Using New Features in VOCALOID 5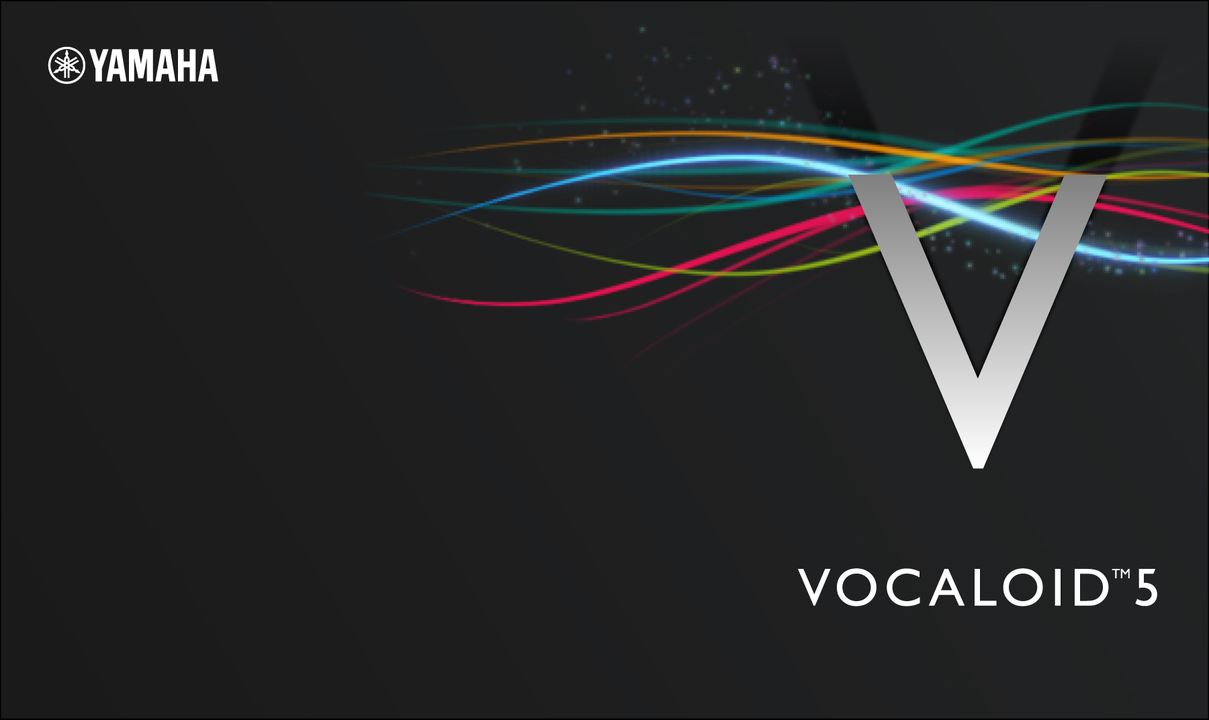 In this article we will take a look at making detailed edits to individual notes, and a general workflow we can use to quickly achieve a more realistic vocal performance.
So far, the vocal sound we have after completing a melody and lyrics in our last article is as follows:


There is still room for improvement in order to make this sound more human.
From here, we will be adding detailed edits to each note using new features in VOCALOID 5.
VOCALOID 5 Tutorial – Using Attack Effects – Video Access
Product Link : https://www.vocaloid.com
Optimizing Consonant Note Lengths
Because consonant lengths are uniform as a default setting, areas with slower melodies and short phrases begin to sound unnatural.
We will look at optimizing the consonant lengths to fit our phrases.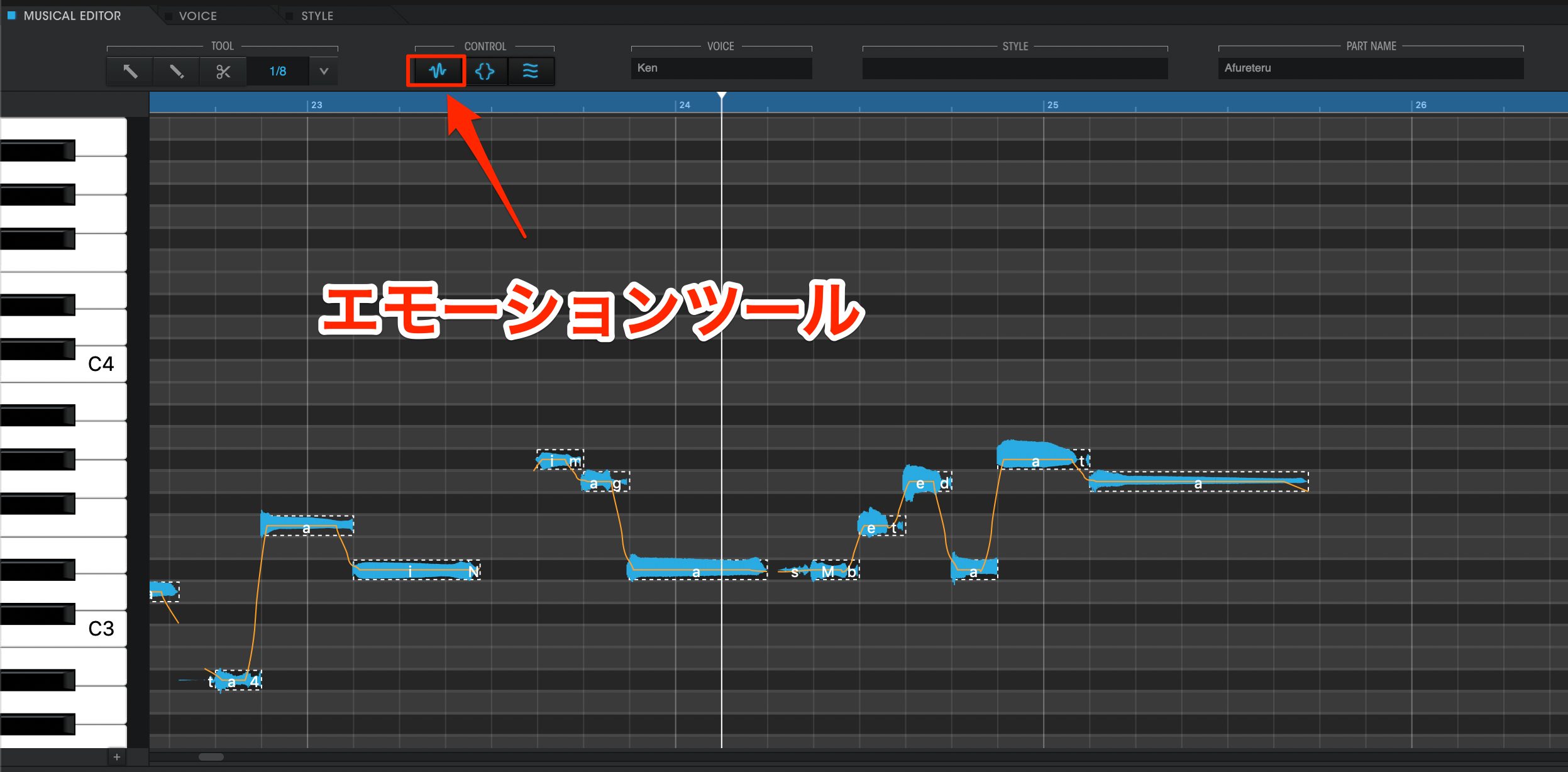 We will be using the "Emotion Tool" to control consonant lengths.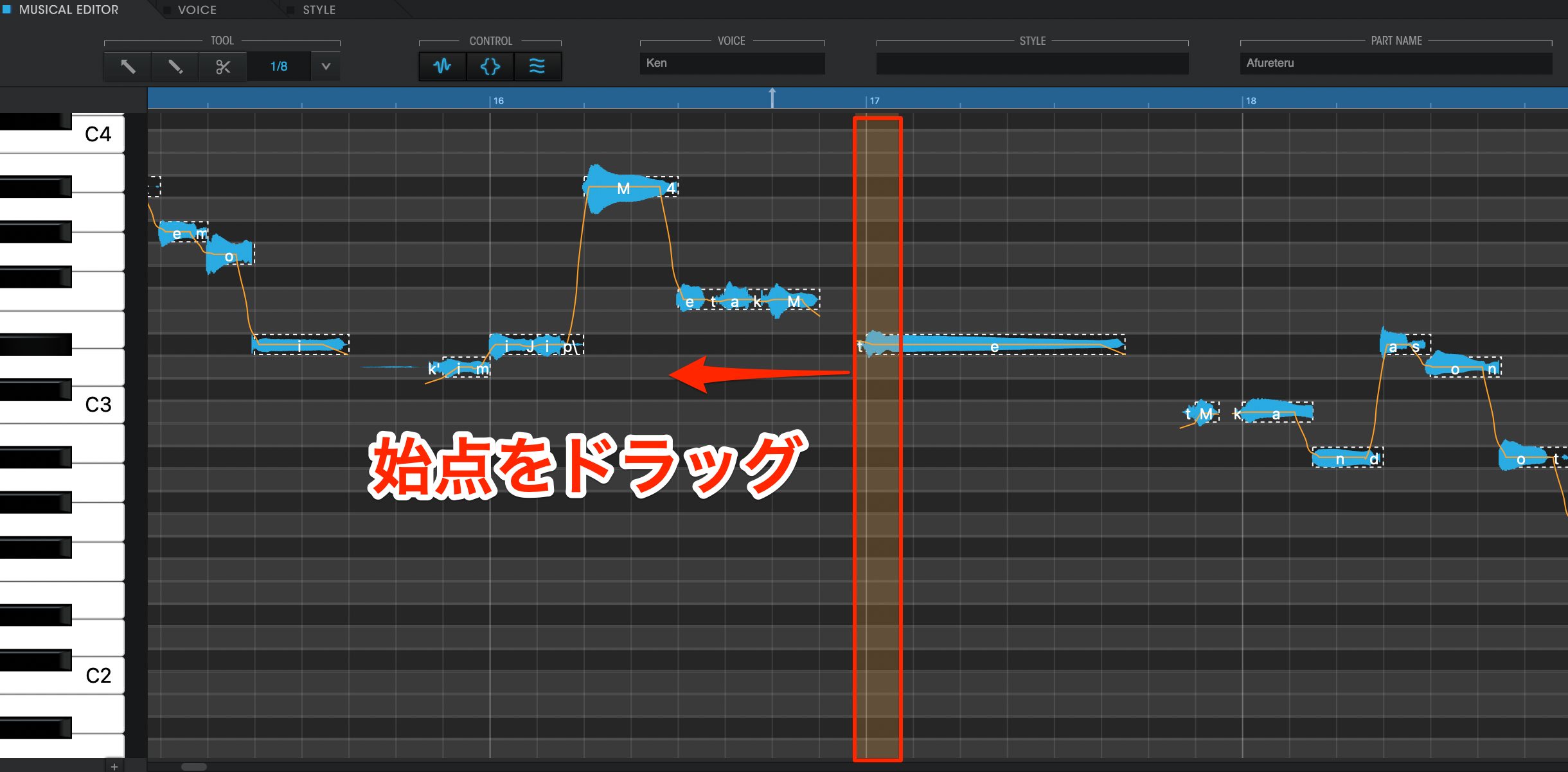 By bringing the cursor above a note, the beginning and end areas of the note will light up orange.
The start of the beginning area can be dragged forward/backwards to control the consonant length.
Extending Consonants for Clearer Pronunciation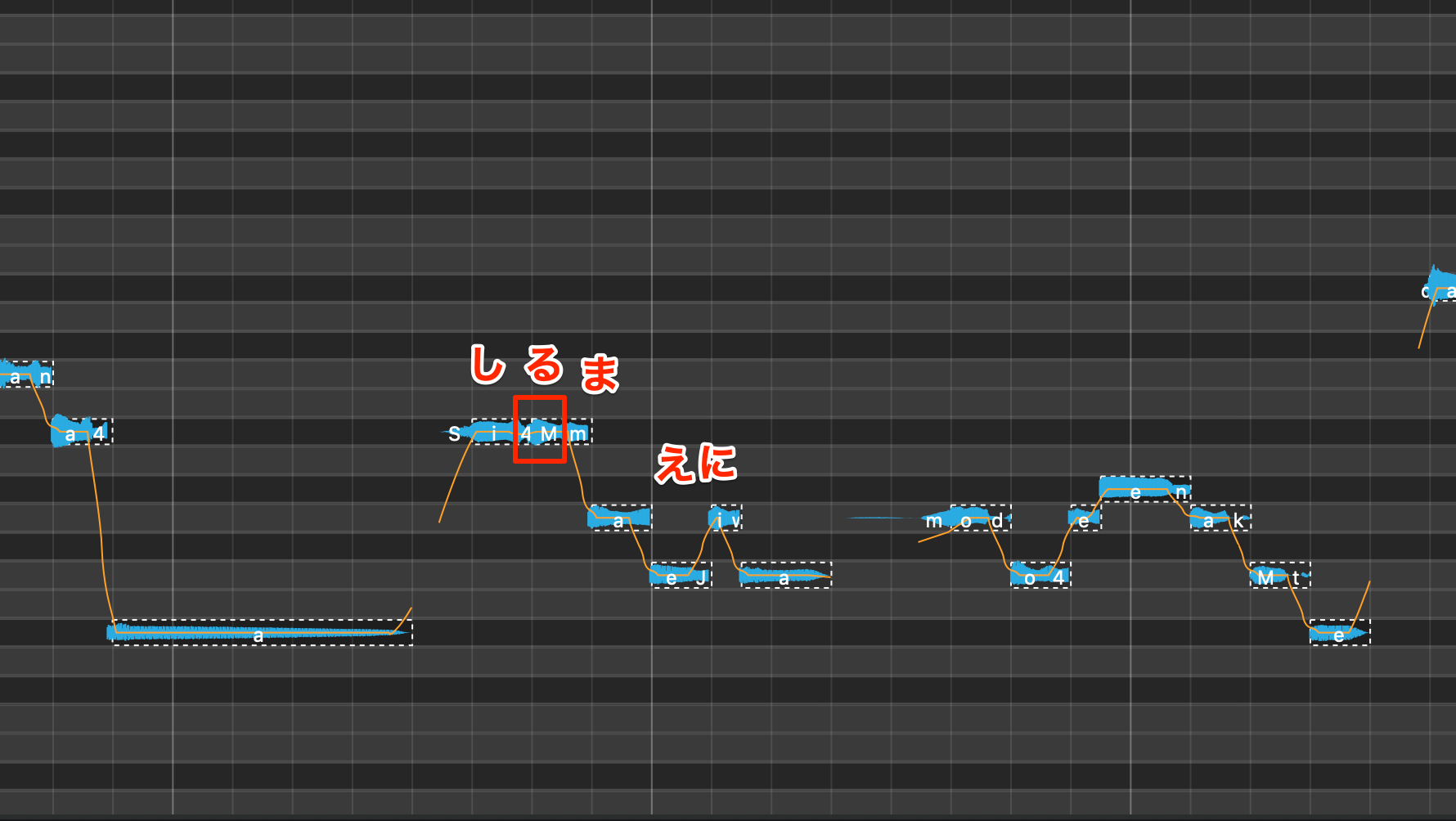 In this "shiru mae niwa" lyric if we focus on the "ru" lyric portion, we can tell that it is not being pronounced clearly enough, making it sound unnatural.
Before Editing Consonants
In this case, by extending the starting point of the consonant length, we can add clarity to the lyrics.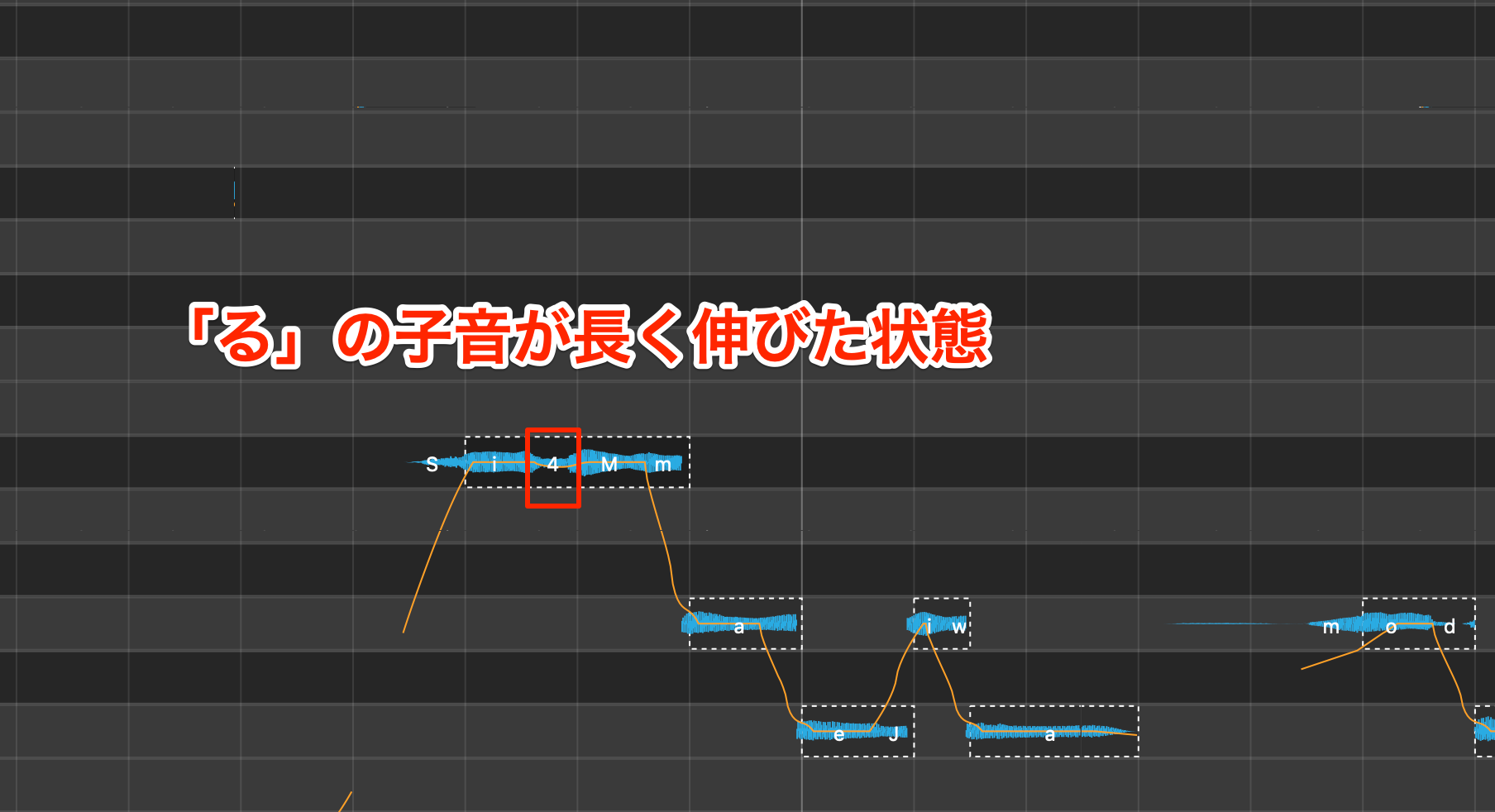 The note "Shi" has been shortened and a gap was created between it and "ru" which has made the overall pronunciation clearer.
By making detailed edits to individual notes that stand out as sounding unnatural, we can achieve a more natural performance.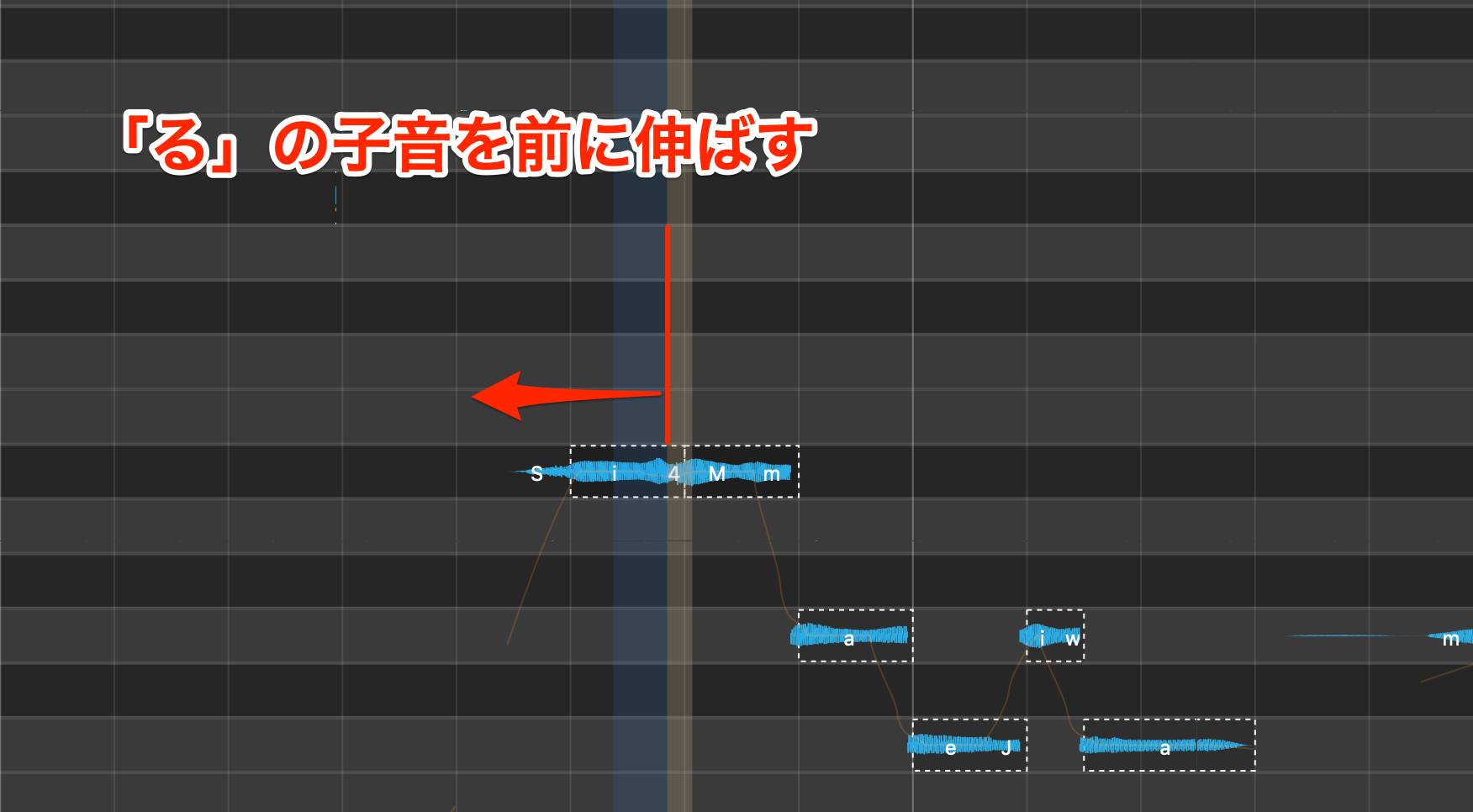 Natural Pronunciation By Shortening Consonants
We will be looking at another use of consonant editing.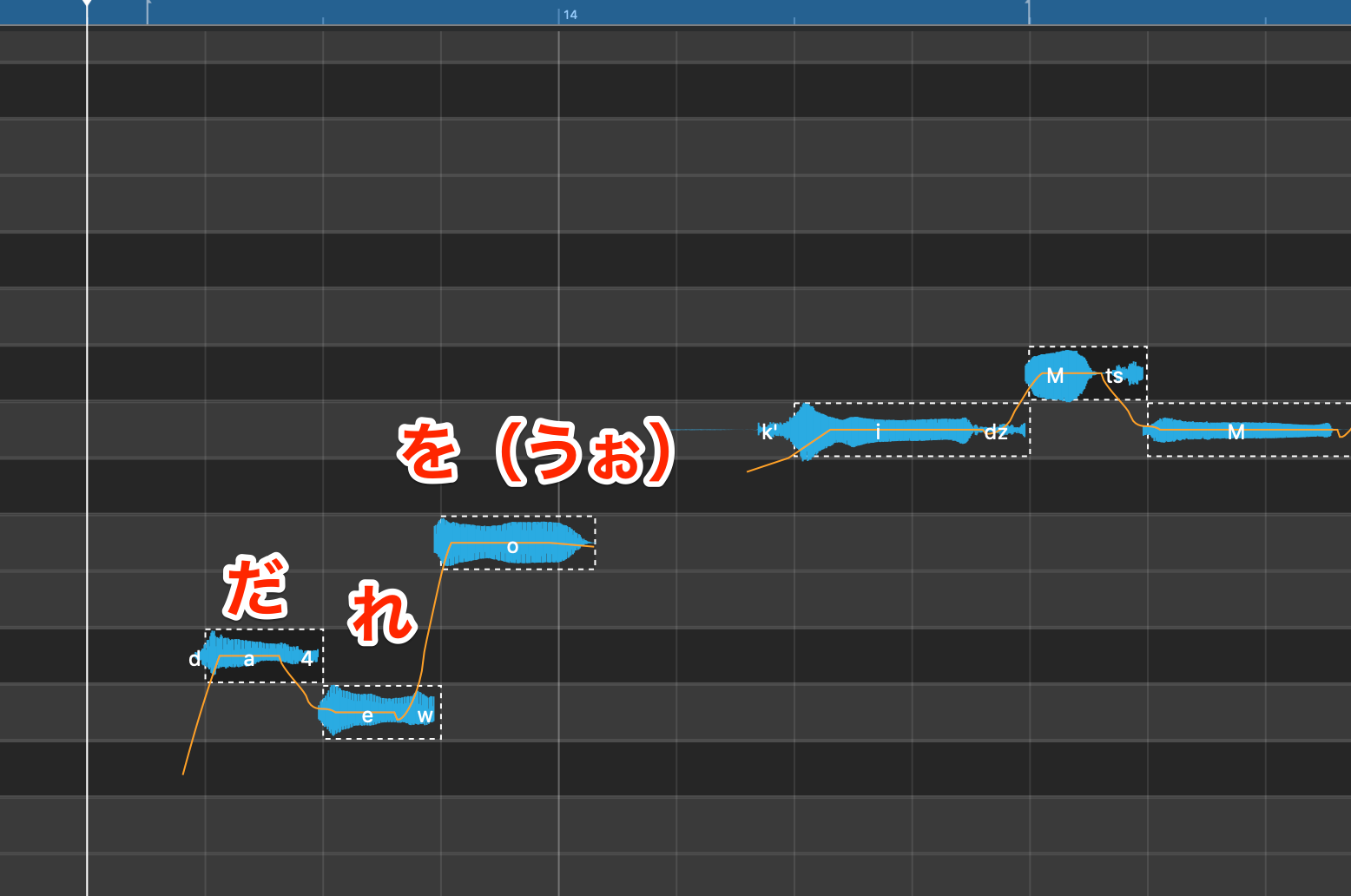 The pronunciation of "re" and "o" is "dareo" sound unnatural.
This is because the consonant sounds are set too long.
We will check the sound while pulling the starting point of the consonant sound backwards.
This will allow us to achieve a more natural sound.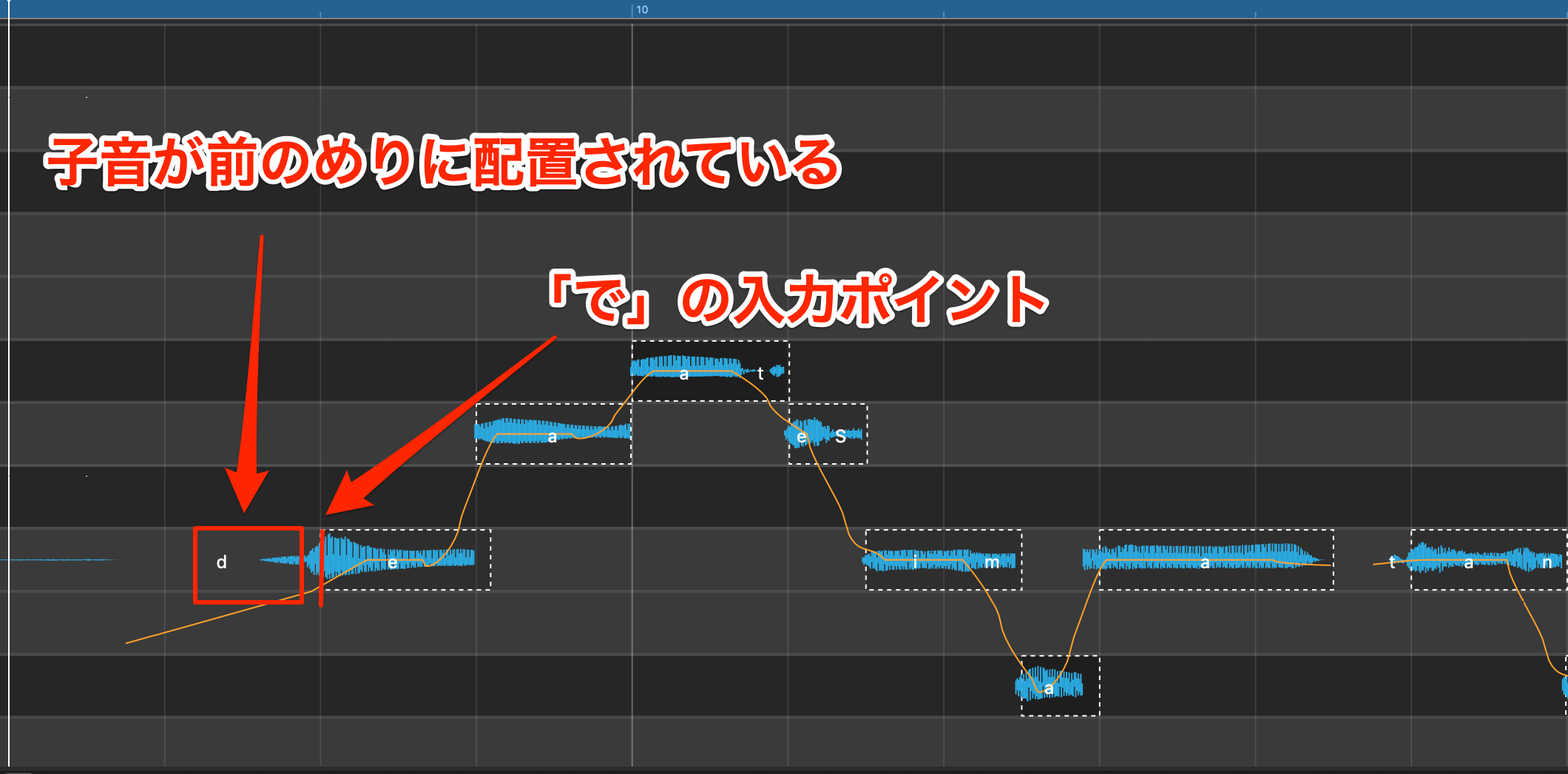 Vocaloid will pronounce notes slightly before the point that they are sequenced.
Because of this, extending the consonant of a note will shorten the note before it, and shortening the consonant will make the note before it longer.
Using this, you can create a bouncier staccato like singing style.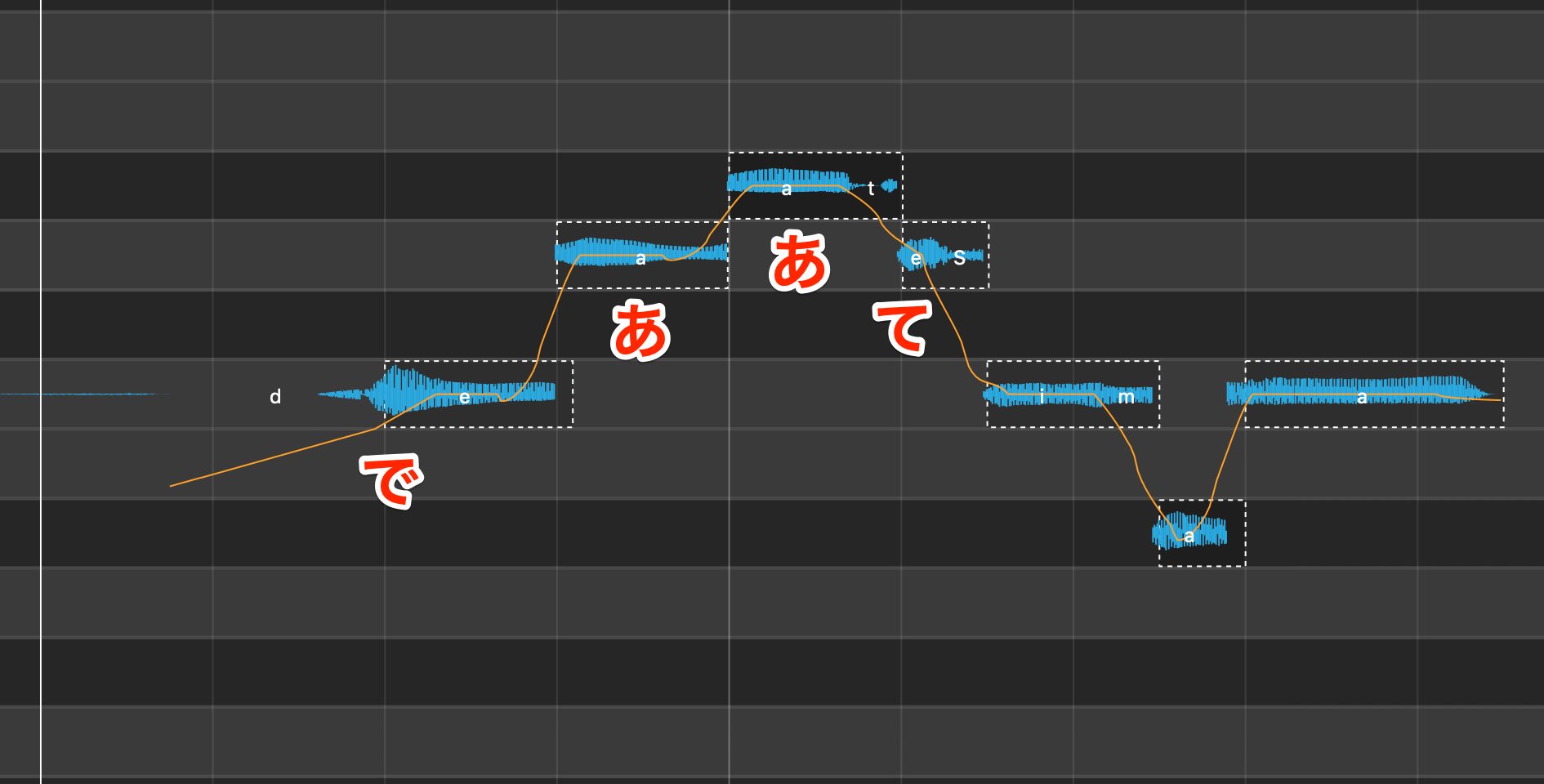 We will be looking at the "atte" part from
"Deatte shimatta nara" as an example.
We will be trying to make this pronunciation more clear and defined.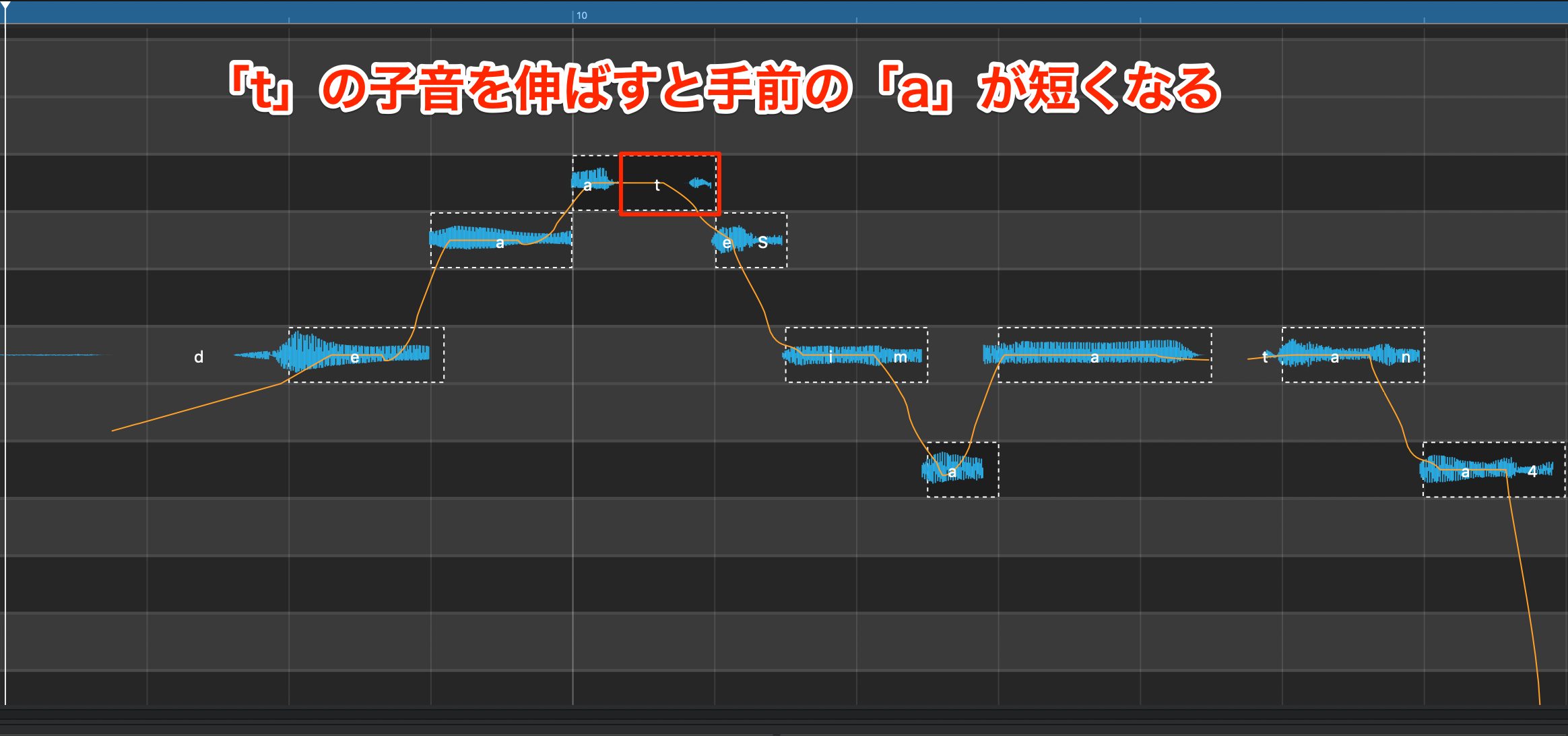 We will extend the "te" consonant, and shorten the "a" before it.
By adding detailed fixes to pronunciation, we can create a more dynamic vocal line.
Controlling Consonants from the Control Lane
Like the older Vocaloid Editor, keep in mind that consonant length can be controlled by velocity amount as well.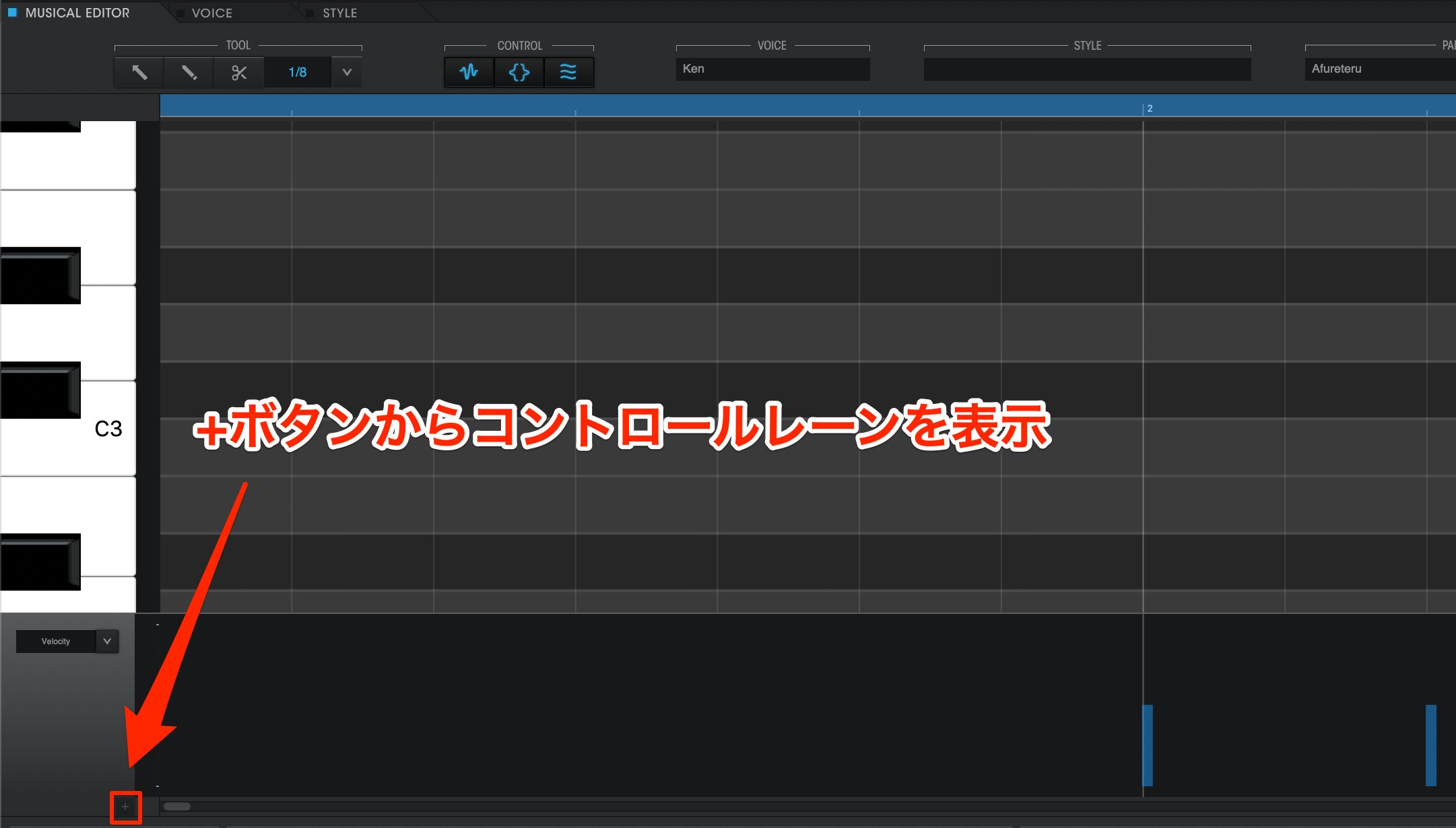 By displaying Velocity in the control lane (+), we can use the pencil tool to drag and control consonants.
If controlling the consonant length directly in a note, use the emotion tool, and if editing multiple parts at once, use the control lane. Knowing when to use which style of editing will help improve your work flow.
Adding Nuance with Attack Effects
Next we will be looking at adding pitch nuances to individual notes.
Pitch variations can vary greatly between individual singers and genres, and because they are important for creating character, they must be edited in detail.
Vocaloid 5 allows you to use attack/release effects to easily make these kind of pitch nuances.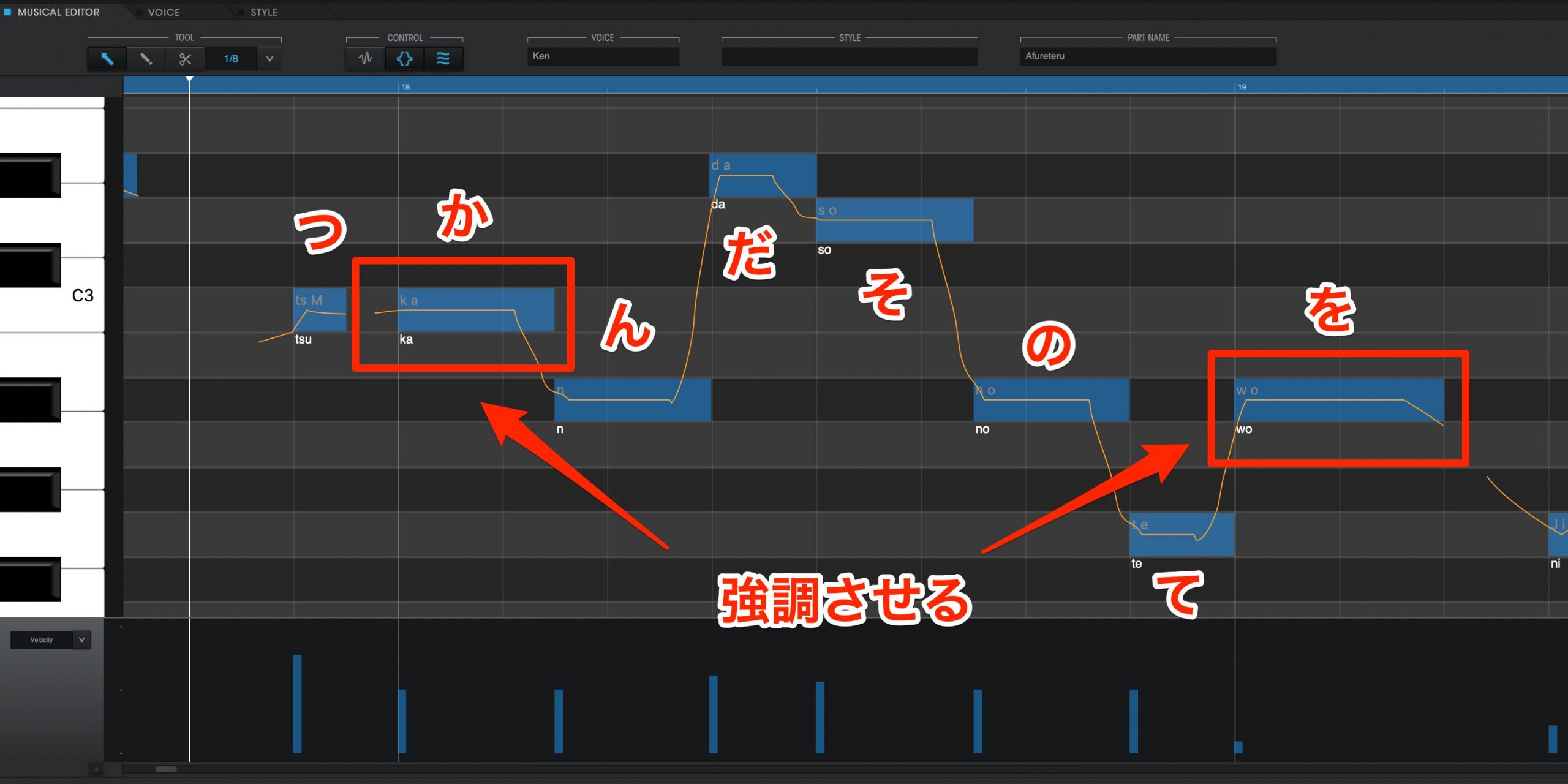 The "ka" of "tsukanda" and the "o" of "sono teo" are accent points of this phrase and we want to enhance and strengthen the vocal performance here.
As we are looking at the start of a note, we will be using attack effects.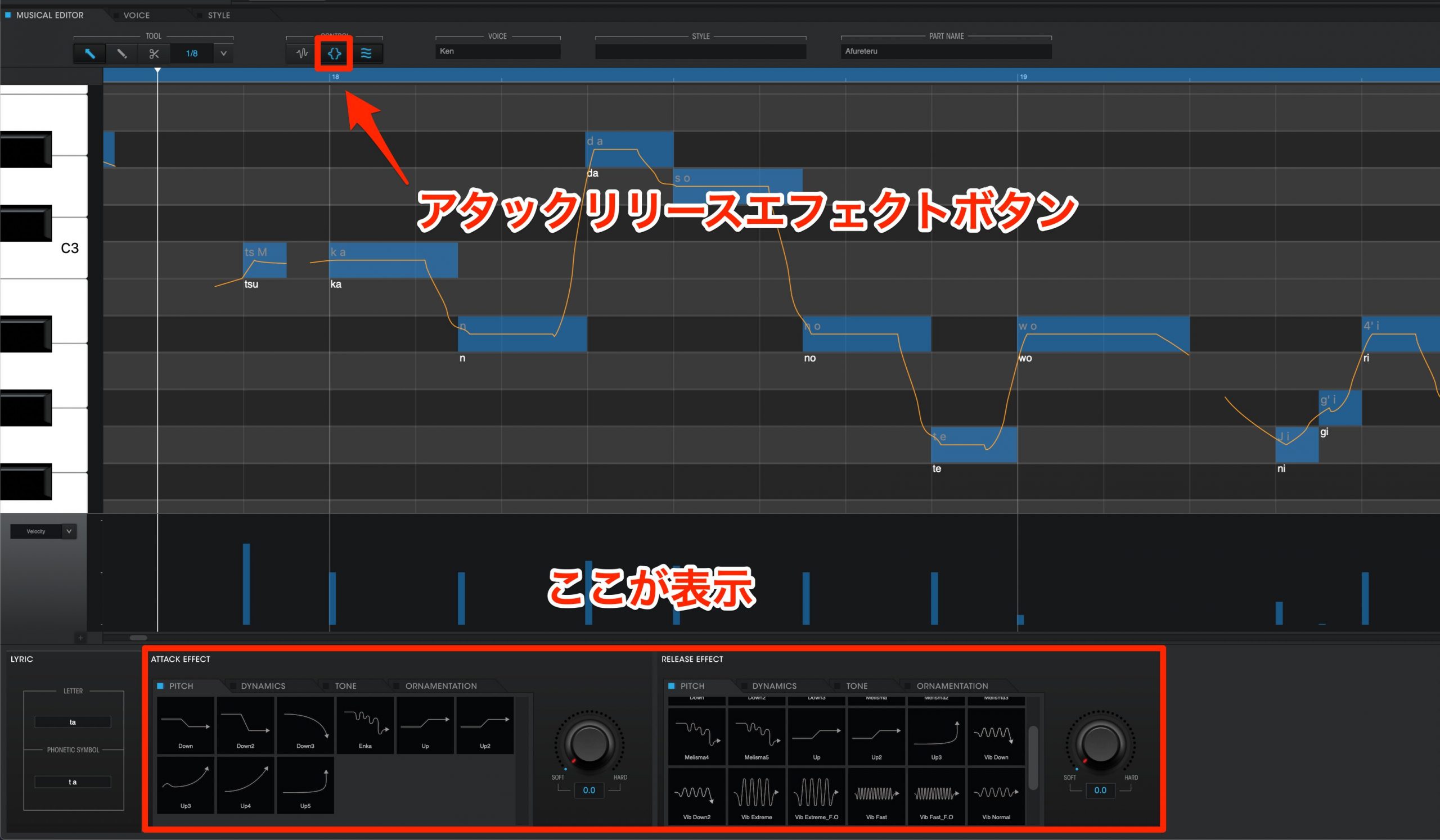 Display the attack/release effect area, and select the note you want to edit.
In this case this would be the "ka" of "tsukanda".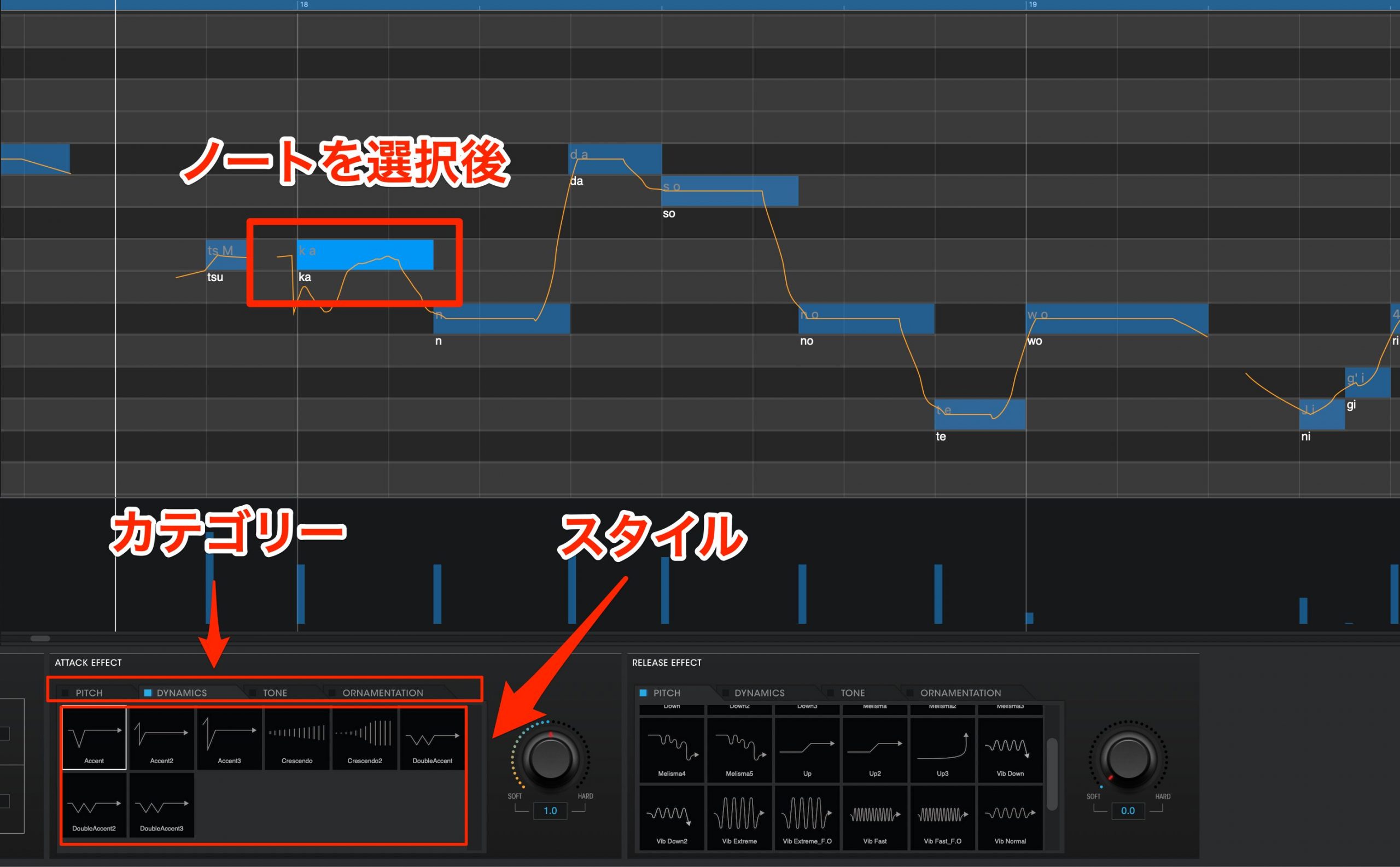 We will select the best effect type for the current example.
Because we want to enhance the note, it would be best to look at the effects under DYNAMICS.
First we will select an Accent. This will apply the selected nuance.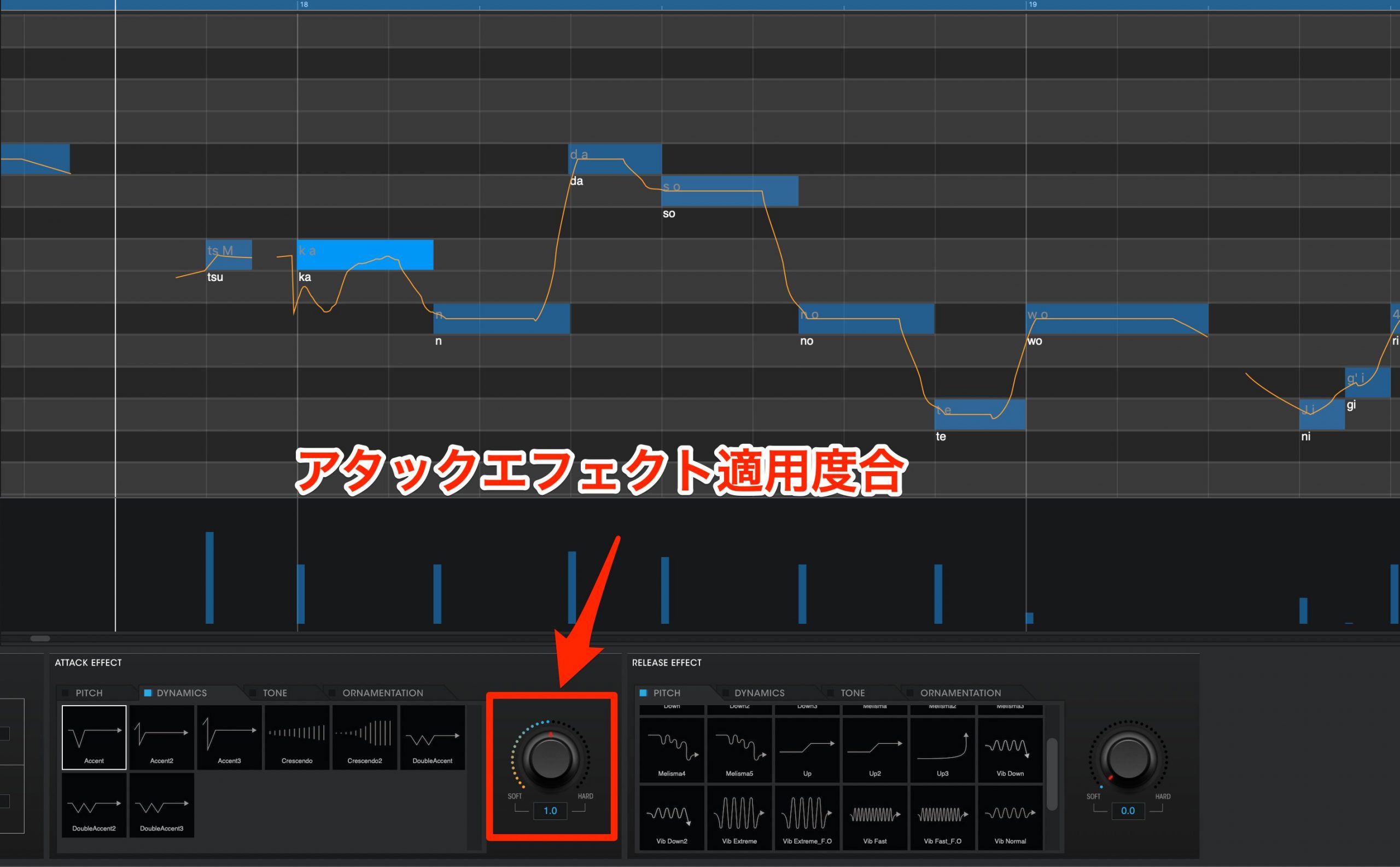 Repeat the sound while adjusting the effect strength using the knob.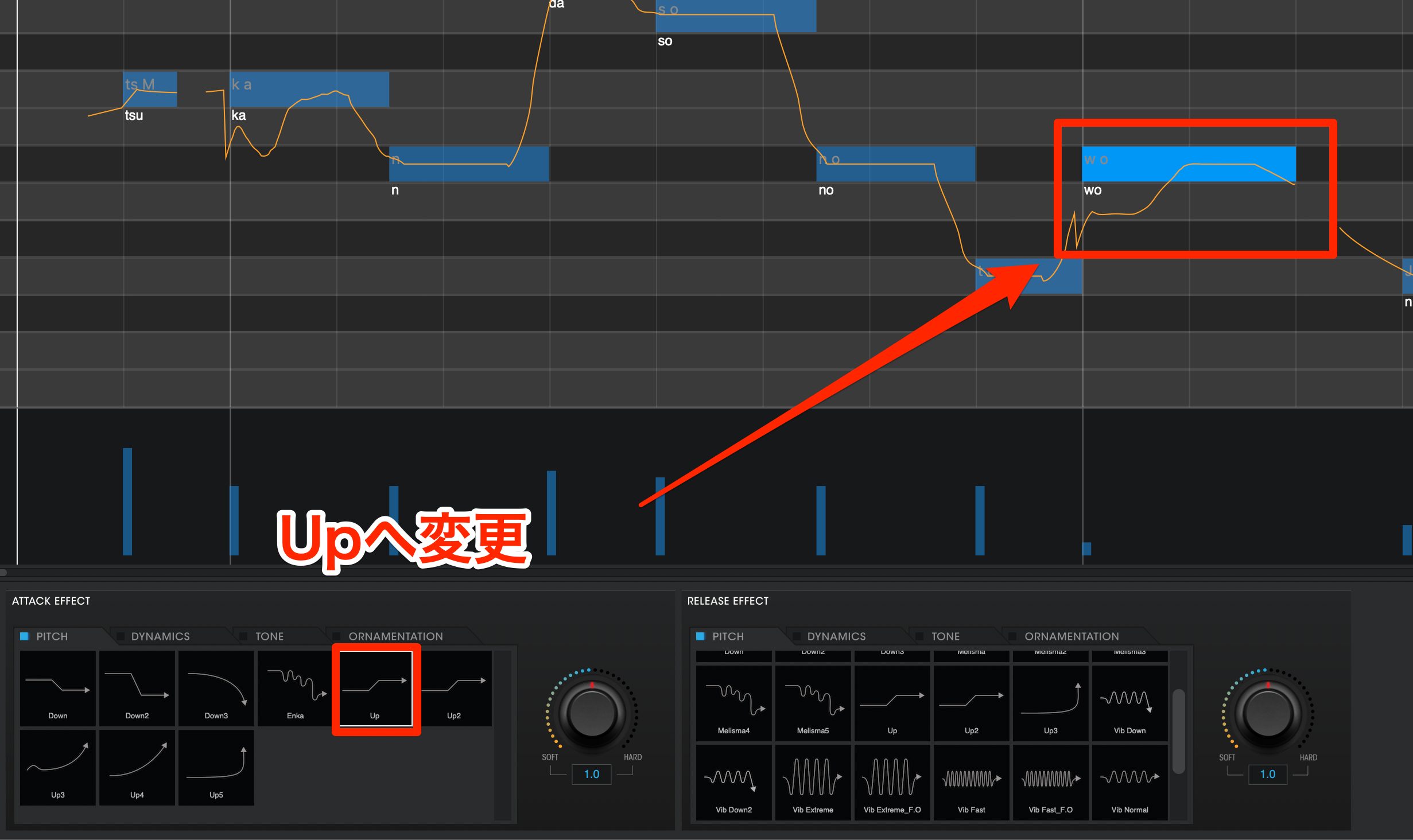 Next we will add an upward pitch bend to "wo" in "sono te wo".
In this case, it would be best to select and UP from the PITCH collection.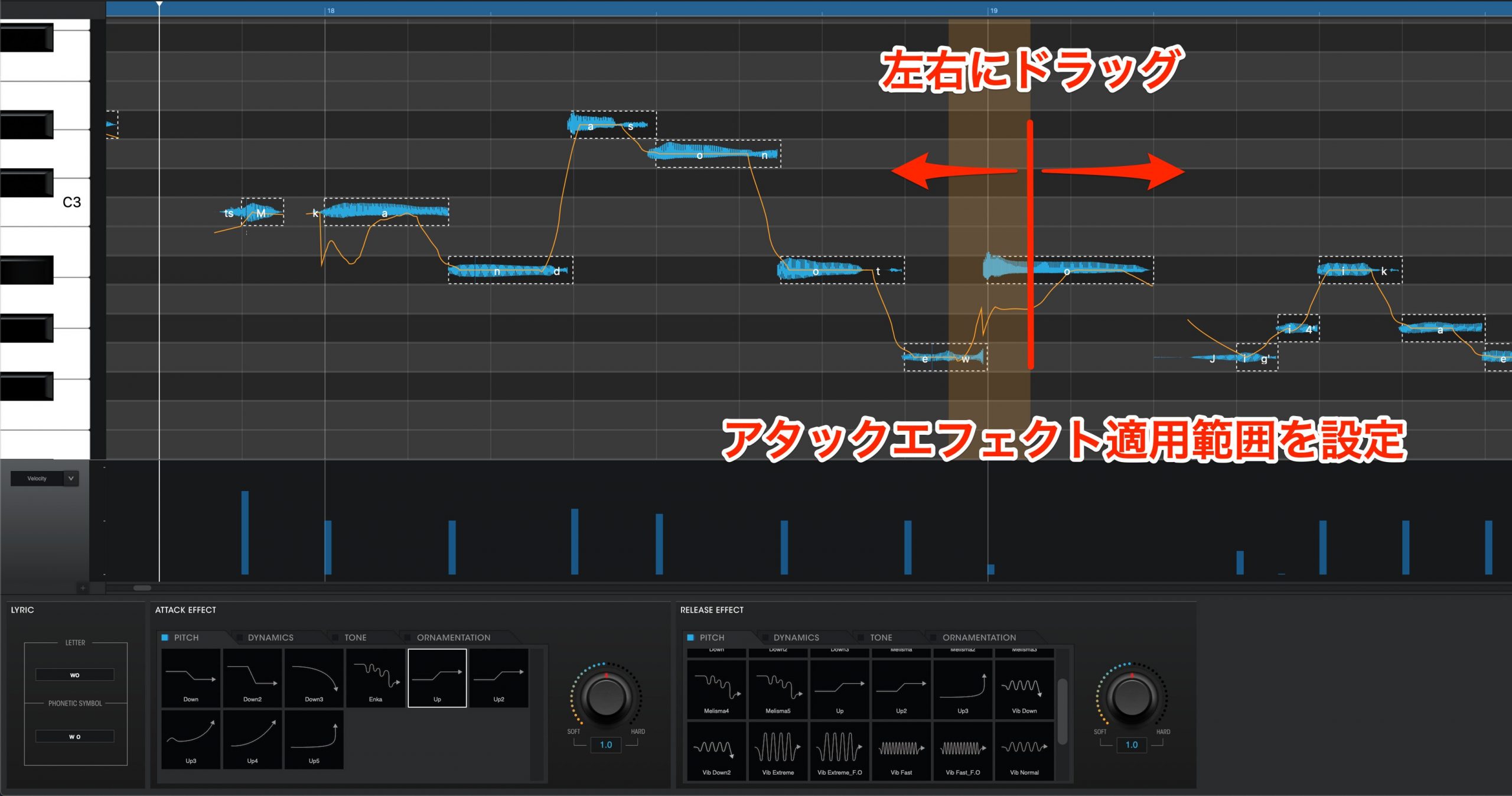 Using the emotion tool, this span that is displayed at the front of the note can be dragged forward/backwards to adjust the span of the attack effect.
Here we have shortened it slightly.
We will use similar techniques to make detailed edits to the remaining notes, while focusing on
giving stronger accents to the "s" and "t" sounds
adding an Up bend to all notes overall to create tiny pitch wobbles
These help create a more human-like wobbling of pitch and leads to a more natural sounding performance.
Lets compare how it sounds before and after adding attack effects.
Before Applying Attack Effects
After Applying Attack Effects
The overall performance is much more nuanced by using attack effects, and we hope you feel that the overall quality of the track has improved.
In our next article, we will use release effects and note splitting techniques, to further polish our vocal track.
Product Link : https://www.vocaloid.com