XLN Audio XO Tutorial ① Selecting Kit Sounds by learning SPACE Basics
Journey through the SPACE of sounds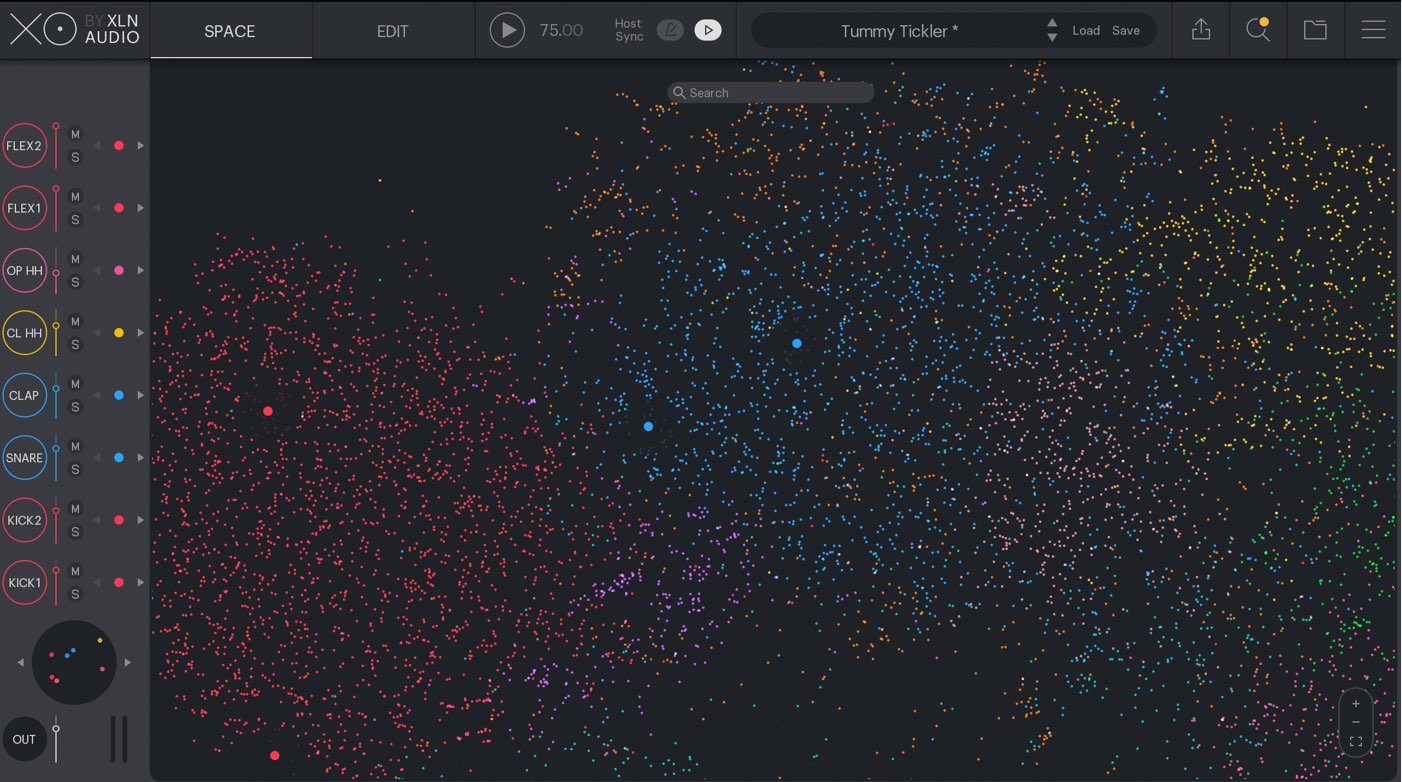 Here we will be taking a look at the beat making software "XO" from XLN Audio.
The theme of this product is "space."
The unique sample placement allows you to "construct a rhythm kit from the vast space" and is created for quick and intuitive sound selection.
In addition, by adding your own one shot samples into space, you can expand on the sound library.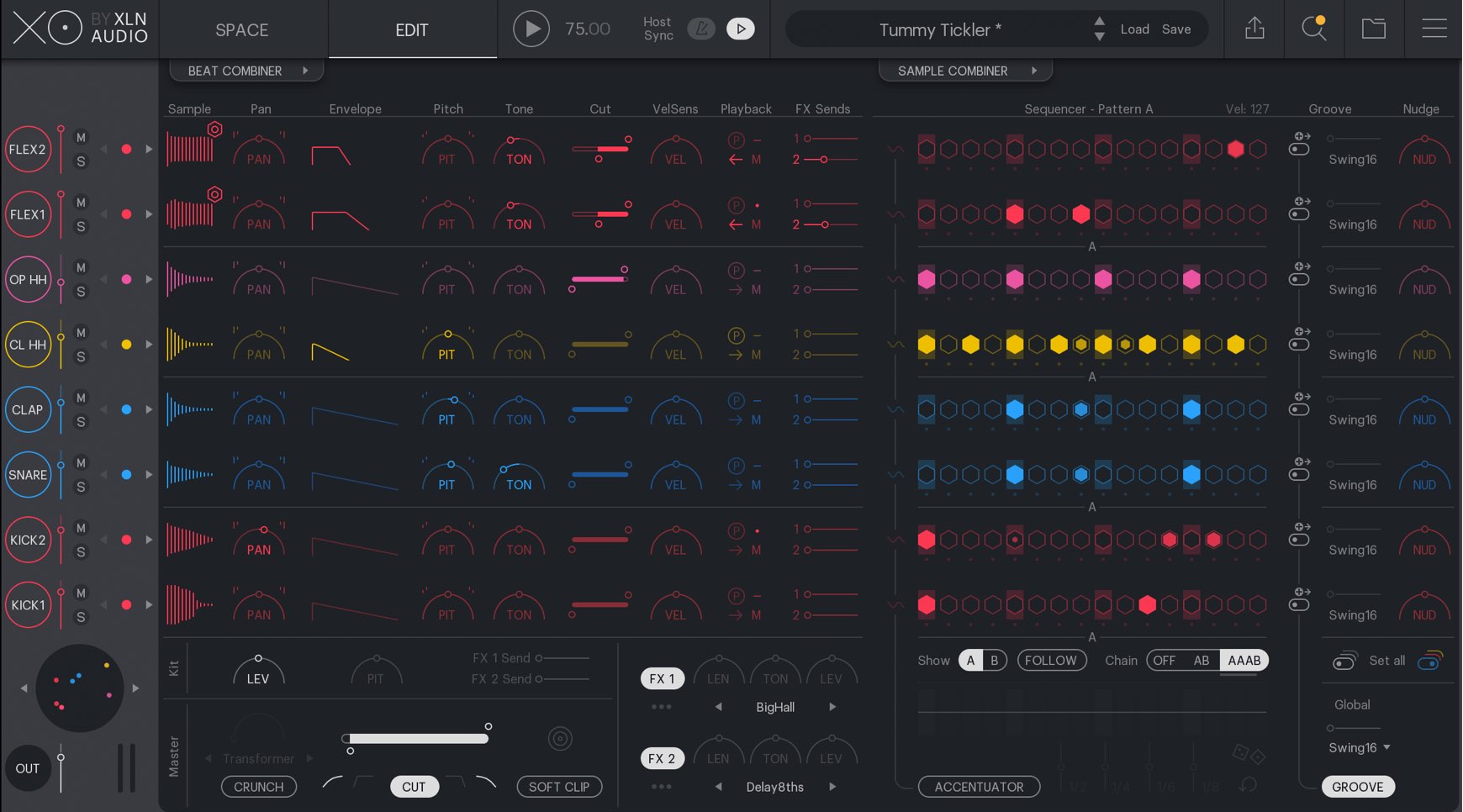 Though the space is the biggest point of this product, it allows for a variety of kit edits and pattern constructions.
This product will help speed up the process of editing and constructing electronic beats.
In this first article lets start by taking a look at the kit sound selection and SPACE.
XLN Audio XO Video Access
Purchase here

Utilizing preset sounds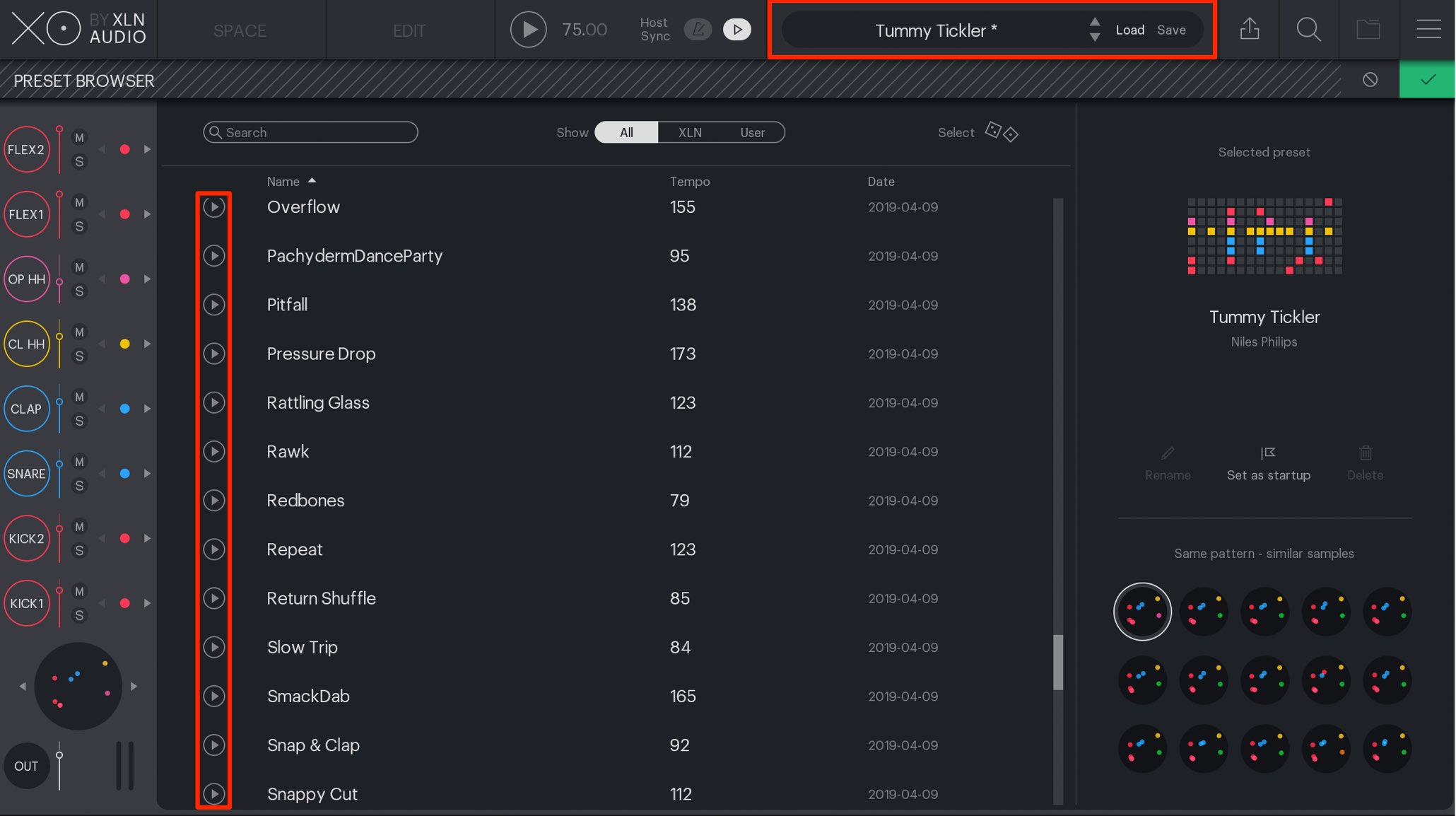 "XO" provides a variety of kits and patterns included as presets.
Click on the preset name, and preview sounds from the preset window as well.

To match the preset preview to the DAW tempo, click to turn on the "metronome" icon.
By turning on the "DAW Play" button to the right, XO's playback will follow DAW start/stops (will be synced to the DAW tempo).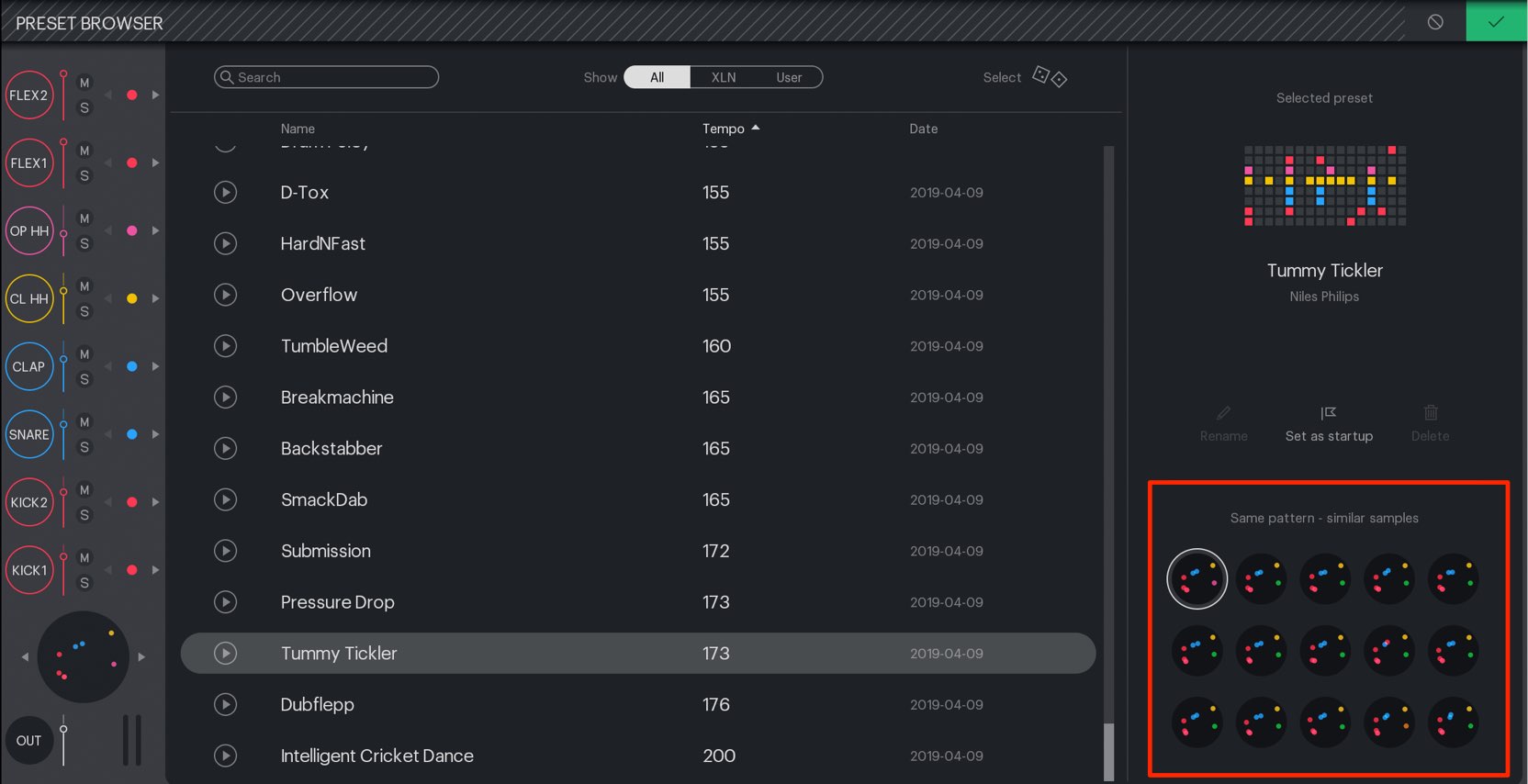 Kits that are similar to your selected preset sounds will be displayed on the bottom right.
Click on them and try out different combinations.
SPACE window control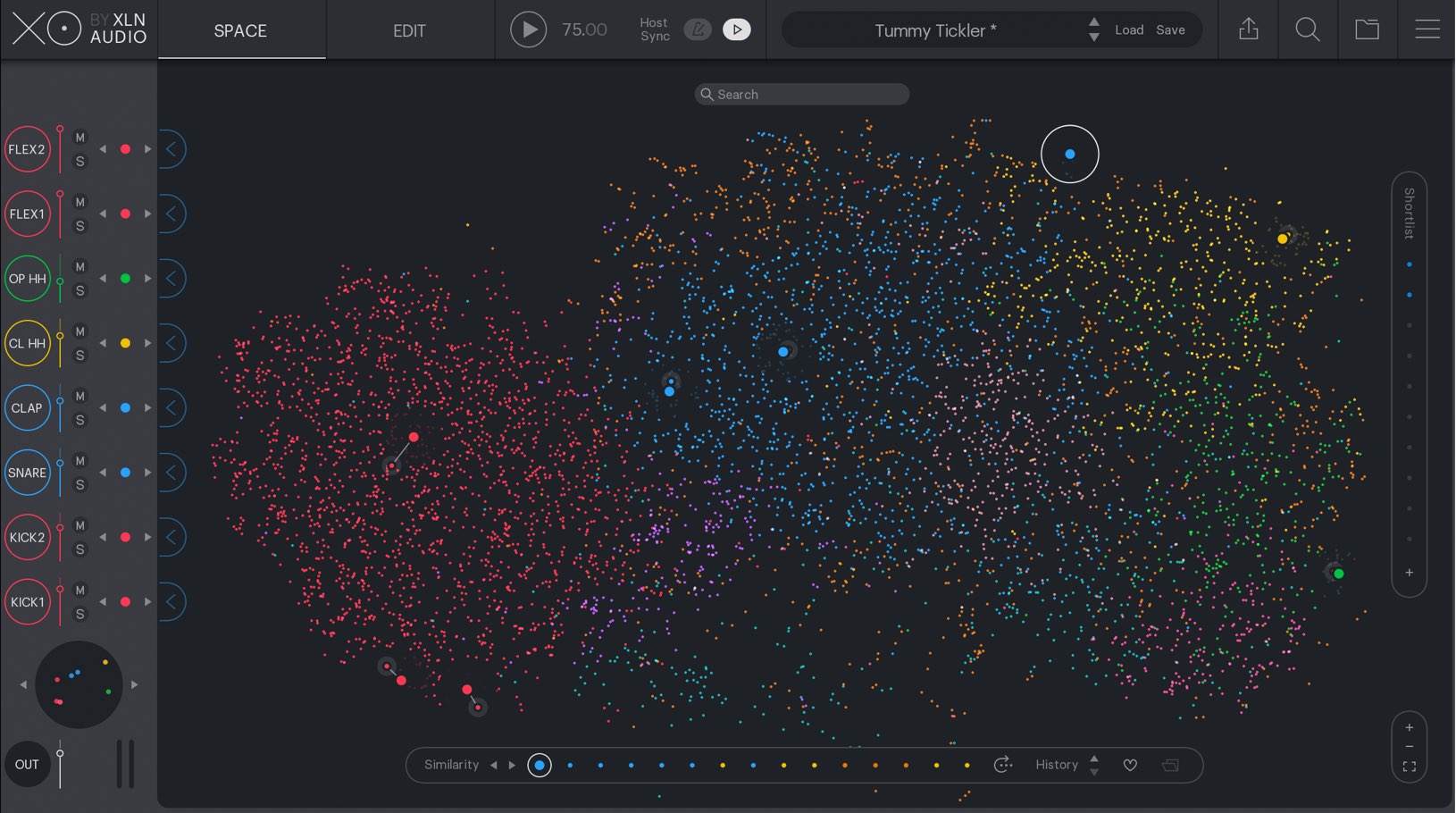 Use the SPACE window to select samples; first lets take a look at some XO basics.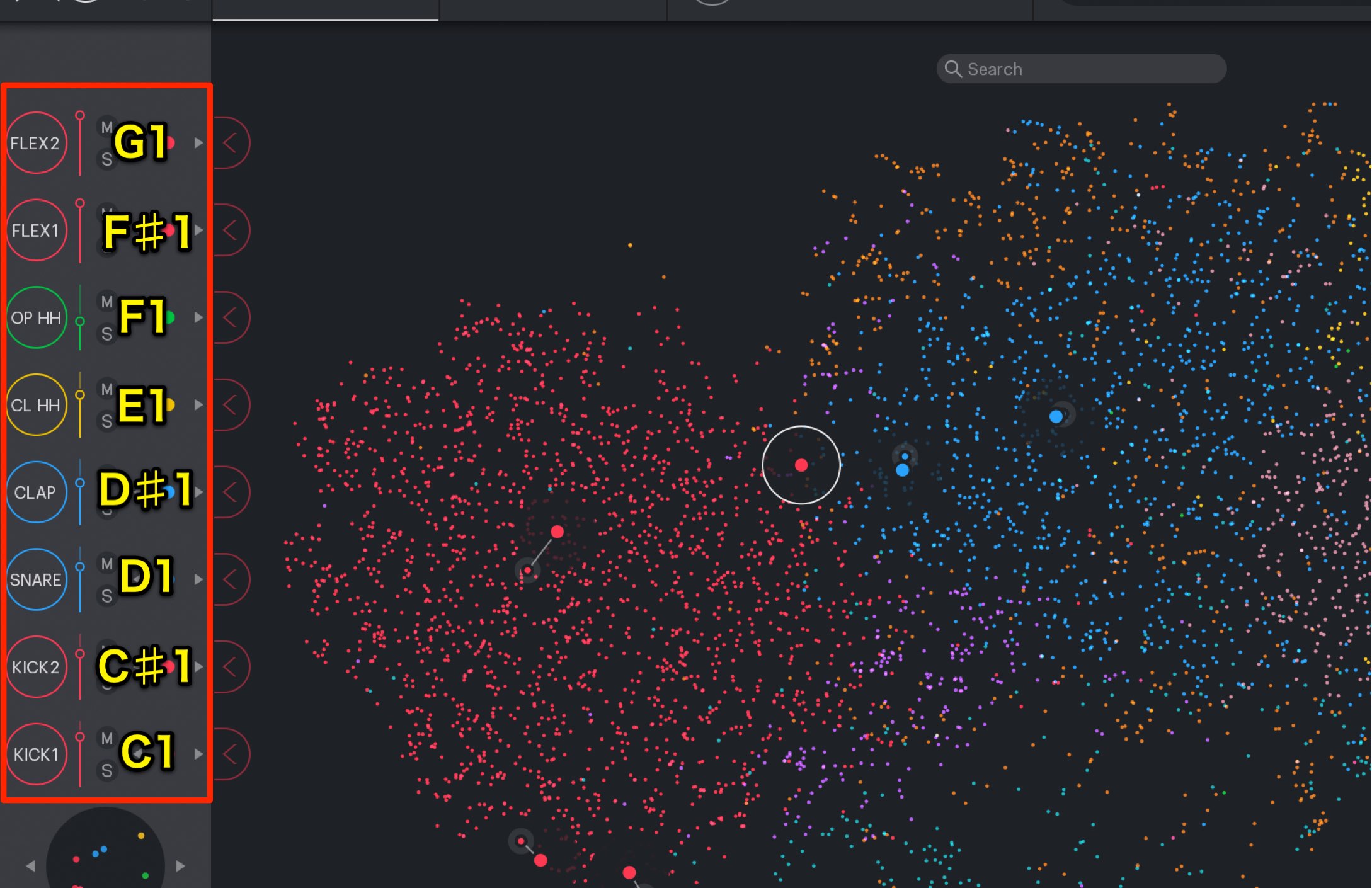 XO can use up to 8 kit sounds at once.
MIDI notes can be designated to soudns as well, and can be sequenced like a regular drum softsynth as well.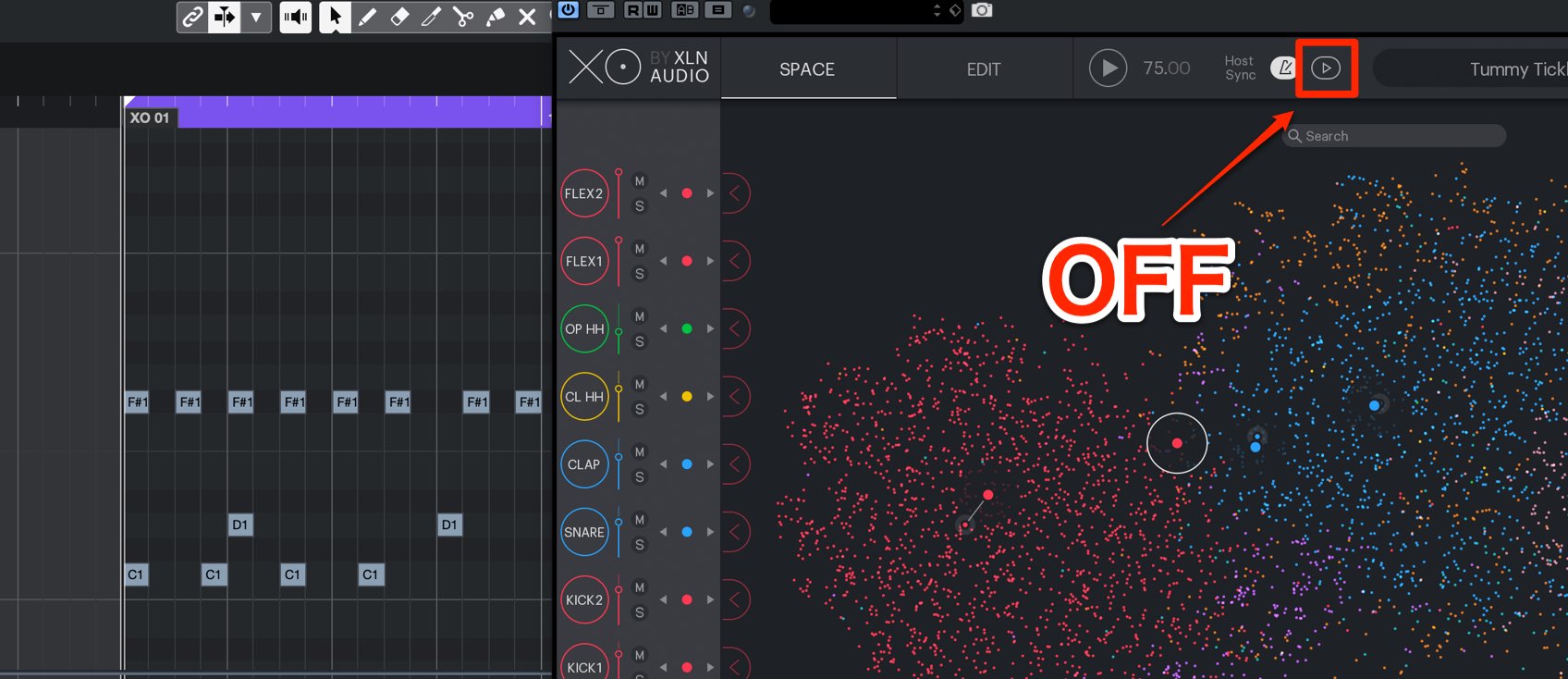 Be careful to keep DAW play off when utilizing it in this way.
If not, the pattern within XO and the MIDI sequence will play simultaneously.
Listening and bringing up samples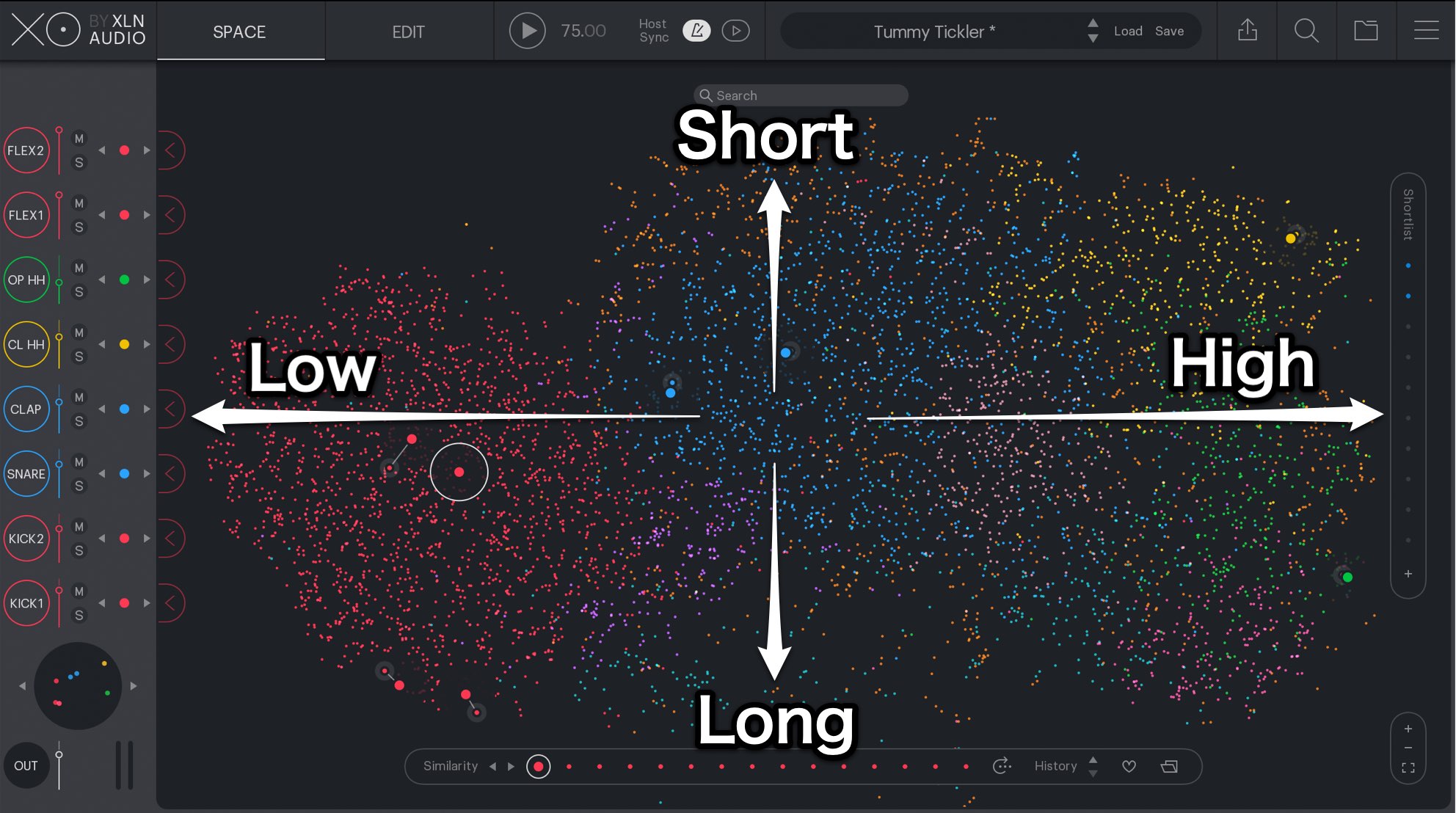 Individual samples are split into different colored "stars" and can be previewed by clicking on them.
Though the spread of sounds look random, there is a rule to this distribution:
The further left, the lower the pitch, the further right, the higher
The higher up, the shorter the sound, the lower, the longer
By understanding these points, you can easily look for different samples.

The "Similarity" contents will change depending on the selected sample.
This function helps search for sounds that are similar to the sample you have selected.
You can click a sample in Similarity to preview it,

and use the sample results to re-search using Similarity to find new or more specific sounds.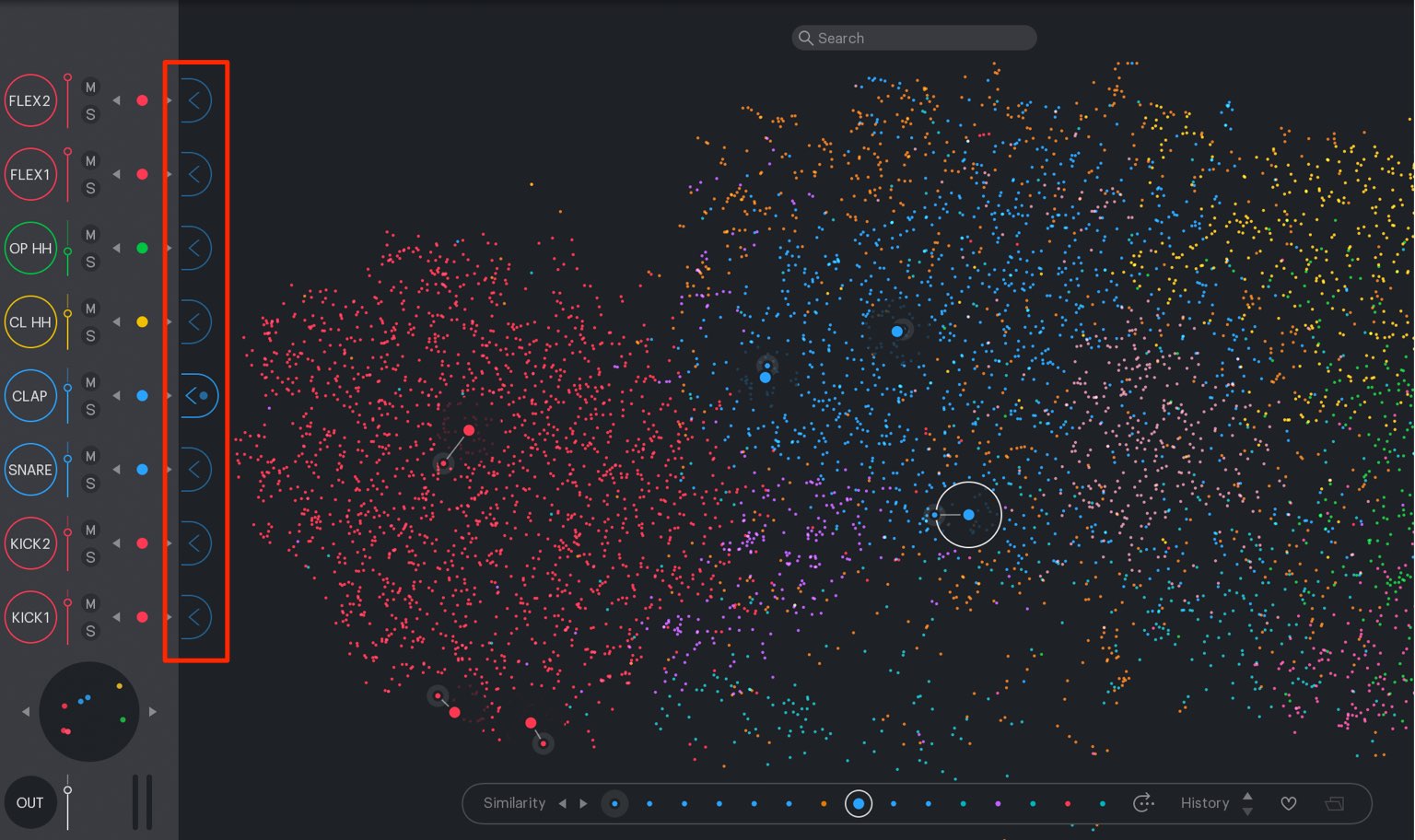 By clicking on a sound's label, you can read the sample into your kit.

Or you can take the sample and
Mac : Option + drag
Windows : Alt + drag
it into your DAW to import it as an audio track.
This is useful for sound effects or for sounds you will only use once in a song.
Zooming IN/OUT of SPACE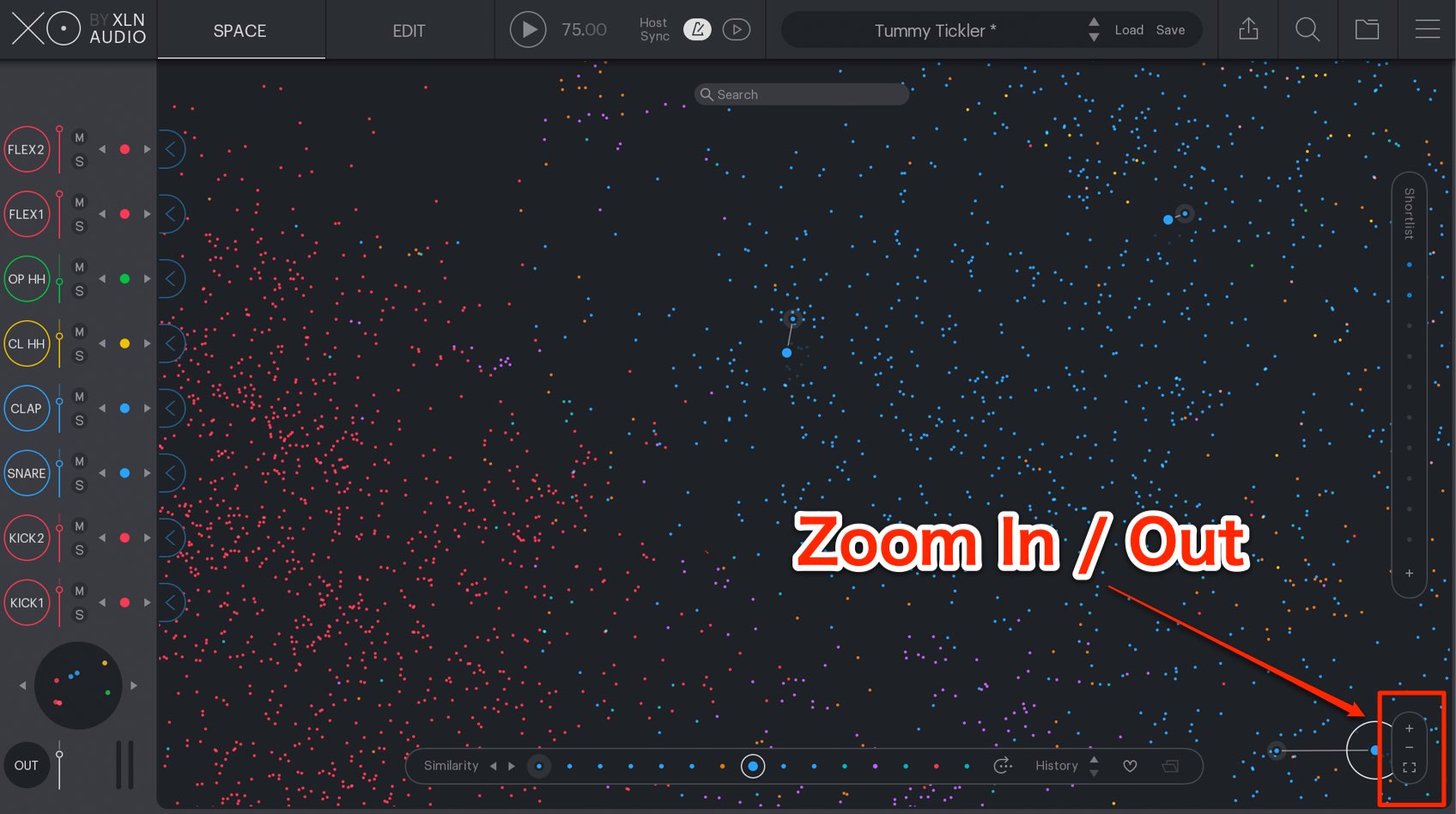 While selecting samples, you may want to zoom in/out of space.
You can zoom in/out using your mouse wheel, or use the "+ -" to do the same.
In addition, while right clicking and dragging in space, you can move around space while retaining the current zoom.
Favoriting samples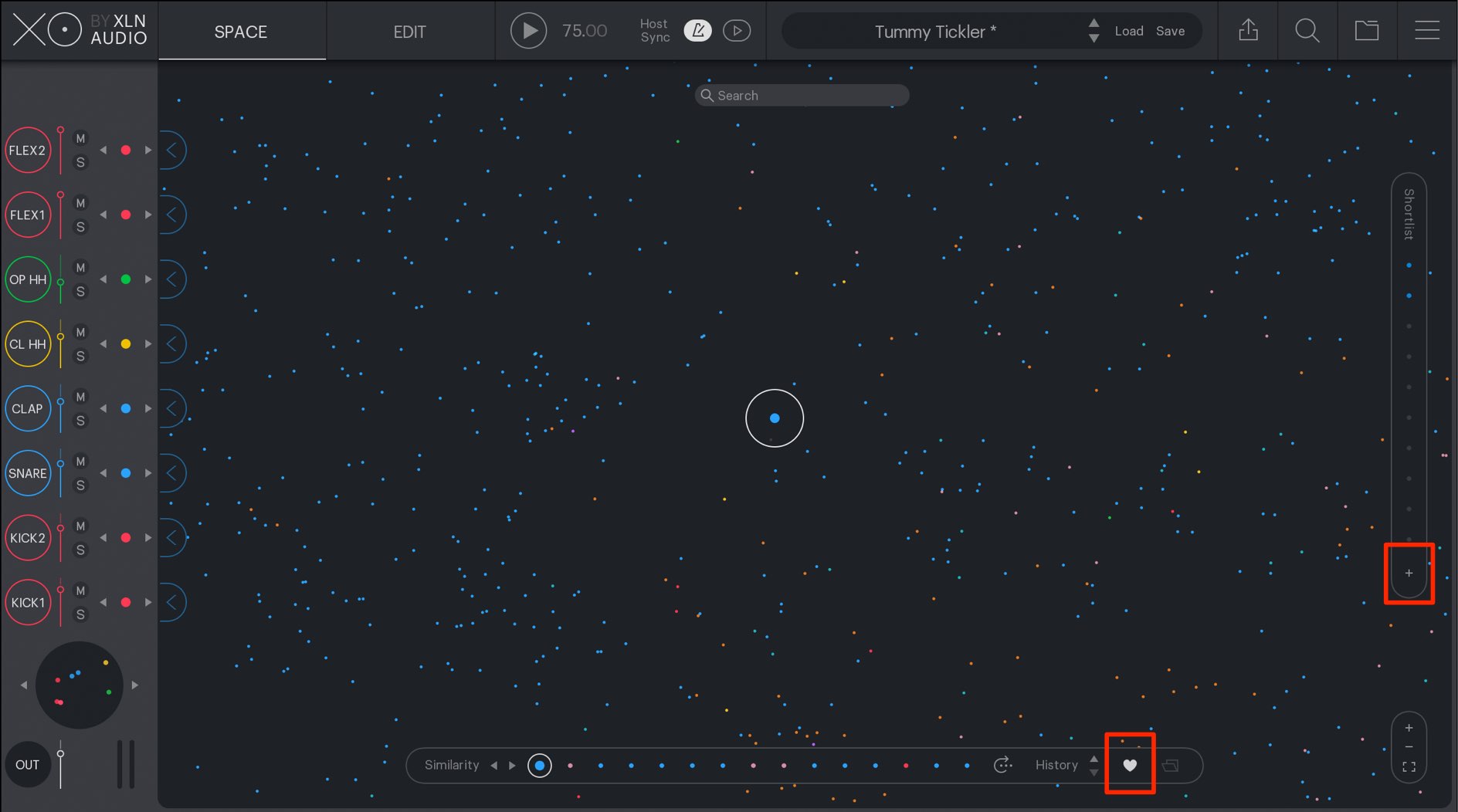 With some many samples to choose from, you may want to "use this in another song" or "save this sound for later."
In this situation, you can utilize the "Favorites" or the "Shortlist" function.
Favorites : Click on the heart icon to add it to your favorites. By using the search function, you can bring it up and use it in other songs.
Shortlist : Saves the samples to the list on the right. The samples can easily be brought up by a click.
However, it is not a permanent save that allows them to be opened in another song/XO instance.
By using these functions you can effectively utilize XO.
Adding in original samples
You can add your original samples into SPACE to expand it as well.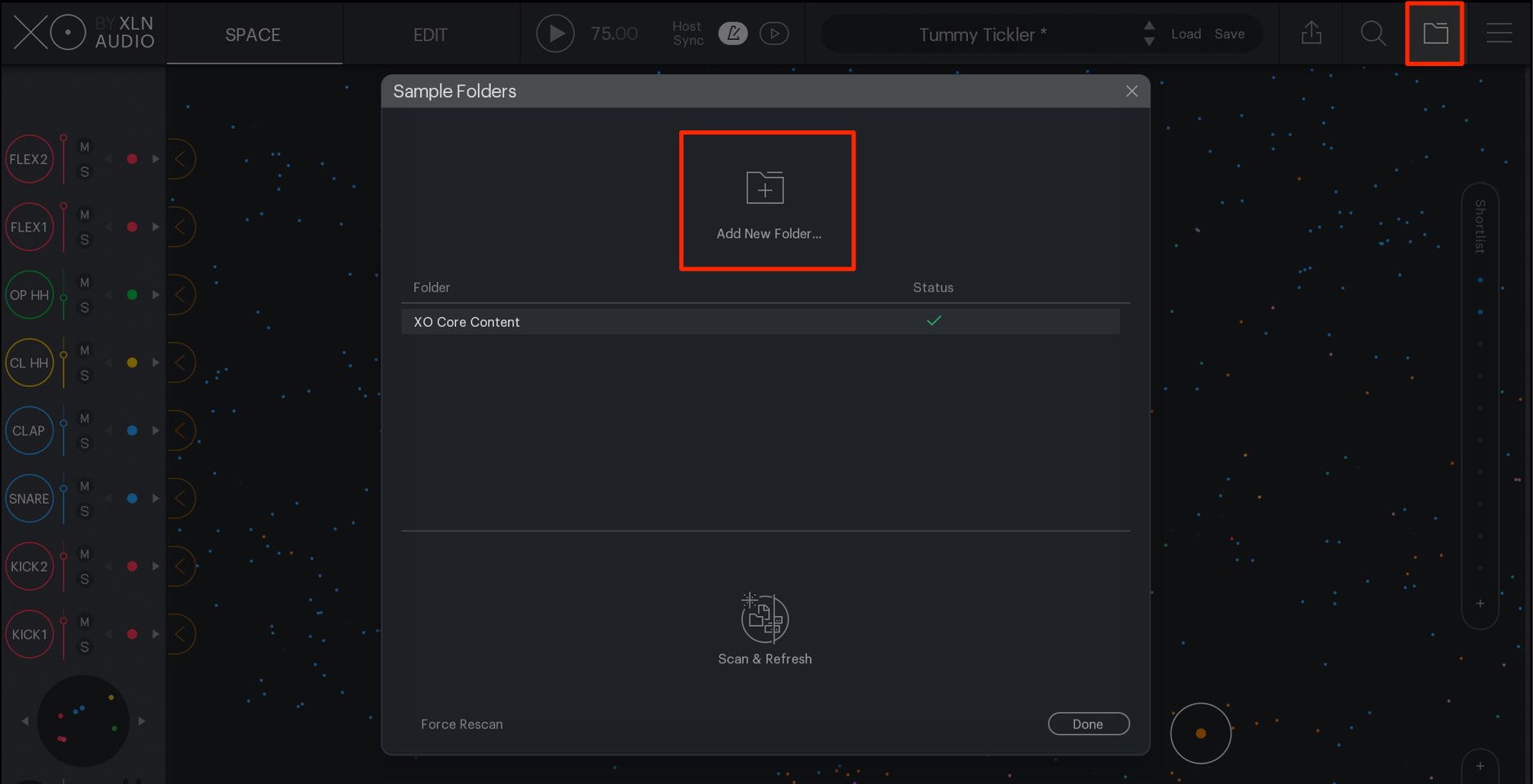 Click on the folder icon above.
Click "+ folder" to designate a sample folder, or simply drag/drop a folder here.
Multiple folders can be added here.
Because of this, you can organize many files within XO.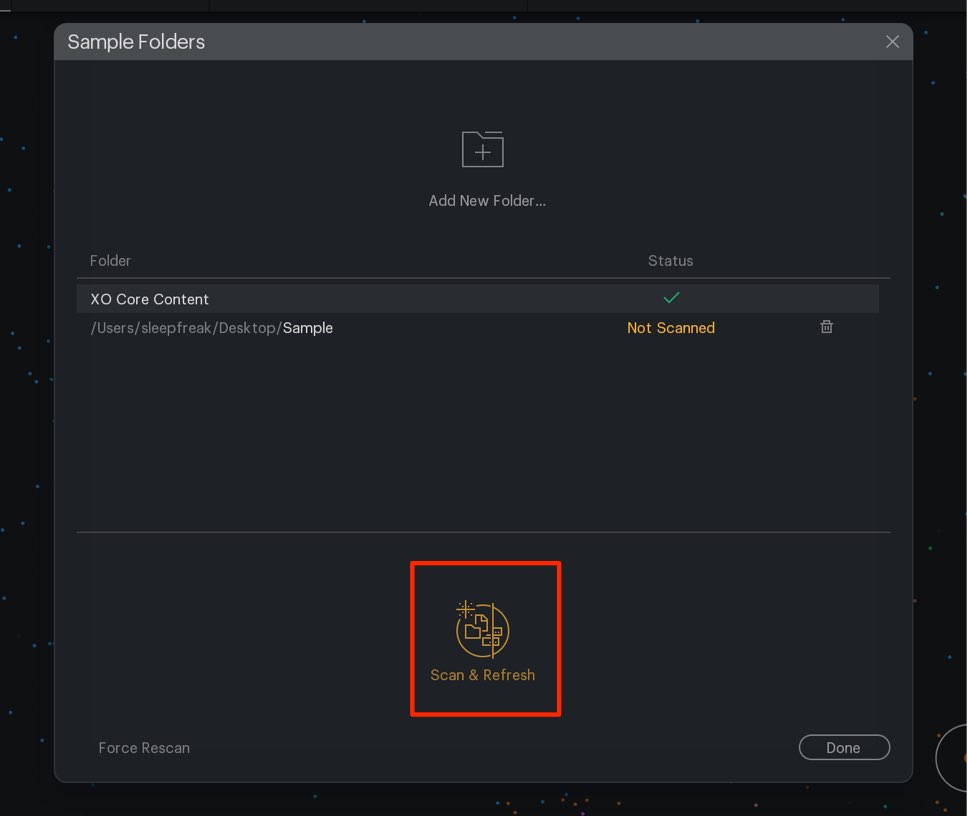 Check the sample location, and click "Scan & Refresh."
This will begin to read and analyze the samples.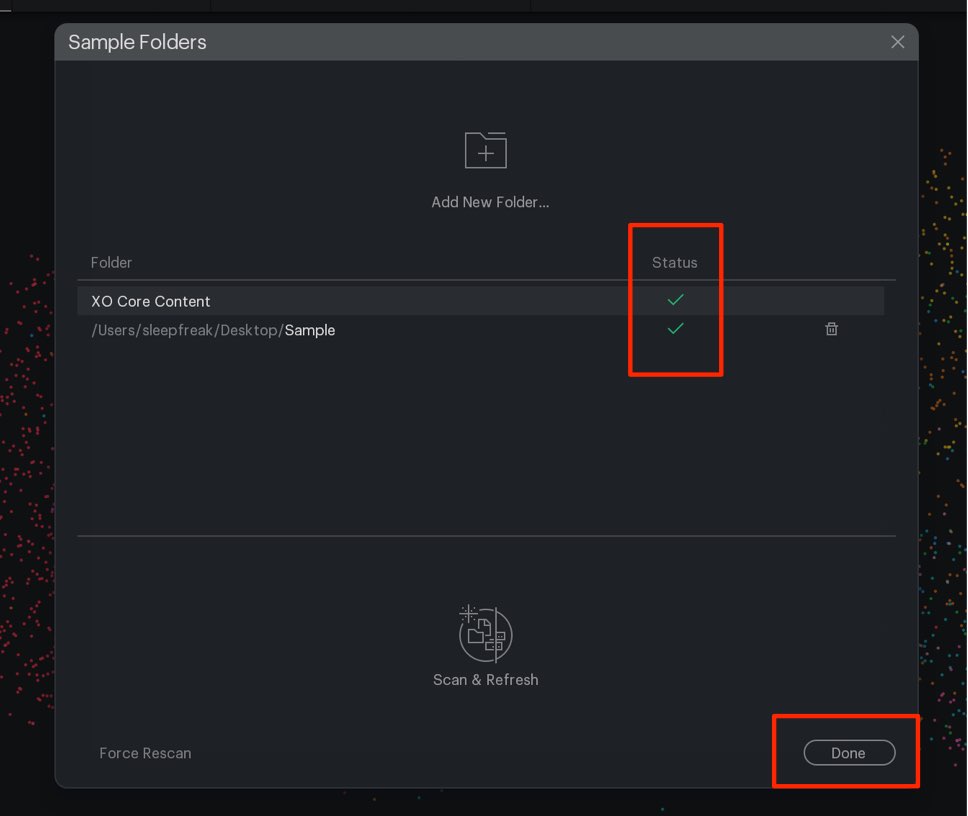 Check the "Status" and select "DONE."
Now you will have original samples in SPACE.
The samples will be analyzed into groups such as "Kick," "Snare," "Hihat," etc.
Narrowing down/searching for samples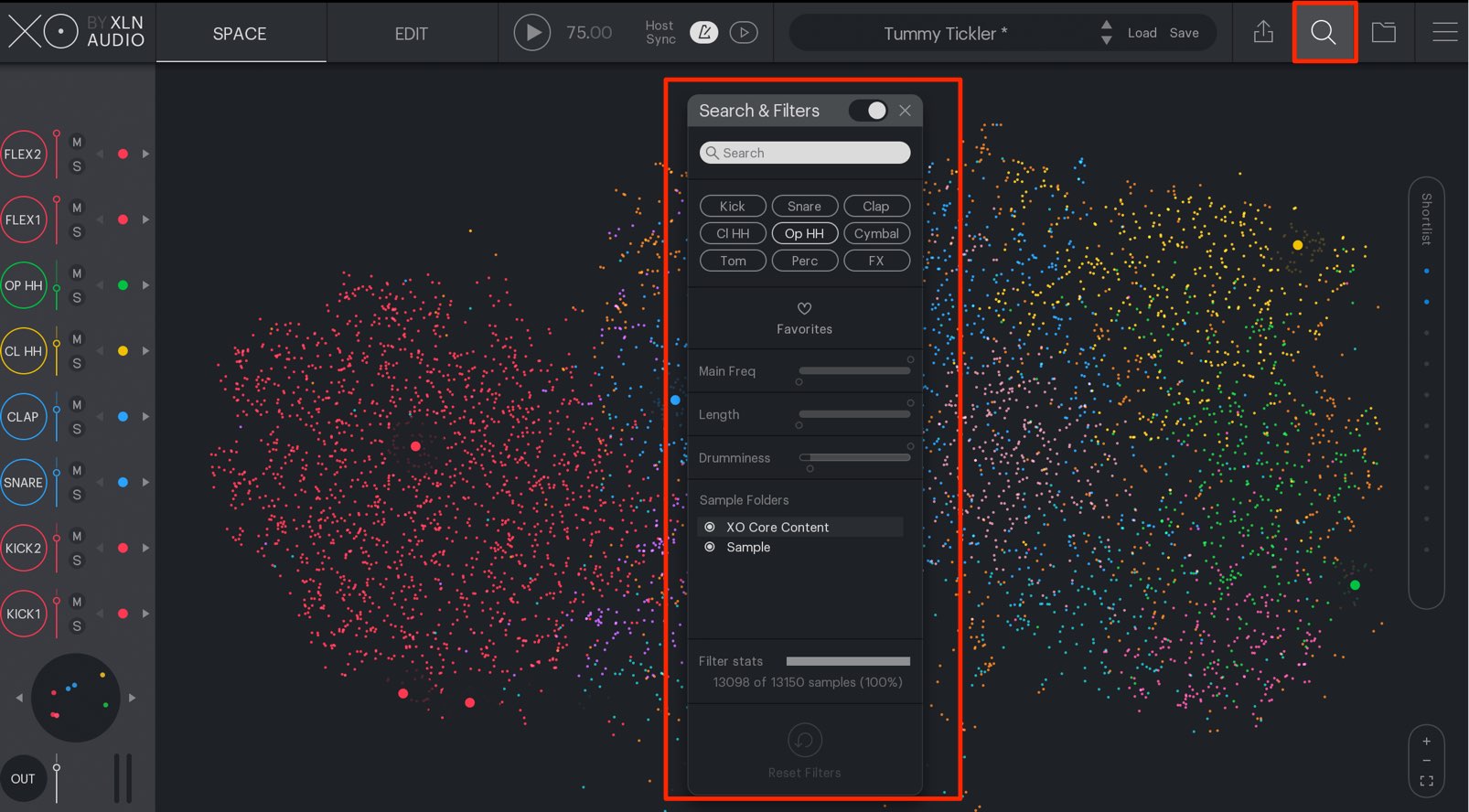 Functions to help find samples are provided in this product.
CLick on the search/filter icon from above.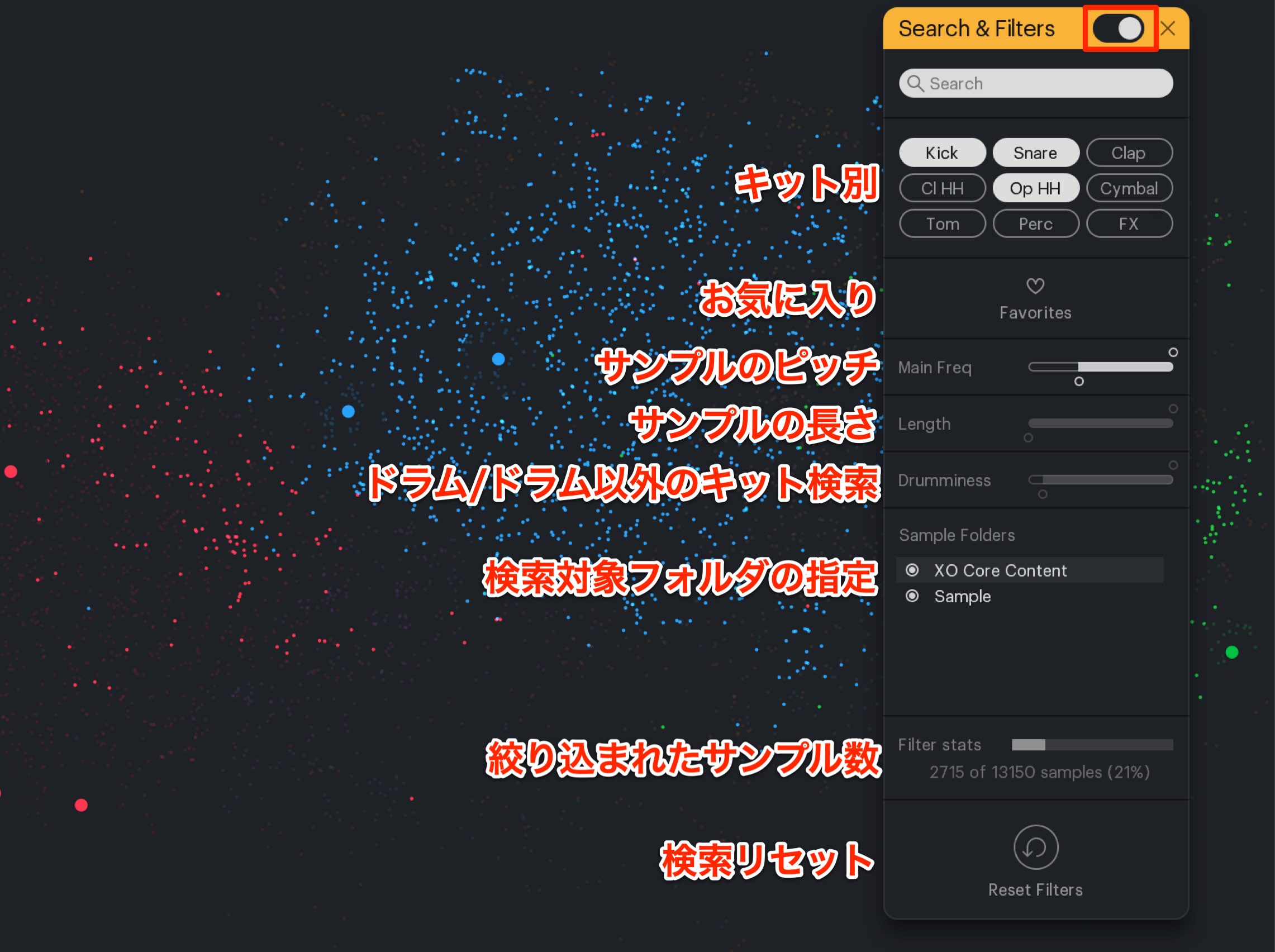 As shown you can choose from a variety of characteristics to find samples.
The samples that don't match the results will also cease to be displayed in SPACE.
---
We hope you enjoyed this tutorial.
The unique concept of space and useful functions makes this tool incredibly alluring.
With so many samples to choose from, we believe it can be used for a variety of genres too.
Next we will take a look at using the selected kit to create a beat!

Purchase here